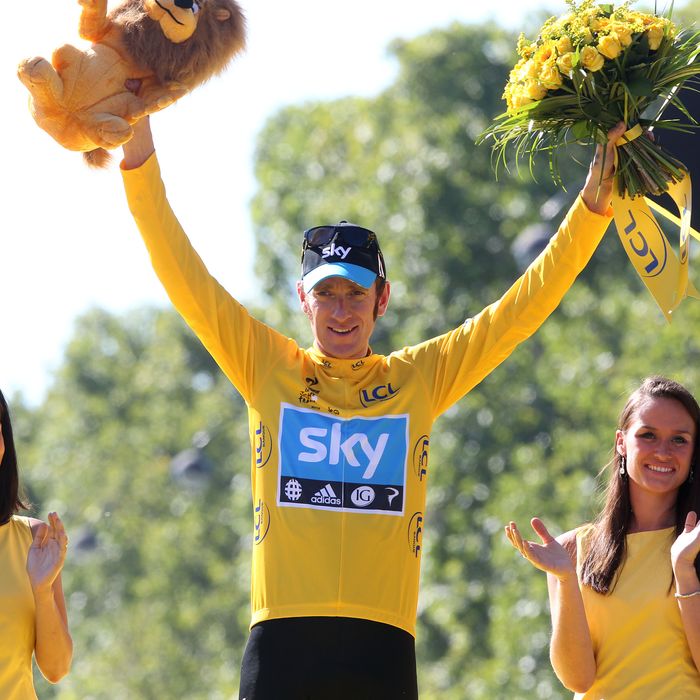 In case you missed it, over the weekend, Bradley Wiggins secured himself a place in the history books as the first British bicycle racer to win the Tour de France. We'd known his win was an inevitability since the end of the final mountain stage on Thursday, when he and second-place Team Sky compatriot Chris Froome crushed the field, including Italian rival Vincenzo Nibali in third place. But what we didn't know was that he'd use Saturday's final individual time trial to throw the hammer down and prove without a doubt that he's the strongest rider in this Tour.
There's been much speculation on whether Froome should have been the leader of Team Sky and been given a chance at the top podium spot instead of Wiggins. If Froome, 27, hadn't had an issue with his bike in the first road stage and lost a minute and a half, would he have been in a position to beat Wiggins? He certainly looked stronger than his 32-year-old team leader at times in the mountains. But Wiggins answered back by winning Saturday's ITT in dominant fashion, gaining a minute and sixteen seconds on Froome, to increase his overall lead to 3:21. Nibali wasn't even close, finishing sixteenth, 3:38 back on the stage and more than six minutes down overall.
And now, as the focus shifts to the Olympics, all eyes will be on the incredible crop of British riders to repeat their dominance on their own turf. Look for Wiggins to pay back the hard work of his teammate Mark Cavendish*, who won the sprint to the finish line in Paris on Sunday for the fourth time in a row. Wiggins will likely try to set Cavendish up for a win in the Olympic road race, then try to win the ITT himself.
British newspapers are already clamoring for Wiggins to get a knighthood and to light the Olympic flame (though we're pretty sure that if he wasn't already the scheduled flame-lighter, that's not going to change now). But Wiggins — who will be riding in the men's road race the morning after the opening ceremony — remains focused. Said the Tour de France champ: "If I'm 100 per cent honest, it's gold or nothing in London now, really. That's the way I'm treating the next nine days. I can't sit here and say I'll be happy with a silver or happy with a bronze."
Given that Wiggins has already won three gold medals (in track cycling; his events are no longer part of the Olympic program), and considering just how much he blew everyone out of the water in the Tour ITT, we'd say this lanky character with the bushy sideburns stands a very good chance of making the best year of his life even better.
* This post has been corrected. Mark Cavendish won the green jersey in 2011, but not in 2010 or 2012.