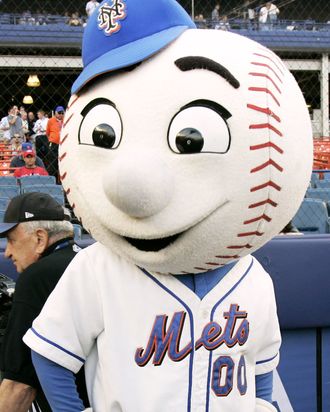 As of this second, the New York Mets, according to Baseball Prospectus's Playoff Odds Report, have a 31.6 percent chance of making the playoffs. (By "making the playoffs," BP includes "making the coin-flip wild-card game," which you may or may not consider "the playoffs.") This is about 31.5 percent higher than anyone could have imagined heading into the season. The Mets have the eighth-best chance at making the playoffs in the National League, which seems low, but hey, five teams make it. Let us hang on while we can: This could still be a historic year.
The Mets will find out right quick how long they're going to keep hanging around: They will play nine games against the two teams ahead of them in the National League East over the next twelve days. (And the other three games are against the team in first place in the NL West, the Dodgers.) Right now they're four and a half games behind the Nationals and a half-game out of the wild card, with five teams all bunched up for those top two spots. There are 76 games left in the season. It'll be over before you know it.
The major questions in the second half for the Mets seem to revolve, oddly, around pitching. The bull pen has been a problem all season, but now with Dillon Gee's blood clot situation, the Mets need a fifth starter. They haven't made any official announcements yet, but they've admitted they're considering top prospect Matt Harvey. This in spite of Sandy Alderson's great quote about Harvey last week: "Aside from Matt himself … there is no one in the organization who feels he is ready to be in the major leagues." (Alderson's the best.) It could end up being Miguel Batista, but we dunno: The Mets could use that little kick calling up a super prospect gives you. They need every kick they can get.
Alderson will be looking to make trades, mostly to help out the bull pen, though a decent righthand-hitting catcher would be handy as well. But the nice thing about having all these big games coming up in July is that the Mets will know precisely where they stand come trading deadline time. There's no need for Alderson to make a big trade now. This is still a recovery, organization-mending year for the Mets, one that has had the happy happenstance of coinciding with a surprising year from the big-league roster. The Mets have surprised everyone in the first half, but to get over the top, they'll have to keep doing it, and they'll have to keep doing it immediately. It's the Braves tonight, and the Nationals next week, six games on the road. Go 4-2 or better during that stretch, and the rest of this year is going to get heightened fast.