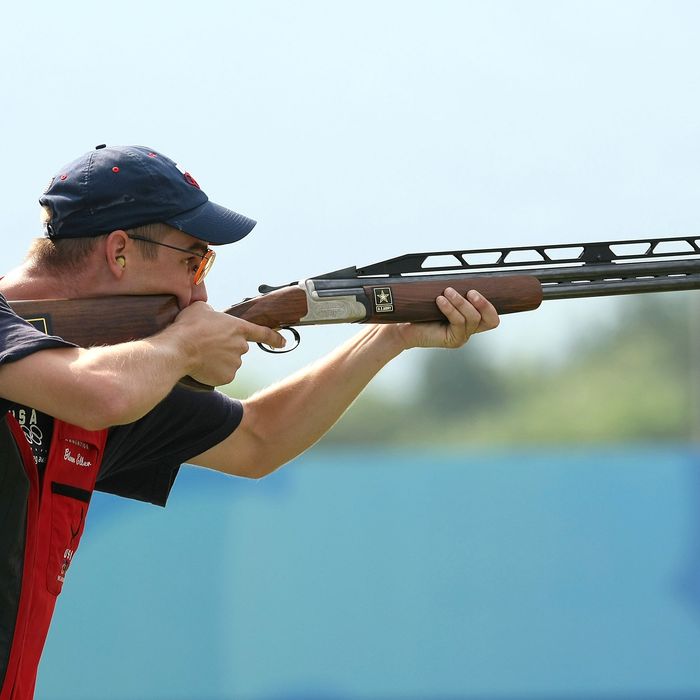 Walton Eller at the 2008 Beijing Games, where he won the double trap gold medal.
Not all Olympic events are as familiar as basketball or as straightforward as the 100-meter dash. But that's no reason not to check something out during the Games. Throughout the Olympics, we'll outline the basics of various sports for viewers who may not know what they're looking at. Today: double trap shooting, explained.
The shooting competitions in the Paris Olympics of 1900 included an event that used live pigeons as targets — almost 300 birds were killed, with winner Léon de Lunden downing 21 alone. In 2012, when even the traditional opening ceremony dove release has been replaced by metaphorical "dove bikes" out of concern for animal welfare, we instead have trapshooting, in which shooters pulverize flying clay disks with shotguns.
Trap events are split into trap and double trap. Though the two events take place on the same range, double trap involves shooting two targets airborne simultaneously at set angles, as opposed to conventional one-target trap, in which shooters take aim at a single target thrown at a variety of surprise angles. It's relatively uncommon for shooters to be world-class competitors in both disciplines, and we're going to focus on here on double trap, which has been an Olympic sport since 1996.
Event Format
Twenty-four shooters have qualified for the Games. They'll be divided into four "squads" for three preliminary rounds, and the six best shooters (regardless of their squad) will face off in a final round later that day.
Competition Area
Double trap rounds are contested between six competitors arranged in a horseshoe shape at the end of a long outdoor range. Ten meters downrange is the "bunker," which contains the eponymous "traps," mechanical throwers that launch the clay targets at specified angles and speeds. The end of the range is usually a solid colored wall or row of trees for visibility, reminiscent of a "batter's eye" in baseball stadiums. The double trap competition in the London Games will take place on three ranges outside of the Royal Artillery Barracks, the site of all of the Games' shooting competitions.
Equipment
Much of the equipment used in double trap is strictly standardized. The dimensions of the targets are specified to the millimeter and gram, and are usually brightly colored to make them easier to see. The flying clay disks (the cool kids call them "birds" or "pigeons") are flung at around 50 miles per hour out of a mechanical thrower at a consistent angle at the verbal command of the shooter, usually "pull." In high-level competition, the command triggers an automated system that adds a random amount of lag, up to a second, to add difficulty. The shooters supply their own 12-gauge double-barreled shotguns that allow two consecutive shots. They're made of wood and metal and are, in the opinion of The Sports Section, far classier than the space-age contraptions often used in other shooting sports, more Elmer Fudd than the Marvin Martians of air rifle. The guns themselves are highly personal, and shooters work with professional fitters to mold their guns to their particular body shape and preferences.
How Someone Wins
In a round of double trap, the six competitors in a given squad alternate chances to shoot while rotating through different stations, for a total of 25 shooting opportunities each (with two targets each time). Each bird hit earns one point, and the preliminary phase consists of three rounds of shooting, resulting in a maximum score of 150 (the world record is 148). Each round employs a slightly different trajectory: In the first round, one bird is thrown five degrees left of center and the second flies straight ahead. This configuration is reversed in the second round: One bird is thrown five degrees right of center, the other straight ahead. In the third round, the birds are thrown five degrees left and right, for a ten-degree total split. Twenty-four shooters have qualified for the games, and will compete in four squads in those three preliminary rounds. The six shooters with the highest scores after the prelims compete in a final round of 25 chances to shoot, with the highest combined (preliminary and final) score earning gold. This round uses the same ten-degree as the third round. Ties in both rounds are settled in a sudden-death shoot-off of alternating pairs, with the first shooter to miss losing.
When to Watch
Double trap (which has an event for men only) will be contested on Thursday, August 2. The preliminaries will begin at 4 a.m. New York time, and the final will start at 10 a.m. Both phases can be streamed in their entirety on nbcolympics.com, and the final will be broadcast on tape delay at 4:45 p.m. on the NBC Sports Network.