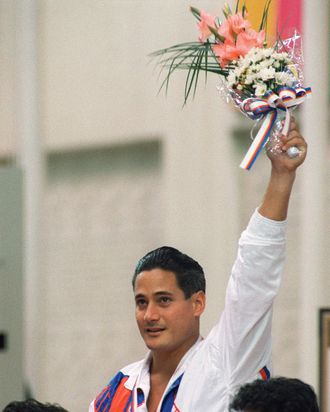 Greg Louganis, after winning the gold medal in the springboard competition at the 1988 Olympics.
Greg Louganis is arguably the greatest American diver of all time: Over three Olympics, he won five medals, four of which were gold. (That total might have been even higher had the U.S. not boycotted the 1980 Summer Games in Moscow.) The diving legend, who is also well known for his advocacy for both gay rights and HIV awareness, talked recently with The Sports Section about hanging out with Soviet athletes, the 1980 U.S. Olympic boycott, and getting involved with U.S. diving again.
What keeps you involved with the Olympics after all these years of competing?
Well, you know what? I just recently got back involved. I was away for a good twenty years, so I started mentoring for USA Diving. We just started last year.
What drew you back?
Actually, it was the high-performance director of USA Diving, Steve Foley. He and I dove against each other many, many years ago — him from Australia and me for the U.S. Our friendship grew, and once he got the position, he said, "Greg I want to come out and visit you," and so I just thought it was a social visit. He asked me, "How do we get you back in diving?" My response was, "Ask." He said, "Oh my God, you've never been asked?" I said, "No, nor have I felt welcome." My coach, Ron O'Brien, kind of pointed out that there was a lot of homophobia and all that stuff. It's been great to be back and to be a part in a very real way, to be able to connect with the athletes and also connect with the coaches as well. Because a lot of those coaches, they may have been at the Olympics, but we haven't been successful. We haven't won a medal in diving since 2000. They've added four events. So we have four more shots at medals, and we still haven't gotten on the podium yet. So that's our goal, to get a team or individual back on the podium.
What's the difference between actually being a diver and being a mentor, in terms of your emotions towards things?
You know, I don't take it personally. I'm rooting for them. I can distance myself because that's a part of what I need to do — make the observations so they can make the adjustments hopefully to be successful. Winning an Olympic gold medal a lot of times is not about perfection. It's about who makes the least amount of mistakes. So it's not about perfection. So, often the mentality is Oh, I've got to be perfect. This is the Olympic games. I've got to be perfect. And I told them, "No, you have to focus on your performance and make every move, every dive count."
Switching over to your diving career, when did you decide you wanted to be an Olympian?
I didn't decide I wanted to be an Olympian. Early on, when I was in gymnastics, I wanted to make the Olympic team in gymnastics because that was my first love. Then I couldn't continue because of my knees. I had medical reasons, so all I could do was dive, but I never thought I was good enough. At the '76 Olympic trials, I won. I won the Olympic trials, and I was on the Olympic team. And I'm like, Oh my God. Now what do I do?
What was the feeling like?
It was pretty amazing. I was 16 at the time, and most of my teammates were in college, graduated from college, and so I was … it was the Soviet Union at the time — they were were closer to my age, so I hung out with them. We were traipsing around the Olympic Village, going to the disco and movies and all that stuff. So that's kind of the group that I hung out with.
How did other American athletes view that?
Oh, I was the "commie fag." They were calling me "commie fag" and all that stuff, and it was like, you know, it was what it was. It was an interesting learning experience.
Obviously, to get to a high level, there are a lot of difficult things you go through. What was the biggest setback for you in terms of your diving career?
I think my biggest challenge was in 1988 because, by then, the Chinese had caught up to me. Six months prior, I was diagnosed HIV-positive, and at that time, we thought of HIV as a death sentence. And then they put me on ATZ, and every four hours, I had to take my AZT. Had anybody known about my HIV status then, I wouldn't have been able to go to Seoul. They wouldn't have granted me a visa. So that was challenging because secrets. The secrets.
On the other hand, you have a lot of great Olympic memories. What's the one that leaps to mind?
Each one of them was so different. '76 was not a great experience for me; '80 qualified, but we didn't go. That was really disappointing.
How was dealing with that?
That was hard. That was really difficult. I was fortunate that, in my sport, I could continue on, but there were so many athletes where that was their one shot. '84 was great because it was in my own backyard. I broke 700 on a 10m platform, which was one of my goals. So, that was, like, a really high high. I was actually planning to retire after '84. I announced my retirement. What happened was I was one of the athlete representatives that was pushing for trust funds because, building up to '84, I had to work three part-time jobs because nobody would hire me full-time because of my training schedule and travel schedule. So this gave the opportunity for kids to do commercials, speaking engagements, and exhibitions. Put that in the trust fund and that can go towards training so they can offset their training and dedicate themselves to their training. So, I went to the president of USA Diving after the '84 Olympics and Nationals, and I asked him what was going on with trust funds. He said, "Well, the only one it affects is you, and you're retiring, so we don't have to spend the money on attorneys to get trust funds put in place." So I said, "Fine I'm not retiring. Do your homework." It took two years to get the trust funds put in place. And I was at the World Championships. I was successful at the World Championships, so I figured, hey, what the heck? Two more years.