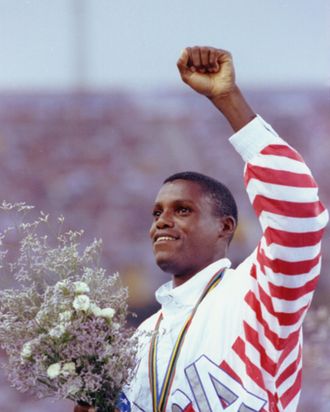 Carl Lewis, at the 1992 Summer Olympics.
Carl Lewis won ten Olympic medals — nine of them gold — over four Summer Games during a legendary seventeen-year career that saw him become the only man to successfully defend both a 100-meter and long jump Olympic title. Lewis — who was named Sports Illustrated's "Olympian of the Century" and the IOC's "Sportsman of the Century" — spoke recently with The Sports Section about his crucial high-school growth spurt, winning that first gold medal, and how Jimmy Carter handled the 1980 U.S. Olympic boycott.
Growing up, when did the reality start to set in that getting to the Olympics was possible?
My senior year of high school. Tenth grade, I didn't win state. Eleventh grade, did not win state. Twelfth grade, I was national champion. So it just happened so fast for me. Really, at the end of eleventh grade, I said, "Wait a minute, I could be pretty good," and then twelfth grade in high school, I realized I could do it.
What changed?
I grew. I grew a lot, and that was the biggest thing. That's what I tell kids all the time — you never know. To be someone who wasn't even state champion in eleventh grade, and then I was fifth in the world in twelfth grade… I grew a lot; I grew like six inches from tenth grade to twelfth grade. All the things that I learned when I was young all of a sudden made sense because now I had the physical part of it to go with it. And the desire.
What was your biggest setback on the way to becoming an Olympian?
It's kind of funny. I made my first Olympic team at 18. I was so young and goofy, that journey was not that tough. I guess the biggest challenge was, that was the year the Olympics were boycotted. So, you know, I was excited about it, and then the next thing you know, it's like, You've gotta be kidding me — I could make it next year. And then we boycott. So, obviously, that was the biggest disappointment, but at my age, you bounce back.
How was it dealing with the boycott?
Like I said, I was 18, and I was disappointed in a different way than if I would have been 30. I was just a naïve little kid, and I was the youngest male on the entire Olympic team. It took me years to really see what a lot of the other Olympians felt that were older because I just wasn't mature enough to really get it.
Was there a lot of disappointment from the older Olympians?
Oh, oh, very disappointed. I mean a lot of them were very angry.
To lose that chance ...
And the thing is, there was never an explanation. I think if the president at the time had said, "Okay, I want to bring a huge group of Olympians together and sit down and have a discussion with you, and then walk out of the room … " He just made a decision and said, I'm just gonna basically screw your life. And I just did it. It's a wrap. It's bedtime. You know? And that's kinda how it all felt to a lot of people. And they're making decisions about your life that you're not involved in. And you're not 7 years old, and that's what it made it seem like.
Obviously, you have so many great Olympic memories. What's the first one that comes to mind when you think of them?
The first Olympic medal, without question. My father passed away in '87, so he only saw one Olympic Games, and that first, first Olympic gold medal — you can't win nine if you don't win one. The last one was very, very important, but I was different. I was older, and I was more mature, and I looked at it differently. That first one, when I was so young, was just amazing.
What's that feeling like?
I tell people all the time: Everyone has their Olympic moment, whether you're in the Olympics or not. Just to give you an example: One of my best friends, and teammate, was LeRoy Burrell. He was an Olympic gold medalist, world-record holder. We were teammates; we did it all. We were so excited, everything else. But he showed us a video when he was in the room, and his wife was having their first child. I saw that same look. Same look. So, I think that it's all perspective. I think everyone has their Olympic moment. We're just fortunate enough that America's cheering for us, and I really believe that.