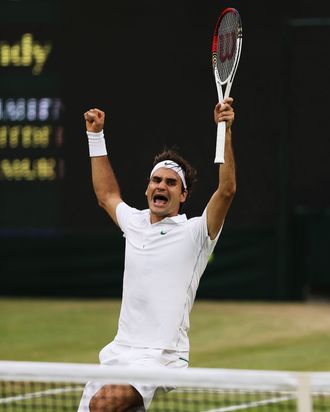 Roger Federer. (Julian Finney/Getty Images)
It's not only Roger Federer's gift to deconstruct his opponents, feeling out their weaknesses and ruthlessly exploiting them. He's also become a master of his own mind, arguably the most vulnerable quality in a tennis player, and over the years has developed an unearthly type of mental discipline that allowed him to overcome an early deficit on Sunday against Andy Murray in a tense and at times dazzling Wimbledon finals.
For Federer, reclaiming the Wimbledon trophy this afternoon was the culmination of a blueprint he designed more than a year ago, after squandering so many leads in big matches last year. He's not only running up the numbers on Slam titles (He now has 17) or Wimbledon titles (he's now tied with Pete Sampras with 7), but has remarkably reclaimed the Number 1 ranking for the third time in his career. All this only a month before his 31st birthday, and after playing one of the most strenuous and successful seasons of his career, and during a match where all of England seemed to be rooting for Murray to reclaim a title that hasn't been held by a Brit in over 70 years.   
After wiping off his tears in his towel, Federer was all grins after putting together one of his most impressive and clutch performances. "Today is a dream come true for me and my family," he said during the post-match press conference. "It's big."
At the start of the match, Federer was in trouble. Despite all his experience, he looked tight and edgy. He was missing forehands that once seemed so routine, and uncharacteristically lost his serve, giving Murray a boost of confidence and what seemed to be an early mental edge.
The critical first set peaked at 4-4, with Federer on serve. He played a poorly hit drop shot and Murray not only attacked the ball but Federer himself, launching a Lendyl-style forehand directly at Federer's head. Federer ducked, lost the point, the game, and the set soon after.
Before the finals, Murray, like Rafael Nadal, had a winning record against Federer. Murray's incredible defense, often playing deep behind the baseline, forced Federer to engage in long rallies and make errors. Early on, the biggest win of Murray's career was against Federer, a shock upset in the Round of 32 on hard courts in Cincinnati in 2006.
Slowly, Federer finessed his way back into the match, mixing up his play, charging the net to win points with volleys and forcing overheads with a medley of power and punishing slices. He then punctuated his second set win with an on-the-run drop volley that skittered off the Centre Court grass like a spinning top.
The tennis gods seemed to reward Federer for executing such a risky and gorgeous shot, as dark clouds soon moved in over Centre Court, and it started to pour. The roof was closed, and the indoor-like conditions favored him. Unleashing the full monty of slices and spins and at different speeds, Federer kept Murray off-balance, sending him tumbling to the grass more than once, and eventually breaking Murray's serve in a crucial marathon game at 3-2 that raged on for nearly twenty minutes. With no sun in his eyes or wind to disturb his service toss, Federer began to hit his serve with Swiss precision, placing it in the corners and stockpiling aces, including one to win the third set.
The fourth set was much of the same, forcing Murray to hit off balance shots, storming the net, and holding his serve.
Now that he's won Wimbledon, Federer will kick into Phase 2 of his grand design for this year, winning the one title that's eluded him throughout his historic career: a gold medal in men's singles. He'll stick around London to recoup and train for the Olympics, which starts later this month. While the Olympics' best of three set format might be easier on Federer's aging legs and back, such short matches won't allow Federer to feel out his opponents for too long.  
"We don't have the time to say, 'Okay, let's see how the first set goes, let's see how the second set goes,'" Federer told me in Madrid. "If you have a spell, a bad ten minutes, you're out of the tournament and the Olympic dream is done."