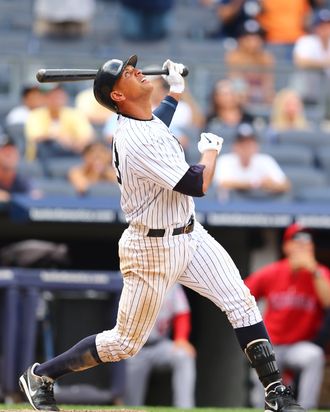 A few weeks ago, we were sitting in the upper deck at Yankee Stadium and witnessed the following: Alex Rodriguez was on first base with less than two out, and Robinson Cano hit into a routine double play. A fan in our section, frustrated by this, yelled out something to the effect of, "C'mon A-Rod, at least try to break up the double play!" Cano — who'd actually hit into the double play — was not to blame here, as far as that fan was concerned, and we found the whole thing sort of telling. A-Rod just can't win with some Yankees fans.
This is nothing new, of course: A-Rod's long had a complicated relationship with Yankees fans. There was the stretch where he was labeled as a guy who couldn't hit in the clutch, which coincided with a stretch in which he won two MVP awards. There was his redemption during the 2009 playoffs, which put an end to any nonsense about how "wasn't a winner," but that also came at the end of a season in which he'd admitted to using performance-enhancing drugs. (And let's not kid ourselves: A-Rod's biggest sin wasn't his huge contract or his postseason performance. It was simply not being Derek Jeter. This was bound to be messy from the start.)
In any case, we bring this up now because A-Rod's numbers no longer look like they once did: Through 85 games, he's batting .270 with fourteen homers and a .799 OPS. Generally speaking, those aren't disastrous numbers — Russell Martin would kill for a slash line like A-Rod's — but as Ben Lindbergh showed over at Baseball Prospectus the other day, A-Rod's rapid decline is cause for concern. (Writes Lindbergh: "He's not coming back down to earth. He's falling off the face of it.") And even fans who aren't familiar with advanced analysis of his career trajectory know enough about his season to be disappointed, especially considering his huge contract. And so, because Rodriguez is rarely given the benefit of the doubt, Yankees fans are playing a familiar game with A-Rod: They'll cheer when he gets a hit, but they'll also boo sometimes when he makes an out, as they did Friday night when he went 0-for-4. This doesn't happen when Jeter makes an out or when, say, Nick Swisher makes an out. But such is life for A-Rod.
And, of course, it's easy to see how this could get much worse. A-Rod had trouble winning over Yankees fans even when he was performing at a very high level. Now that his numbers have slipped, the fans' frustration is apparent. But he still has five and a half years left on the contract he signed prior to the 2008 season. Before the season, Will wrote that even though A-Rod wasn't the center of attention during spring training this year, this isn't the time to cut him any slack. To quote Will: "Alex Rodriguez has pulled off something amazing: disappearing from the spotlight, avoiding the boos, at precisely the moment when he and his contract deserve them most." That doesn't appear to be happening at the moment, though. He's not avoiding the boos, or at least he wasn't the other night. And over the course of the next five-plus seasons, his numbers are bound to slip some more. If fans aren't cutting him slack now, they sure as hell aren't going to a few years from now if his numbers continue to dip.
Now, it's worth keeping in mind that A-Rod's numbers won't necessarily continue to plummet each year. A modest improvement next year could calm fans down a bit, just like a strong second half in 2012 would help make up for a disappointing first half. And at some point, he'll have a big week where he hits .370 with four home runs, and the boos will die down, at least for a little while. (He popped out to end the game yesterday, but his home run earlier in the game and four hits this weekend should keep this from getting out of hand for the time being.) But five and a half years is a long time, and while he might have some ups and downs, an overall decline is inevitable. Some Yankees fans don't like A-Rod and never will. Others — and we fall into this group — have rooted for him without hesitation (and sometimes find themselves forced to defend the guy to that first group). But there exists another group of Yankee fans who never quite warmed to A-Rod but cheered for him because they had to — not just because they'd root for anyone who wore pinstripes, but because he contributed too much to simply earn the label of "bum." That's the group that he's in danger of losing now and in the coming years — the frustrated fan that has no problem booing him on a routine groundout in a way they wouldn't with virtually any other player. It's going to be a long five and a half years for A-Rod, isn't it?