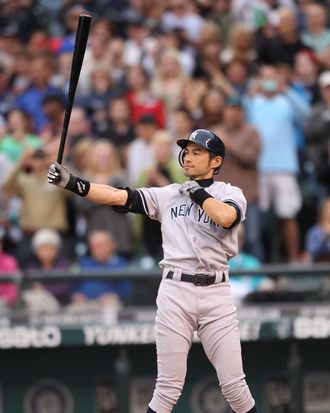 There were 29,911 fans in attendance at Safeco Field last night, and you have to figure that at least one of them made his or her way to the stadium without checking Twitter or listening to the radio all day. And so that fan, who would have settled into his or her seat some four hours after news of the Ichiro trade, was in for the mindfuck of a lifetime: the beloved Ichiro — a man described yesterday as a bona fide Seattle phenomenon — starting in right field for the Yankees.
Not that one needs to be a Mariners fan to find the sight of Ichiro in a Yankees uniform weird. Yankees fans should be used to this sort of thing — the best comparison we can think of is a late-career Pudge Rodriguez coming over during the 2008 season — but it still seemed sort of wrong last night to see Ichiro playing right field in Seattle wearing something other than a Mariners uniform. One day, Ichiro's going to be inducted into the Hall of Fame, and on the plaque, right below the line for "Seattle," it's going to say "New York, A.L., 2012." This is all very strange — especially since the trade more or less came out of nowhere.
We now know that Ichiro approached the Mariners weeks ago about a trade so the team could build for the future, and the team fulfilled his request to go to a contender. Said Mariners chief executive Howard Lincoln: "He deserves a chance to play for a contending team before the end of his magnificent career. The Mariners should certainly not stand in his way."
For the Yankees, meanwhile, it's a pretty low-risk move: They gave up a couple of minor-league pitchers in the trade (and designated Dewayne Wise for assignment to open up a roster spot) and got some cash from Seattle as well. Ichiro's contract is up at the end of the year, so he's just a rental in an outfield that's seen one intended starter go down for the season (and, at the moment, has another sidelined with a lesser injury).
Ichiro's no longer the hit machine he was earlier in his career: After batting over .300 in his first ten American seasons (and collecting two batting titles in the process), his average slipped to .272 last year. He's currently batting .261 this season, and because he doesn't walk very often, his on-base percentage is an ugly .288 — lower even than Russell Martin, who's had an atrocious season at the plate.
But he can still run — his sixteen stolen bases are more than any Yankee has — and even if he's no longer a Gold Glove winner every season, he'll help them defensively. (Via ESPN, entering yesterday's games, he ranked second among major-league right fielders with twelve Defensive Runs Saved.) And again: He didn't cost them much, and if you're trying to talk yourself into Ichiro having anything left offensively, we'll point out that away from pitcher-friendly Safeco Field this year, he's batting a more respectable .296, albeit with an unimpressive .712 OPS.)
In his first game as a Yankee last night — a 4-1 victory — he got a hit after bowing to the crowd, then stole a base. Seattle fans get two more chances to say good-bye this week, but once that's over, he'll add a new wrinkle to the Yankees' season: The universally respected icon will be seeking his first World Series title on a team that, at the very least, figures to be in the hunt for a playoff spot, but obviously has goals beyond simply getting into the postseason. Exactly how much of a role the 38-year-old Ichiro will play in the season's final months remains to be seen. But his performance on the field (and the team's performance, in general) will determine whether his time in New York is remembered mostly for the jarring visual of him in a Yankees uniform and as the the basis of a trivia question years down the line (take note: he's wearing No. 31 because he didn't want to ask for Bernie Williams's old number), or if it's remembered for something more substantial.