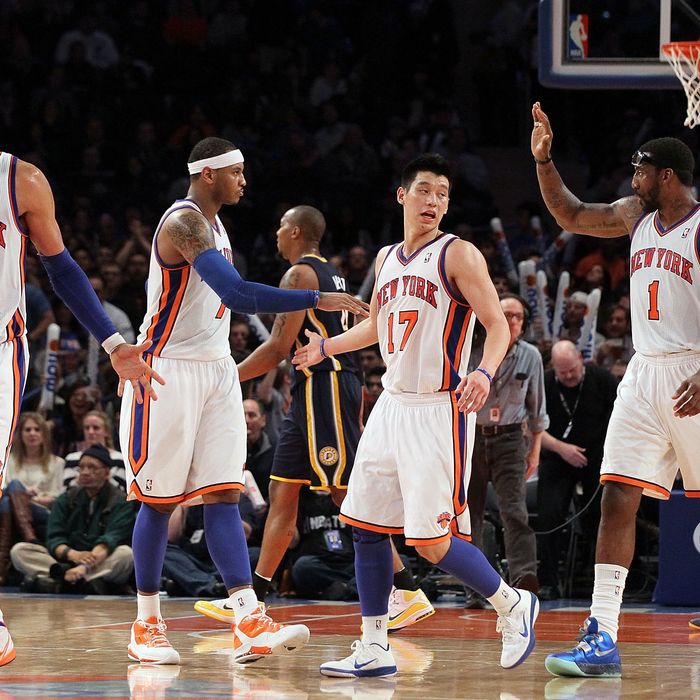 Typically, Knicks Power Rankings is a weekly in-season breakdown of how the Knicks are performing relative to one another. This edition is more like a mid-summer guess at how the roster shakes out with some new arrivals and departures. In a way, it's just a census of who, as of right now, is expected to be on the Knicks this season. We will assume that — as has been reported — the Knicks will match Houston's offer sheet for Jeremy Lin and decline to match Toronto's offer sheet for Landry Fields. Also, remember that even after all these new guys and returning guys sign, the Knicks will have five remaining roster spots (four if you assume that Jared Jeffries will return).

1. Carmelo Anthony. This should be a redemption year of sorts. Melo's got a coach that suits him, a team around him that should be far more stable, and (hopefully) his health and fitness. He'll also have a summer of Olympic competition behind him. Last time Anthony played in the Olympics, he led a Denver team that had been swept in the first round the previous season to the Western Conference Finals. I choose to take that fragment of correlation as an encouraging sign. What you do with it is up to you. In any event, Melo will have more pressure and fewer excuses this season (and with each passing season, probably). Whether he's a ball-dominant creator, an off-ball finisher, or (ideally) some happy, opportunistic hybrid of the two, Melo ought to be near the top of this list throughout the season.
2. Amar'e Stoudemire. Another shot at redemption. As was the case with Melo, Amar'e's 2011-2012 season was undermined by injuries. The guy mishandled back problems during the lockout and played like an aged, slightly inebriated version of himself for most of the year. Folks were and are ready to deem Stoudemire finished, but optimistic fools like me point to those injuries (not to mention personal tragedy and the instability of the team) as the cause for those struggles. Again, as time goes on, the excuses begin to dissipate. With his health (knock on wood), a normal off-season (including some choice tutelage), and a full training camp with competent point guards by his side, Amar'e must return to being Amar'e. It's that or sit through another season bombarded by phrases like "washed-up," "uninsured contract," and "really tired of typing that superfluous apostrophe."
3. Tyson Chandler. No need for redemption here. Just stay healthy, stay motivated, and maybe stop snarling at refs so often. Marcus Camby's presence off the bench should allow Chandler more rest, less foul trouble, and fewer nagging injuries (recall the wrist thing that bothered him for months). Chandler will still be the anchor of the Knicks defense, but he should be allowed a slightly smaller role because the Knicks won't be totally helpless when he's off the floor.
4. Jeremy Lin. Now that he's officially gone from "endearing, unlikely newcomer" to "handsomely compensated household name", there will be some real pressure on Lin to earn his status. It shouldn't, however, be like it was during "Linsanity", when the Knicks went as Jeremy Lin went. With Melo healthy and Mike D'Antoni no longer running the offense through his point guard, Lin didn't and won't be asked to create everything for everyone. That said, the offensive games of guys like Stoudemire and Chandler benefit considerably from the timely assistance of a point guard, and Lin has shown enough individual excellence that folks will be disappointed if the youngster doesn't continue to slice through defenses and put up numbers. Like Chandler, Lin should have his minutes kept in check by the presence of a steady veteran (Jason Kidd) and will hopefully be able to avoid another chronic injury.
5. J.R. Smith. Iman Shumpert is hurt and probably won't return until January. Barring an especially nifty signing, J.R. Smith will be New York's starting shooting guard on opening day. It's likely that Smith will have games in which he scores efficiently, defends, rebounds, shares the ball, and generally plays like he should be the regular starter. It's pretty much guaranteed that Smith will have other games that make you feel like digging a deep hole, climbing into it, and living the rest of your life in complete darkness so you never have to see J.R. Smith heave off-balance 19-footers without any intervention from his coach ever again. Here's hoping for more of the former!
6. Jason Kidd. If he stays healthy, Kidd should be a considerable upgrade over the type of production the Knicks got from old back-up point guards last season. Like Baron Davis and Mike Bibby, Kidd can hit the occasional three and defend people as long as they promise not to move around and stuff. Unlike those two, he takes pretty superb care of the ball and can still throw exceptionally accurate entry passes from a standstill. In a system that revolves around set plays for Carmelo Anthony (and might eventually incorporate more Amar'e Stoudemire post-ups), a guy who tosses lobs and threads entry passes as well as anybody on the planet ever has could play a huge role, even in his slightly decayed state. With Kidd, it's possible that the Knicks could play entire games with a real point guard on the floor. Amazing!
7. Marcus Camby. What Kidd is to the point guard spot, Camby will hopefully be to the paint. Opponents of last year's Knicks licked their chops when Tyson Chandler took to the bench and left a gaping hole in the paint for inside attempts and rebounds. Now, the Knicks will have a very competent interior defender and the league's back-to-back-to-back leader in rebounding rate (percentage of his team's total rebounds) coming off the bench. As with the Lin-Kidd tandem, Chandler-Camby could mean the Knicks go whole games without exposing the basket to penetrators and rebounders. Again, though, that's assuming Camby can stay healthy at 38 years old. One hopes that moving from regular starting roles into bench minutes will help preserve the legs of both veteran newcomers.
8. Steve Novak. Welcome back, Steve! Here's to many, many more three-pointers. Hopefully, the more regular presence of a point guard and some craftier coaching by Mike Woodson can assure that you don't hit any more droughts like in that silent series against Miami. Maybe you'll even venture into the paint a couple times this year!
9. James White. Weirdly, White — a 29 year-old former second-round pick who's been playing in Europe for a few years after failing to stick with an NBA team — got New York's first pledge of guaranteed money this summer. The international scouts must have seen something in his play overseas that led them to believe he's grown into something beyond just a world-class dunker. There's enough bounce in those legs and space above him on the depth chart for White to earn a rotation spot, but it'll require that he demonstrate offensive finesse or defensive discipline that he hasn't in past NBA stints. But yo, even if he does none of that, the Knicks have a guaranteed dunk contest participant in their midst. The man can fly.
10. Dan Gadzuric. For the time being, Dan Gadzuric is still technically under contract with the Knicks.
Injured, but a strong candidate for the starting two-spot once he's healthy: Iman Shumpert
Not yet signed and probably off somewhere spearing exotic fish, but likely to re-sign once he returns: Jared Jeffries