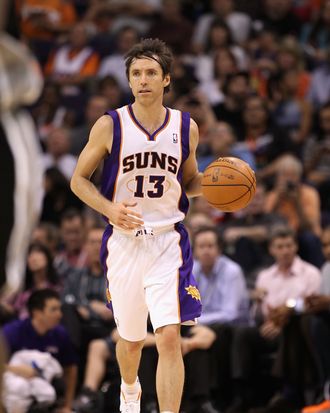 At first, it seemed absolutely impossible that the Knicks would have any shot at acquiring Steve Nash this summer. Even with the arbitration mess cleaned up and a few million dollars to spend, New York's pitch of "Hey, you live here!" just wouldn't be enough to draw Nash away from teams more spendthrifty and/or more competitive than the Knicks are.
However, Knicks G.M. Glen Grunwald knows his way around the salary cap and has reportedly raised the stakes a bit. According to Marc Berman of the Post, when the Knicks met with Nash on Sunday, they proposed a sign-and-trade instead of an outright signing (Nash's free agency is unrestricted). The Knicks would send a few assets — Landry Fields, whom the Suns apparently fancy, and small, dispensable contracts like those of Dan Gadzuric and Jerome Jordan — to Phoenix in exchange for a freshly signed Nash. Doing it as a trade would please Phoenix, as they'd get a small consolation package to cope with their Nash-lessness, and it'd give New York the room to offer Nash something closer to $8 million instead of around $3 million. Sounds nice, right?
There are, of course, more than a few obstacles. Starting small: Landry Fields is a restricted free agent and would have to consent to any trade. So, if he's not into Phoenix for some reason (it's a dry heat), that could screw things up. It probably won't get that far, though. Nash supposedly loves New York, but he also enjoys making money. Even after those financial gymnastics, New York's offer of about $8 million a year would pale in comparison to the reported $12 million per year offer the Raptors have extended (Berman insists that it's less, but no less than $10 million a year). In a chat today, Chad Ford went so far as to suggest that any indication of hesitance from Nash would drive Toronto to raise their offer, perhaps up to a maximum contract. Making max money as a 38-year-old in your adoring native land wouldn't be a bad way to end a career. Not at all. Bless him if he's willing to decline an eight-figure salary to join the Knicks, but I certainly wouldn't blame him for accepting.
The Raptors are just one team, too. The Suns have likely been priced out of this competition, but other teams with as much or more to offer than the Knicks have — Will mentioned the possibility earlier of the Nets turning to Nash as a backup plan — could step up as well. In short, it seems that the Knicks have conjured a way to make a legitimate offer to Nash without crippling themselves, which is a testament to Glen Grunwald's expertise. Trying can't hurt, and the Knicks are making a better effort than everyone expected. Still, with other teams competing and Toronto, in particular, ready to empty the piggy bank for Nash, New York will probably be looking elsewhere come July 11.