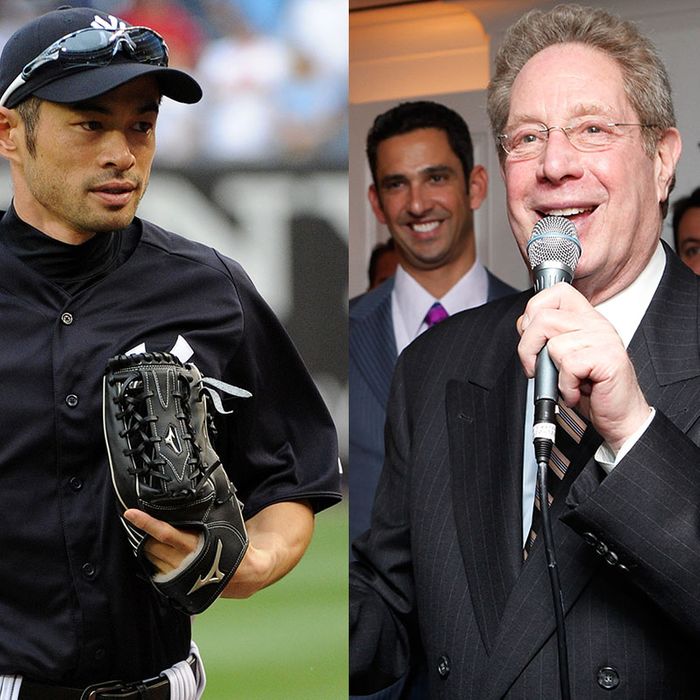 Ichiro and John Sterling.
One of the things we've learned in our many years of dissecting John Sterling home-run calls is that some players aren't even deemed worthy of a catchphrase by the Yankees announcer. So when Chris Stewart went yard over the weekend for the first time as a Yankee, Sterling didn't do anything special. This is, of course, a great disappointment to those of us who are endlessly fascinated by Sterling and his calls, which, as far as we're concerned, manage to be simultaneously awful and wonderful. (We'll never get tired of reminding people of his insane, brilliant call for Lance Berkman.) But there was no doubt that when Ichiro Suzuki, a future Hall of Famer, hit his first homer as a Yankee, Sterling would have something ready. And so, last night, after Ichiro homered in the seventh inning, Sterling dropped his latest catchphrase.
Deadspin has the audio, but if you'd rather not actually listen to it, here's the call:
Swung on and hit in the air to deep right. That ball is high, it is far, it is gone! In the second deck! Ichiro, the Yankees' rising son [Editor's note: He might have meant it as "rising sun"; more on this in a moment.] says 'sayonara' in the second deck in right, and the Yankees now trail 5-4."
Okay. Now. A few thoughts:
• Despite some folks on Twitter suggesting it might be, we're pretty sure this isn't racist. It's frankly too nonsensical to be racist; it'd be roughly the equivalent of incorporating the phrase "maple leaf" into a Russell Martin home run. It's probably a bit of wordplay in which he calls Ichiro the Yankees "rising son" (whatever that means) because it sounds like "rising sun." We suppose it's possible that he's conferring the nickname of "Rising Sun" on Ichiro, but we're leaning towards the first of those. Sterling had been in a slump for much of the past year (see his underwhelming calls for Dewayne Wise and Jesus Montero), and so we applaud him for really going for it here — the higher degree of difficulty, the higher the potential for a truly ridiculous payoff. But this one's rather confusing, and it's too forced a reference to Japan, even for the master of forced home-run calls. Off to a bad start.
• It gets worse, though. As you know from our landmark 2011 piece on the seven types of John Sterling home-run calls, the Voice of the Yankees likes to speak in foreign tongues on occasion. But working in the phrase "says 'sayonara'" into Ichiro's call isn't just predictable, it's also repetitive: Years ago, he'd referred to Hideki Matsui as "the sayonara kid." John, there are many other words in the Japanese language. Mix it up a little!
• And once again, we don't believe for a second Sterling doesn't plan these things out in advance. Confusing wordplay like "the Yankees' rising son" doesn't come to an announcer on the spot. Not that there's anything wrong with being prepared; we've long believed that he should be workshopping these calls with friends and colleagues before they make it onto a broadcast. It would have helped him here. An A for effort, but a C at best for execution.