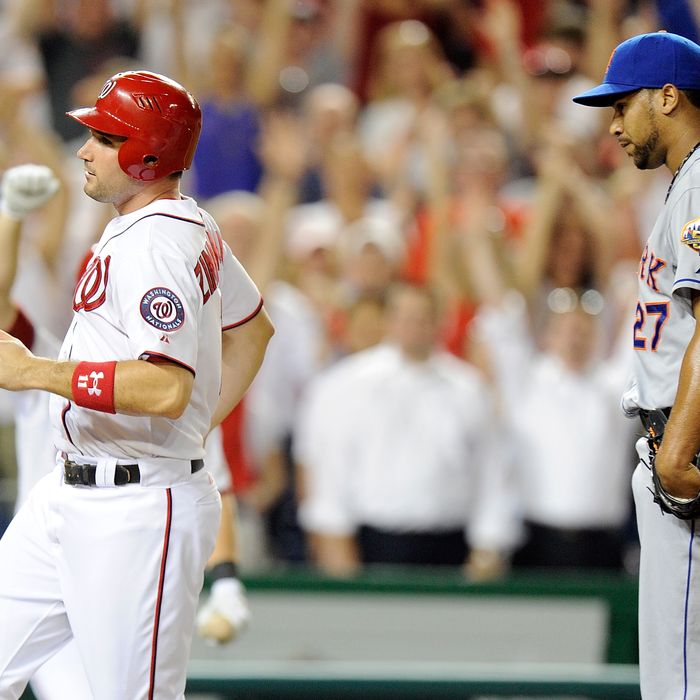 The Mets' bullpen stinks. This isn't new information of course, and their fans by this point have more than enough experience watching them struggle during the late innings of tight games. But sometimes, man, sometimes this bullpen manages to top itself. And so last night in Washington, it twice blew a chance for a save, eventually allowing the winning run to score on a wild pitch. It's the Mets' fifth straight loss, and fourth in a row since the All-Star break ended. Needless to say, this is no way for a team with dreams of contending to start the second half.
To the ugly particulars: After rookie Josh Edgin allowed an eighth-inning Stephen Lombardozzi double to make the score 2–0 Washington, Jordany Valdespin hit a big three-run homer in the ninth to give the Mets the temporary lead. But in the bottom of the ninth, Bobby Parnell gave that run back, allowing game-tying single to Danny Espinosa to notch the night's first blown save. A half-inning later, Josh Thole's RBI double put the Mets back on top … but only until Tim Byrdak and combined to give the game away in the bottom of the tenth.
First came Byrdak, who allowed a Bryce Harper triple to plate Jhonatan Solano, and then later in the inning, Pedro Beato put Mets fans out of their misery with a wild pitch that scored Ryan Zimmerman and gave the Nats a 5–4 victory. As far as walk-off losses go, it's not quite as weird as the rare walk-off balk — you may recall this from last season — but considering the events that led up to that wild pitch last night, this one stings more than many of the other Mets bullpen collapses this season. The Mets, by the way, are slipping back toward .500: Last night's loss drops them to 46-44, seven games back in the East, and three and a half games back in the Wild Card standings.