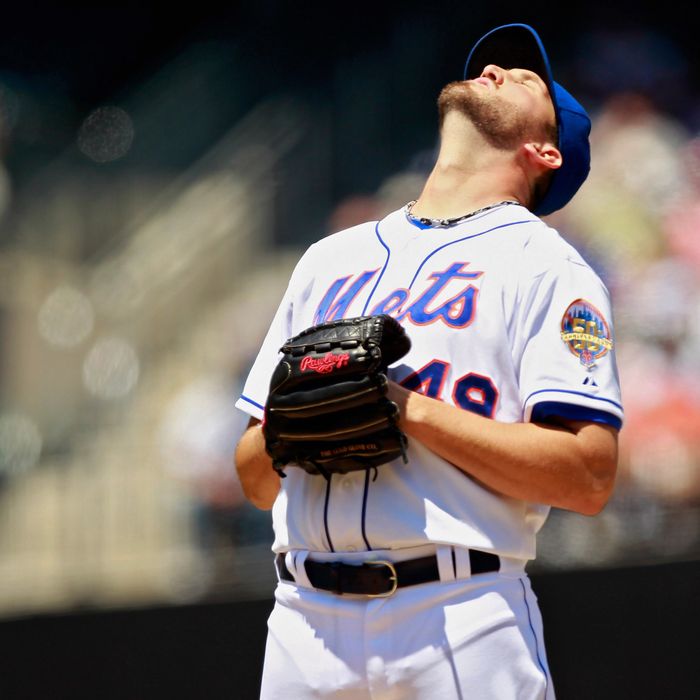 The Mets headed into the All-Star break six games above .500, alternating wins and losses but in decent enough shape. Fans were wary, though, and it's clear now why that was the case. In a classic Mets move, New York has now lost eight of nine games since the break after getting swept by the Dodgers this past weekend. And in another classic Mets move, they've done their losing as excruciatingly as possible. Yesterday's loss saw the Mets creep back from a 3-1 deficit to send the game into extra innings, only to squander opportunities and push their bullpen to the point of a collapse in the twelfth inning. The 8-3 loss dropped New York to 47-48, below .500 for the first time this season.
And again, narrow, late-inning defeats (though not so narrow by the end of this one) have been the Mets' M.O. during this gloomy post-All-Star stretch. ESPN New York has the stat:
In seven of the eight losses, the Mets have either lost by walk-off, or had the tying or go-ahead run come to the plate in the ninth inning or later of the game.
It's been a sorry, injury-riddled stretch, and it's left the Mets shifty and desperate. Johan Santana is headed to the disabled list after pitching (and getting clobbered) on a bad ankle on Friday, while Miguel Batista has been designated for assignment and Matt Harvey will come up and start on Thursday. The lineup isn't hopeless — David Wright's stayed solid, Jordany Valdespin keeps homering, and Daniel Murphy had a sharp weekend — but they're just not driving enough men home to make up for the pitching. If New York wishes to give the roster a shake — and they very well might — they've got just over a week until the trade deadline arrives.
In the meantime, New York's best shot at redemption begins tonight. The Nationals are in town, and Chris Young will take the mound for the Mets in an effort to regain ground lost when Washington took two out of three last week. Wake up, Mets!