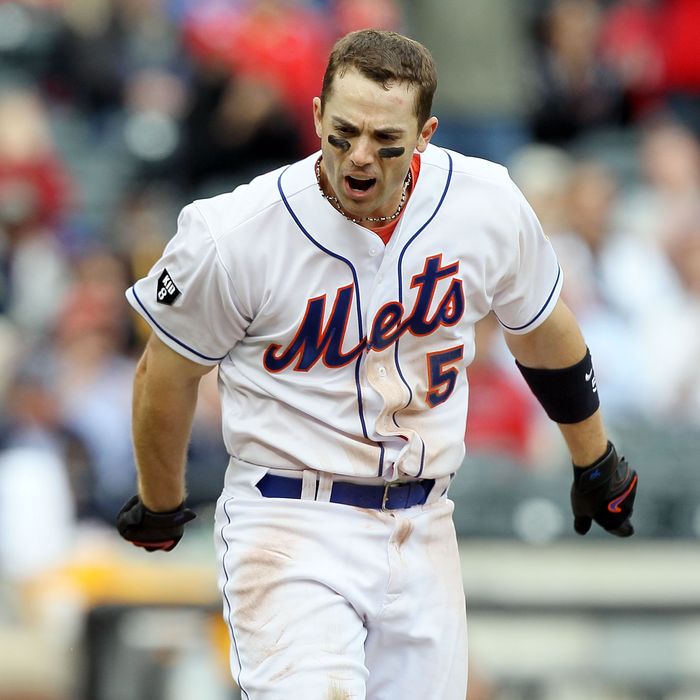 As of this … exact … second, the New York Mets, after their fun little 9–5 win over the Nationals yesterday, are seven games behind the Washington Nationals in the NL East and three and a half games out of the two wild card spots. We know it has been a rough fortnight — the Mets are 2–7 since July 6 — but that's not so bad, particularly with the wild card. Right now, Baseball Prospectus has the Mets with 16.4 percent odds of making the playoffs. That's low, but that ain't nothin'. It's July 20. There's tons of time. The Mets can get this going right now.
The Mets have a handy six-game home stand to get their house in order, handily against two teams ahead of them in the standings. Monday–Wednesday brings in those Nationals again, but this weekend, it's the Dodgers, a wobbly team that, frankly, the Mets are probably better than. (Though they might not actually be the best team in baseball. Sorry, Miguel.) The Dodgers are a team with little to no offense other than Matt Kemp; it's the sort of team even the Mets bullpen would have trouble blowing a lead to. Don't tempt them, though.
This would be a terrific time for the Mets to go on a bit of a streak. With the trading deadline approaching, Sandy Alderson and company will need an excuse to give up any talent for bullpen help and/or bring up Matt Harvey for that fifth rotation spot earlier than they'd like. If the Mets go 2–7 over their next nine, like they just did in their last nine, there will be no deadline trades, at least not with players coming in. The next six games are more critical than they probably should be.
And, to close, last night SNY showed what David Wright's season would look like if he kept up his current pace for the rest of the season. He basically doubled everything from last year. Amazing what a little fence-mending can do, right? If the Mets can find a way to sneak in a wild card this year, David Wright is probably your NL MVP. We'll know if that's possible quite soon.