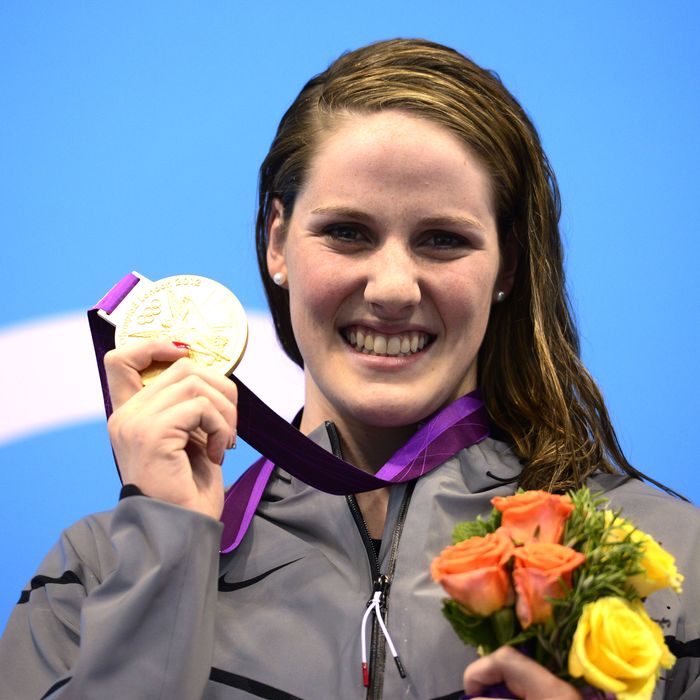 Missy Franklin's name might have meant little to most people a couple of weeks ago, but everyone in the swimming world has had an eye on her since 2010, when, at 15, she was one of the top backstrokers at the National Championships, thereby qualifying for the Pan Pacific Swimming Championship meet that summer. (That meet, known as "Pan Pacs," is held every two years in between Olympic summers; it obviously doesn't get the attention that the Olympics do, but it's often just as fast of a meet and, in the swimming world, just as important.)
But after today, she'll be known not just to swimming diehards, but to everyone. In today's 100-meter backstroke, Franklin pulled through on the back half to touch first, clocking a 58.33 and winning her first gold medal. (She's also won a bronze at these Games and has four events left.) It's an incredibly impressive swim for a 17-year-old in her first Games, and she did it just fifteen minutes after swimming the 200 freestyle semifinals. The 200 free is a particularly exhausting event — not as easy to recover from as a sprint, but certainly not long enough to be paced like a distance event. In fifteen minutes, it's unlikely she even had time to warm down after the 200, so it's impressive that she was able to swim through any type of cramp-causing lactic-acid buildup and nearly break the world record.
Franklin still trains with her age-group coach, Todd Schmitz of the Colorado Stars. This is unusual: Often when young swimmers reach a certain degree of success, they move on to train with seasoned coaches with multiple Olympians. And so, Franklin's performance in the London Games is a huge deal for Schmitz and his team as well. I heard a few stories about young swimmers moving with their families to Colorado to train with Schmitz and Franklin before these Games even began; surely Schmitz will only rise in prominence after London.
Also notable today: Michael Phelps, after a disappointing first couple of races, touched first in his heat in the 200 fly semifinals this afternoon and qualified in fourth place for the finals of that event, one of his specialties. Tyler Clary, the other American, was just a few tenths behind Phelps and will enter the finals as the fifth seed.
In the 100 back, Americans Matt Grevers and Nick Thoman went 1-2, a huge deal for the Americans and the team's first event of the meet in which they had two places on the medal podium.
And there was a brief scare in the women's 100 breast when it looked like American Breeja Larson might have been disqualified: There was a mechanical error and she false-started, but she was cleared due to the error and placed sixth. Her teammate Rebecca Soni had an impressive last 25 meters, pulling away from the middle of the pack to place second, just eight one-hundredths of a second behind the Lithuanian swimmer Ruta Meilutyte, who, at just 15 years old, won Lithuania's first medal of the Olympics.
Mary Jane Weedman is writing about Olympic swimming for The Sports Section. E-mail her at MaryJane.Weedman@nymag.com.
Editor's note: Joe speaking here. We gave readers a spoiler alert in this afternoon's gymnastics post, but we're not giving one here. The Olympics may be consumed the same way that reality TV shows are, but at the end of the day, they're still sports, and this being a sports blog, we reserve the right to treat them as such. And Leitch has ultimately come around on this as well.