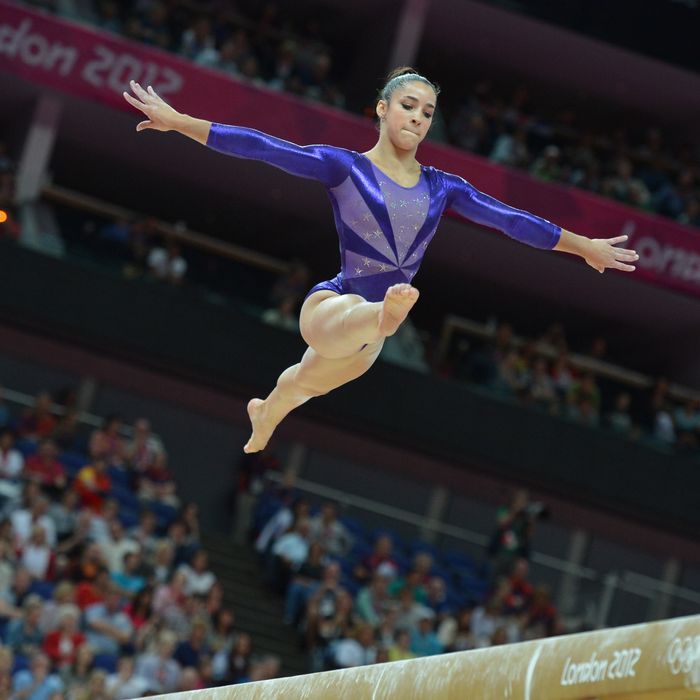 Your Twitter stream may be filled with NBC haters, but knowing the results didn't prevent 28.7 million people from watching the Olympics in prime time. The ratings for Saturday night showed that 5 million more people tuned in for the full night of competition in London than the first night in China four years ago. Looking back at ratings for the past several Olympic broadcasts, American viewers prefer watching summer to winter games. Perhaps we can better relate to summer games. More of us know how to run and swim than, say, speed skate or luge.
But who among us can synchronize dive? Last night's prime-time broadcast began with this unlikely choice for a ratings grab. But the diving aired at 7 p.m. and prime-time ratings don't kick in until 8 p.m., so the network is safe showing us the competitive version of a Doublemint Gum ad. China dominated diving in the last summer games by winning seven of eight medals, so the rest of the world ratcheted up diving prep in the intervening four years. (The U.S. didn't medal in any diving event in 2008.) NBC does its best to show the viewing public how to spot differences in synchronized diving, including using a freeze-frame technique that shows the motion of the divers. This is neat until a graphic depicting divers' sight lines instead suggests that the women shoot laser beams out of their eyes during the less than three seconds it takes to make it from the springboard to the pool. The American divers, Kelci Bryant and Abby Johnston (a former gymnast), found common ground in their rubber duck collections. Their talisman, Alfred, helped them secure silver next to China's inevitable gold.
In swimming action, Dana Vollmer won her gold medal in the 100-meter butterfly after finishing the first lap in third place and then whipping through the second lap like a skipping stone. Vollmer missed the cut in 2008, so she represents today's inspirational Olympic story. Let's think about this: Four years ago she didn't even make the national swimming team. Not only did she not quit, she trained for another four years to be the best in the world at an event that, ideally, takes less than a minute to win. In tribute to Vollmer's achievement, spend the next 55.98 seconds feeling bad about yourself.
On to these Olympics' manufactured rivalry: Ryan Lochte and Michael Phelps. Poor Phelps. He's getting no love at these Games, partially because he withdrew from one event and also because he didn't even train for the 400 individual medley but then swam it (poorly) anyway. Besides, Phelps is dullsville outside of the pool compared to the new bro in town, Ryan Lochte, whose tacky, but shimmering, temporary grill makes all Americans proud. Nonetheless, there are 302 events at these games. We could do with a little more prime-time archery and fewer swimming qualifying heats. Or why not make everything as exciting as the 4 by 100-meter freestyle relay?
But let's not lose a second of gymnastics coverage. NBC introduced the team with a reality-show-style montage reminding us that these young women (teenage girls?) spend their entire lives training for these games, often far away from home. A subsequent montage featured Bela Karolyi, who comes off now more like Roberto Benigni than a tyrannical former coach. But NBC's got something even better than mean Bela: the Fam Cam. Alexandra Raisman's mother knew every move of her daughter's uneven bars routine and watched it with a critical eye. (Her poor daughter had to perform the routine to the distracting strains of an orchestral arrangement of "Paint It Black.") Let us hope that Aly Raisman never, ever sees that footage of her parents weaving and dodging along with her, mom muttering in a clipped monotone, joined by her husband for a terse chorus of "Stick it! Stick it!" They make the parents of Dance Moms look nurturing. But there's Gabby Douglas and her grin to make everyone feel better. (Curious, though, that both the Douglas feature package and last night's segment on men's gymnast John Orozco emphasized the two families' difficult financial circumstances. That doesn't come up in Aly Raisman's bio.)
We should all take lessons in poise from Jordyn Wieber, who swallowed bitter disappointment in a terribly public way when she missed the chance to compete in the individual all-around gymnastic event by .233 of a point. She's 17 years old, and pulled herself together enough to be gracious to her teammates and articulate with a reporter. That's what makes her world-class.
Last night's best moment: South Africa's Cameron van der Burgh soaking in his world-record, gold-medal 100-meter breaststroke swim from atop the lane divider.
Aileen Gallagher, a longtime Olympics enthusiast, teaches journalism at Syracuse University.