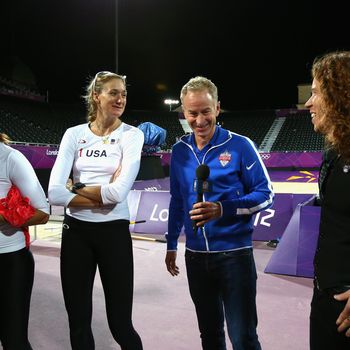 Misty May-Treanor, Kerri Walsh Jennings, John McEnroe, and Shaun White.
Jordyn Wieber unleashed an international sob fest on Sunday, but everyone else's tears are of the crocodile variety. Her coach, who presumably knew the rules prior to Sunday, called Wieber's absence from the individual competition "an injustice." Would it be unjust if Gabby Douglas or Aly Raisman missed the cut? Or perhaps there is something more sinister afoot. A 14-year-old girl called the Rush Limbaugh Show on Monday and described the new rules as "socialist" because each country sends two gymnasts to the finals, instead of just "the best" moving up.
NBC proved an intrusive force, too, when it strongarmed Twitter into suspending a British journalist's account following a series of tweets critical of the network's coverage. The journalist posted the corporate e-mail address of an NBC executive, which Twitter (at NBC's urging) claimed violated its terms of service. NBC drew even more attention to its own shortcomings, and Twitter, a service journalists adore, lost cred for its complicity.
But there were happier times in Olympic land last night, too. John McEnroe played beach volleyball against reigning medalists Misty May-Treanor and Kerri Walsh Jennings. He didn't win, but he did score with a question about the U.S. team's uniforms. "We're wearing bikinis for a reason," explained Walsh, without specifying exactly what that reason might be. "Our suits are our equipment." It was too cold for the equipment during Monday's match, but May-Treanor and Walsh managed to beat the Czech Republic team and maintain their undefeated Olympic streak. The Czechs may want to reconsider their equipment, comprised of bikini tops layered over long-sleeved shirts. It looked more like Wear Your Underwear as Outerwear Day than an Olympic competition, but the Czechs came close to enough to beating the Americans that we have to take them seriously. Sort of.
We crushed on Gabby Douglas on Sunday, but last night we addressed our mash notes to Missy Franklin. Not only did she swim a qualifying race ten minutes before winning gold in the 100 meter backstroke, but she set herself apart at these games by being so … normal. She lives at home with her family instead of at some training compound and also swims on her high school team. The notion of the Olympic "amateur" is long gone, but it feels good to not pretend so hard. (But could someone get her parents better seats? How about it, Olympic Sponsor Executive?)
Gymnast John Orozco normally generates similar feel-good vibes, but the Bronx-born Cinderella story needs to flip the script after Monday's performance in the team finals. Orozco flubbed the horse and the vault, pretty much eliminating the U.S. from medal contention. As the Daily News noted, Orozco is not just "some clumsy hack," and he'll have a chance to come back from his off-day in the individual competition. And though he may feel like everyone who's talking about men's gymnastics is talking about him, what they're probably talking about is the great medal reshuffling of 2012. Japan appealed the score for its final horse routine. A team appeals by walking up to judges with (really!) a fistful of cash. If the team's appeal is successful, they get a refund. Otherwise, the gymnastics police keep it. (Commentator Tim Daggett called the procedure "circumspect," a real 50-cent word on a night he referred to a Chinese gymnast's high bar routine as "ginormous.") The judges reconsidered their score. The poor gymnasts from Ukraine got bumped from the podium and the Brits had to take a step down to bronze to make room for the Japanese team's silver win. The British audience, so excited for their team's victory, booed. Quite right.
Last night's best moment: Listening to the synchronized divers count off in their native language, in particular the awesome German Sanchez and Ivan Garcia of Mexico.
Aileen Gallagher, a longtime Olympics enthusiast, teaches journalism at Syracuse University.