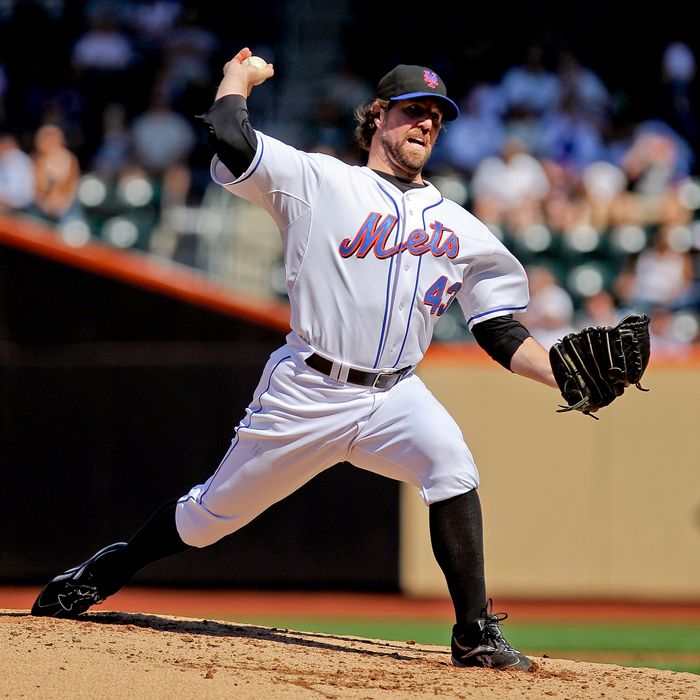 We are absolutely suckers for the All-Star Game and will accept no arguments against it. We do not care whether it "counts"; we do not care if all the wrong players are there; we do not care whether it ends in a tie. The All-Star Game is silly and pointless and frivolous and diluted by interleague play and poorly put-together, and it's still great and one of our absolute most favorite days of the year. (The Home Run Derby, however … ) The day they select the All-Star team — yesterday, for the sake of this post — ultimately isn't as important as it's made out to be, considering how many replacements end up being selected, but it's another excuse to debate about baseball; therefore, it's fine with us.
So, let's go through how the local guys did. The Yankees, as usual, are stacked, with three starters and four players in total, though that fourth player is CC Sabathia, who's on the disabled list and will end up being replaced. The AL starting lineup is a bit nutty; it's two thirds Rangers and Yankees, with only Detroit's Prince Fielder, Toronto's Jose Bautista, and Boston's David Ortiz not playing for either team. The Yankees starters are of course Derek Jeter at shortstop (his thirteenth selection), Robinson Cano at second base (his fourth selection, and third in a row), and Curtis Granderson (his third, second as a Yankee). We found it noteworthy that no one even batted an eye at Alex Rodriguez being left off the team, even though he hasn't been injured at all this year and, oh yeah, he's the highest paid player in baseball. This is only the second time in the last thirteen years he hasn't made the team. One wonders if he'll ever make it again.
There were fewer players, but more intrigue, involving the Mets. David Wright is arguably the leader in the clubhouse for National League MVP, but because Giants fans did a better job of stacking the ballot box than Mets fans, Pablo Sandoval will be starting at third base. This was particularly strange because Wright had been leading at the final update with Sandoval making up almost a half a million vote deficit to pass him. Wright's still on the team and obviously is now virtually assured to be playing at the end of the game. The only other question for the Mets is whether or not R.A. Dickey, earning his first All-Star nod, will start the game. (It's up to Tony LaRussa, of all people.) Stephen Strasburg would seem the only other obvious candidate, even though, when you look at the numbers, Dickey should probably get the slot. Dickey also has the advantage of not being a Cincinnati Red. (Or, Johnny Cueto.)
We'll have more detail as the week goes along: who's winning the (fascinating) Final Vote, who's begging out of the game, who's starting — all that. This is the last All-Star game until Citi Field gets to host one next year. We're already excited about that, too. It's the All-Star game. It's American League and National League together at the same time; Donald Duck playing the piano with Daffy Duck. Wee!