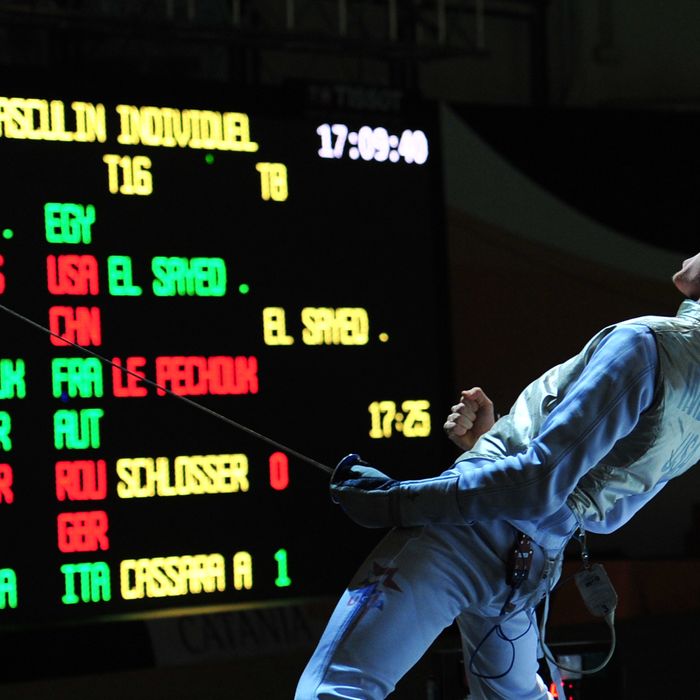 Race Imboden, at the 2011 World Fencing Championships.
Race Imboden began fencing as a child after a stranger saw him playing with a toy sword in the park and suggested to his parents that he take up the sport. He did, and at 19, he's now a member of the U.S. Olympic fencing team. Imboden was born in Tampa and moved to Atlanta as a young child, but arrived in New York when he was ten after his father got work in the city. A 2011 Dwight graduate, Imboden lives with his family in Park Slope and had been interning as recently as May at Brooklyn record label Fool's Gold. (He had to stop because his travel schedule left him no time for the internship. He is, after all, currently ranked fifth in the world in men's foil.) He's in London now — he'll be competing in the individual and team foil events — but before he left, he spoke with The Sports Section about sacrificing for the sport and what the Olympics mean for his family.
At what point did it start to look like making the Olympic team might actually happen?
I think the first time was the World Champs at the beginning of the season. I came top eight, which is my best result ever. So, basically this year has been a string of my best results ever. I upset the four-time world champion, Peter Joppich, in Germany at World Championships. I was like, I'm really contending for the Olympic games now.
Is it really true that you got into fencing because you were playing in a park with a toy sword and a stranger suggested it?
Yeah, yeah. I was in Atlanta. I always played with swords. I always loved anything to do with knights, and someone came up to my parents and was like, "Hey, he should be fencing." And they took me out there when I was eight, and they said I was too young, so when I was 9 I, like, marked it down on my calendar whenever I could go and made them take me back, 'cause I loved the idea of it so much. I was like, This is a great thing where I can play with swords for sport. This is exactly what I want. [Laughs.]
Is it sort of crazy to achieve this dream you've worked so hard for at such a young age?
It's incredible. I mean, I had this dream, and I had it when I was 10 years old and I was talking to my parents when I came to the city. I was watching my coach train for the Olympic games — he wasn't my coach yet, obviously, he was training to make the 2004 team in Athens. I saw it at the Games on television, and I was like, This is something I want to do. And I set this goal. And, as I got older, I realized the effort that I had to put in, the sacrifices that I had to make, and to achieve that now is an amazing thing, for a couple reasons. One is that it's a goal that I can set out of the way, but at the same time, I wanna go more than once. This isn't going to be my last Olympics. And I think the big thing for me is that, in the U.S., fencing is not a huge sport. It's not something you see all the time. When you go to other countries like Chile, or Japan, or even Germany, they're all over the place. They're on billboards. I think fencing can be that here, too, and I think it just takes someone who's gonna be competing at a high level and turning the sport around, and I would love to be a part of that and help get fencing a place in the average American household.
You mentioned having to sacrifice to get to where you are now. In what ways did you have to sacrifice?
I had to make a lot of choices when I was really young. I gave up a lot of things I liked to do. I'm into music, and I used to play the drums for a long time, but I chose to give that up so I could train more. My high-school experience was very different from the average kid's high-school experience. I finished school at 3:00, or if I got let out of school five minutes to three, I just went to the [fencing] club five minutes earlier. I was the first kid out of there. I went directly to the club, and I think that has a lot to do with my success and how seriously I took the sport. I skipped prom to go to a competition. I didn't hang out with many people from my high school because I was always training. I have great friends that are on the fencing team, and I have friends from school, but I think it's a different kind of relationship. It's almost like I have a relationship with my sport. It's your best friend and your worst enemy.
Is your whole family going to London?
Yeah, my whole family is gonna come. It's interesting because — that's kind of the other side of my story, is that we've never been a family that's had a lot of money. A lot of people in my sport have a large sum of money, and it's hard because fencing's expensive. The equipment's expensive, the blades are expensive, and then really the expensive thing is travel. You don't really start getting paid to travel until you're a much older fencer. When you're a senior and you're on the senior team, then they start to help you travel, and you get a stipend. But when you're younger and you're fighting for a spot, it can be taxing because you have to pay to go to every competition, you have to pay for your own flights, your board, and everything, so, for me, it was a lot of picking and choosing when I was younger what competitions can I do — how much money can I spend? My mother started working after she hadn't worked for a really long time. My dad was working double shifts and doing whatever he could, and I think, just kind of the way my whole family put their effort into it, it was like everyone was behind me a hundred percent with what I wanted to do. They've never seen me compete internationally except on TV or on the computer. They've never gone to one of these competitions, so it's a big moment for them as well.
When you first decided you were serious about fencing, were your parents worried about the cost?
Yeah, I think the funny thing about it is that when I first really wanted to do it seriously, I wasn't good enough that they were worried about it. They were like, All right, no problem, and then all of a sudden, I was winning Cadet NACs and they were like, All right, you want to start traveling internationally? We'll send you to one and see how you do. And I went and I came top sixteen or top twelve, and they were like, All right, that's not a bad start. My coach was like, We can do this, we should start going to more, we should start getting more experience, and it kind of took off from there. There were times when it was really hard, and I don't know how they pulled it all together, but they did, and I definitely couldn't have done it without them.
Do you ever wish you had a sort of "normal" childhood or the more typical experiences of a college-age kid?
You know, I never regret it. I've never ever stepped back and been like, Damn, I wish I could have gone to this party or I wish could have gone out here, and, you know, wishing I could have been this crazy-popular guy who's going out all the time. That was never my thing, and I've never had a problem with, like, getting girlfriends or anything. But I love what I do, and I wouldn't trade it for anything, and definitely now, with the success I've had, there's no way I could have regretted any of it. Never.