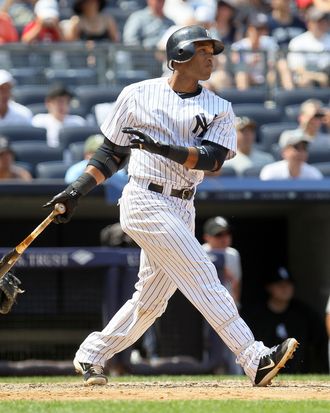 Robinson Cano is the most dangerous hitter on the Yankees these days, and as we discussed before the season began, Cano has the makings of the next great Yankee: He can hit for power and for average, he's finished in the top six of the MVP voting in each of the last six years, and at 29 years old, he's in the prime-iest part of his prime.
Cano has taken on a more prominent role in the Yankees' lineup this year (more than three-quarters of his at bats this year have come from the No. 3 or No. 4 spot in the lineup), and the results, over the past month especially, have been impressive.
Cano's numbers through the end of May this year were strong, if not necessarily the best of his career: a .291/.346/.508 slash line with eight home runs in 50 games. But his June was superb: In 27 games, Cano batted .340, hit eleven homers, and posted an OPS of 1.146. This kind of thing isn't an exact science, of course, but if it's true that baseball players really do tend to peak around age 29 or 30 (as the Baseball Prospectus article linked above found that they do), then the next few months (and really, the next couple of seasons) should be a lot of fun to watch.
Cano's July is off to a pretty great start, too, by the way: Yesterday, in a win over the White Sox, Cano went 2-for-4, including a two-run homer in the third inning that gave the Yankees a 4-2 lead. (They'd go on to win by that 4-2 score.) Meanwhile, he was announced as the starting second baseman for the American League All-Star team, the fourth time he's been selected for the team. He's on pace to crack 30 home runs for the first time this year. For that matter, he's also on pace to crack 40 homers for the first time.
Perhaps it's unwise to make grand proclamations about a player in the middle of such a scorching hot stretch, just like one shouldn't evaluate a team during a winning streak and expect that such a level of play can continue indefinitely. But it's reasonable to expect Cano to play some of the best baseball of his career this season, and over the last month, he's done just that.