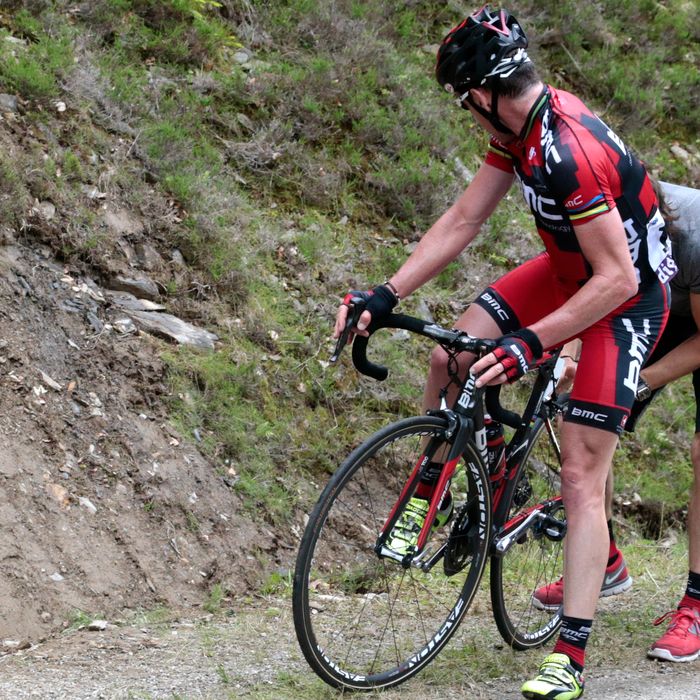 Cadel Evans gets his tire repaired after someone threw tacks and nails onto the course at the Tour de France..
Odd traditions are bound to crop up over the course of a century-old race through small-town France. But no one quite expected to see pre-WWII villainy on the road in yesterday's Stage 14. The act that took out 30 riders and nearly cost Cadel Evans all hope of defending his title was straight out of a melodrama at your community rec center, with some guy in a cape and a handlebar mustache wringing his hands in glee by a damsel in distress tied to the train tracks.
On a single-lane road up the Mur de Péguère made even more narrow by thick crowds of spectators lining either side, some idiots or hooligans (or perhaps Elmer Fudd or Wile E. Coyote) threw tacks and nails onto the pavement just as the peloton was reaching the top of the second of two steep climbs on what was supposed to be an uneventful teaser course before three huge days through the Pyrenees. According to announcer extraordinaire Paul Sherwin, this practice dates back to the earliest days of the Tour, when it was an upstart race with crowds so rough and tumble (and, you know, French) that many of the world's best riders would refuse to partake out of fear for their safety. In those days, rabid fans would wait for their favorite rider to pass and then throw tacks on the road to take out his competitors. Speaking with Bicycling Magazine later, Evans explained that tack-throwing is what he's come to expect from Spanish, not French spectators, and that two incidents like this, one of which caused him to lose the Vuelta a España, are the reason why he stopped racing in that country.
That the tacks were thrown in front of the peloton makes the attack seem more like an act of protest or mere assholish-ness than the targeted sniper effect of olden days. (That said, it seems like poor protesting to not announce what you're mad about, doesn't it?) No one's stepped forward, and the police are still looking for the responsible party. It's very unlikely, but the tacks may have been intended to protect the breakaway of eleven riders who'd been out in front of the main group (containing all of the top competitors in the general classification) for most of the day. The tacks went on the road sometime after the breakaway passed the summit, but before the peloton got there. This seems silly, though, since the five strongest men in that breakaway were sixteen minutes ahead of the peloton. They posed no threat to the race leaders (they were so far behind in the overall standings that even gaining a quarter of an hour in time would mean nothing, which is why the peloton let them get away), and the race leaders were too far back to have any hope of catching them and ruining their stage win.
Earlier in the climb, Cadel Evans had tried to attack the peloton in an effort to at least be at the front of the pack on the descent. Yellow-jersey-holder Bradley Wiggins's Team Sky eventually boxed him out, and Evans found himself in the middle of the pack as they reached the summit. A couple of riders pulled over to the side, but no one thought anything of it. That is, until Evans got sidelined, too. This was really bad news: He was already in fourth place, 3:19 behind Wiggins, having lost more than a minute on the final day in the Alps due to basically just bonking (losing steam) on the final climb of Stage 11. Three minutes is a huge deficit, though surmountable in theory. He at least had a chance to claim a podium spot. But losing any more time would have been disastrous.
Evans's young teammate Tejay van Garderen had been with him in the lead group, but didn't realize Evans had gotten a flat tire until he was already on the downhill and in no position to go back and help him. Van Garderen had sacrificed his own position in the standings to help out the struggling Evans in Stage 11, and lost one minute and 26 seconds to Wiggins in the name of being a team player even though he'd been clearly strong enough to stay with the yellow jersey. So his not sticking around to help Evans was likely a function of inexperience and the chaos of riders popping tires like a porcupine at a balloon party all around him.
You had to feel for Evans, isolated like that. With Van Garderen gone, he had to wait for another BMC Racing teammate to come by and hand him a tire. But Van Garderen is the only really solid climber besides Evans on the team, so there was a good chance that all his other teammates were way, way down the mountain still. Normally, he'd rely on the team car to come by with a mechanic and help him out, but the road was so narrow the car was at the bottom of the mountain waiting for the bottleneck to free up. When a BMC rider did finally show up, THAT guy had a flat, too. After what seemed like an eternity, a couple of other BMC red jerseys appeared and Evans got his back tire … only to get a flat on his front tire. He switched tires again and then got ANOTHER flat. By this time, the team car had caught up with him, but he lost even more time as the mechanic slipped twice into a muddy ditch trying to get out of the car and over to the road to help him. By the time he started chasing the Wiggins group in earnest, he'd lost two minutes.
All told, 30 riders got flats, including Wiggins (though his support system was super fast in helping him out). Wiggins proved himself a class act by ordering the peloton to slow down until Evans could catch back on; it's just not sportsmanlike to vanquish the defending champ because of some nefarious act by some spectators. Pierre Rolland, who's ninth in the standings, was the only rider to attack the slowed-down peloton, which made him enemy number one for a while. He'd gained two minutes, which would have shot him up to sixth or seventh place, before he got communication from his team leader to sit up and let the rest of the riders catch with him. He claimed to have not known what was going down, which is credible given that he's French and the majority of riders up front were part of the British Team Sky and were likely shouting to each other in English. As Rolland told the Times, "I'm someone who respects the peloton and its codes, and I would never have attacked a rider who punctured. It saddens me a bit." Rolland's boneheaded move meant that at some point before Evans caught up, Wiggins's group had to speed up to chase Rolland down. Luckily, Evans eventually caught up with them.
The rest of the race played out as it should have. A smart Luis León Sánchez of Spain attacked his breakaway partners on the one final steep section before the finish line, knowing that they were all better sprinters than he is, and managed to build enough of a lead to get a solo stage win. Because of Wiggins's sportsmanship, neither Evans nor any of the other tack-afflicted riders lost time. The guy you really have to feel sorry for is Team Astana's Robert Kišerlovski. The 25 year-old is the only Croatian in the race (this is his first Tour) and had been a near stage winner twice, but he crashed out during the tack attack and broke his collarbone. And Evans may have managed to hold on, but the effort he had to expend to get back in the race may really hurt him when the race hits three days in the Pyrenees on Wednesday. It remains to be seen if the tack in his tire will be the nail in his coffin. (Sorry, had to go there.)