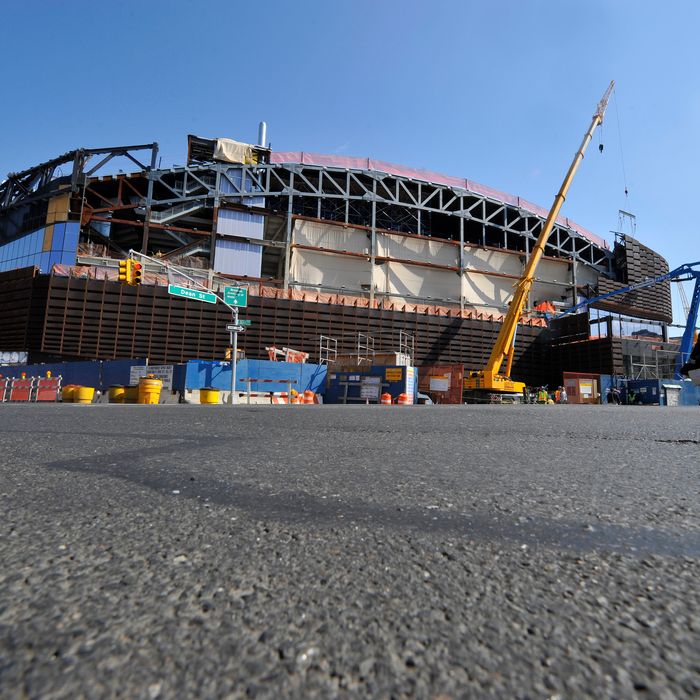 There is something definitively compelling, in an entirely new way, about looking at the 2012–13 NBA schedule, which was released last night (PDF), and seeing the word Brooklyn peppered all the way up and down it. This is really happening, and this somehow makes it feel even more official than does the building on Flatbush. The team has established dates. People will be expecting them to show up and everything.
Obviously, a schedule with 82 separate dance cards on it has enough material to dissect for a fortnight or so, but we thought we'd just take a look at the particulars for both the Knicks and the Nets. So let's just jump in.
Opening Game:
Knicks: at Nets, November 1
Nets: versus Knicks, November 1 (It's worth noting this isn't the first game of the season altogether; it actually begins two nights earlier, on Halloween, even. You'll have to wait a while for both teams to begin.)
Other Days They Host the Crosstown Rival:
Knicks: December 19 and January 21 (MLK Day).
Nets: December 11.

Dates They Host the Defending Champion Heat:
Knicks: November 2, March 3.
Nets: January 30.
Christmas Day Game:
Knicks: at L.A. Lakers, 3 p.m.
Nets: versus Boston, noon.
Jeremy Lin Visit:
Knicks: December 7.
Nets: February 22.
Potential Game in London:
Knicks: Possibly, apparently! Maybe January 17.
Nets: None. No games in Russia, either.
Last Home Game of the Season that Will Surely Be Played by D-Leaguers:
Knicks: versus Atlanta, April 17.
Nets: versus Detroit, April 17.
You can start mapping out your schedules for the Knicks and the Nets right now. We're ready for this to get going, like, right now.