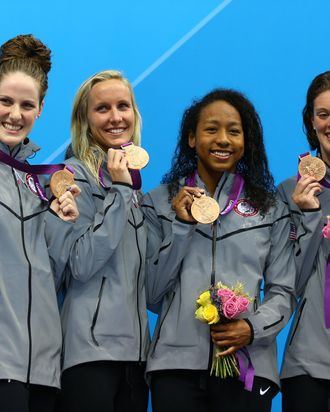 Swimming's usually one of the most popular sports at the Olympics, and it wasted absolutely no time getting started. Here's what you missed/saw/decided to discuss over the weekend.
France edges the U.S. out of first place in the 400 free relay.
The men's 400 free relay wasn't a particularly exciting race to watch, until the end at least; it seemed it was the U.S.'s to win. But in the last 50, France's anchor, Yannick Agnel, pulled ahead of U.S. anchor Ryan Lochte to win the gold medal. (You'll recall that this is the race that, in 2008, the Americans just barely won, touching out France by a few hundredths of a second in the final 50 and inspiring this infamous reaction from Michael Phelps.)
A lot of my non-swimmer friends texted me about the race, asking me how "Lochte choked." But it'd be unfortunate if that's how this race is remembered. Lochte is not a 100 free swimmer and doesn't pretend to be; it seems the U.S. coaches positioned their best sprint freestylers earlier in the race and hoped Lochte would be able to hold on. He put in an incredibly fast split; Agnel was simply faster. Could the Americans have kept the lead if the relay positioning had been reversed? Perhaps. But had Lochte swam first, the U.S. could have started the race in second rather than first, and might have spent the entire 400 trying to catch up.
New York City's own Lia Neal gets to compete and wins a medal. 
The U.S. brings six swimmers for four spots for relays, allowing the coaches to use different swimmers for prelims and give some swimmers a rest and to swap out swimmers who are just having a bad meet. So there was always a chance Neal could have been a part of the team but not competed in a finals race (like what happened to Natalie Coughlin, who qualified for only this race and swam in the prelims but not the finals). The U.S. claimed third place, giving a bronze medal to 17-year-old Neal (Official Olympic Athlete of The Sports Section!) and allowing Coughlin, who still receives a medal because she was on the qualifying team, to tie swimmers Dara Torres and Jenny Thompson as the most decorated female Olympian in history.
Ryan Lochte wins the 400 I.M., and Phelps has a disappointing opening to the meet.
The race wasn't even close; by the final 50, Lochte was the clear winner. Also clear: After a disappointing qualifying swim where he placed eighth, Michael Phelps wasn't going to be able to medal. Many expected a close battle from Lochte and Phelps for 1-2, like at the Trials, but Phelps finished fourth. Even Phelps, who can seem so invincible, can have an Olympics race that's not up to his personal standards. (Also of note: After receiving his medal on the podium, Lochte popped in his American flag-themed grill and smiled for the cameras. Lochte's irreverence is such a big part of why he's completely lovable and a blast to watch.)
Dana Vollmer wins gold in the 100 fly and breaks the world record in the process.
Vollmer became the first female swimmer to go under 56:00 in this race, clocking in at 55.98 and easily winning. 
Brendan Hansen medals in the 100 breast, taking the bronze.
London is Hansen's third Olympics, and he's 30 years old; quietly, he's more than established himself as one of the better breaststrokers in history — without most people ever hearing his name. 
New world records.
They aren't being broken with the ease and frequency that they were in the super-suit era, but some world records have finally started to fall, and top swimmers are improving on their best times once again. Insecurities about not being able to perform without so much technical help from LZR suits seem to have dissipated. 
Mary Jane Weedman is writing about Olympic swimming for The Sports Section. E-mail her at MaryJane.Weedman@nymag.com.