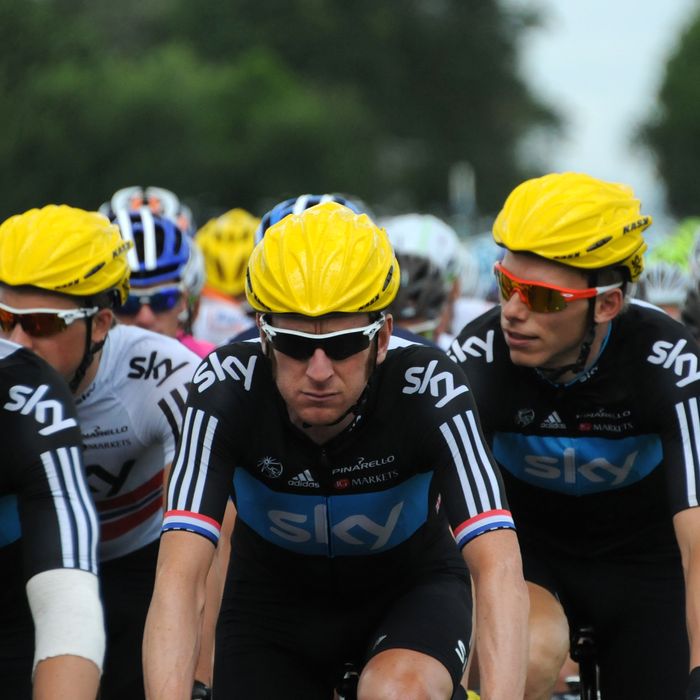 Forgive us for having been less than enthused at the start of this year's Tour de France. We're big fans of the classy Australian work horse Cadel Evans, who won last year, but the race is sorely missing the presence of perennial spark plug Alberto Contador and his chief rival over the past few years, Andy Schleck.
In February of this year, the Court of Arbitration of Sport handed Contador a two-year suspension for testing positive for the stimulant and breathing-enhancer clenbuterol in 2010 and stripped him of the TDF title he'd won that year, along with his 2011 Giro d'Italia championship. The Spaniard's 2011 Tour had been spoiled by crashes, but he's an aggressive and relentless attacker in the mountains, and the field's constant fear of what explosion he might unleash ups everyone's game. Schleck, who fought his way into the yellow jersey in the 19th stage of last year's Tour, only to lose it to Evans in the time trial in the 20th and penultimate stage, fell badly during the Critérium du Dauphiné in early June of this year and injured his knee and pelvis too badly to either continue on in that race or participate in this year's Tour. He'd been the beneficiary of Contador's forfeited 2010 TDF title, but had vowed that this year would be his first real sporting win.
This seems to leave the race in the hands of two men, reigning champ Evans and British great hope Bradley Wiggins, who seems to come into the Tour every year as a favorite, but peaked too early and finished poorly in 2010 and crashed out in 2011. Both men are time trialists who can climb, which means that this year's course, with 101 km of time trials (the Prologue, Stage 9, and Stage 19) and only three true mountaintop finishes, is more suited to their style than courses of previous years.
Wiggins has the edge, having had the best season of his life so far this year. He won Paris-Nice, the Tour de Romandie, and the Critérium du Dauphiné, and has a very strong Team Sky behind him, as opposed to Evans's troubled BMC Racing team. Last year, Evans had the extra motivation of being the first Australian to win the Tour. If Wiggins wins, he'll be the first Englishman ever, a goal that seems more special sauce than Evan's attempt to hold on for a second win in a row. But will all that winning earlier in the season prove detrimental to Wiggins? Will he again prove to have peaked too early?
Here's what you need to know from what's happened so far:
• Fabian Cancellara, the world's best time-trialist, is in the yellow jersey, having bested Wiggins by seven seconds and Evans by seventeen in the four-mile Prologue in Belgium. (The Prologue win was Cancellara's fifth, tying him with the great Bernard Hinault for the most in TDF history.) Since all three men have managed to stay on the right side of crashes during these early stages, the General Classification standings have remained relatively unchanged.
• There's a new sprinter in town, controversial 22-year-old Slovak Peter Sagan. He's so powerful he apparently rides up stairs in training. He's also a cocky kid and mimicked Forrest Gump when he beat the rest of the field by several bike lengths while winning Stage 3. That's one of three stages he won, including today's Stage 6. Although he, too, has been lucky enough to be on the right stage of this Tour's many crashes most of the time, unlike America's top sprinter, Tyler Farrar (four crashes in five days), and the sport's most dominant sprinter, the British Mark Cavendish. He's only won one stage so far and has fallen so often and so badly (he broke his helmet to pieces once) that all he can do now is hope he'll recover in time to kick ass at the London Olympics.
• Four veteran American cyclists — George Hincapie, Levi Leipheimer, Christian Vande Velde, and David Zabriskie — have something else hanging over their head. On the day they raced Stage 5, a Dutch paper published a report that they had all confessed to the USDA that they'd doped while they were teammates with Lance Armstrong on the US Postal Service team, and traded testimony against the former champ in exchange for six-month suspensions to start at the end of this season. None would confirm.
• There have been a ton of crashes. Something like four pileups in Stage 3, and then Stage 4 and Stage 5 both ended with riders splayed near the finish line.
That brings us to today's Stage 6, which was supposed to be a relatively easy time before hitting the mountains for the first time tomorrow. Not so. A massive crash in the last hour, 26 km from the end, left the peloton in pieces. Only about 50 riders, including Evans, Wiggins, and Cancellara, made it out on the right side. Strong GC contenders Ryder Hesjedal, Robert Gesink, and Fränk Schleck (brother of Andy), each lost around two minutes and fifteen seconds. Schleck's hopes at this point are pretty much dashed, since he's quite weak at time trials. Unlucky Mark Cavendish, again a favorite to win the stage, got caught (again!) on the wrong end, too, allowing Peter Sagan to take his third stage win.
The crash was so brutal that three riders had to drop out due to injuries. And the race's crashes, cumulatively, have left teams Radioshack and Garmin-Sharp (Hesjedal's team) in tatters, too banged up to really hope they'll have a champion. It's been a less-than-ideal start to a Tour that was already missing its big stars, but it does give hope that something exciting is lurking around the corner — for the few riders able to stay on their bikes.
Tomorrow's stage ends in a Category 1 (super hard) mountaintop finish, with the slope getting as steep as 14 percent grade. As we stand, Cancellara still has the yellow jersey. The start of Stage 7 will mark his 28th day in yellow for his career, a record for a non-TDF-winner, making him the active cyclist who's worn the jersey most frequently. But he's not a climber, so tomorrow will likely be his last day in yellow this year. The standings, which have barely changed since the Prologue, are ready to be blown wide open. We're finally ready to get this party started.