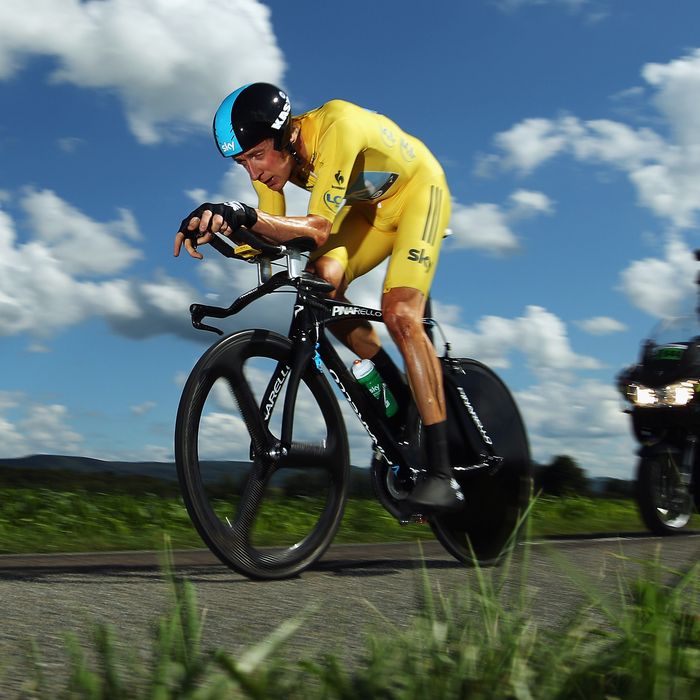 When we last checked in on the Tour de France, the field was battered and bruised and the race poised for a new leader. Enter Bradley Wiggins, who has gone from winning the yellow jersey by a few seconds on Saturday's Stage Seven to becoming an indisputably dominant force after today's individual time trial.
Stage Seven had started off with Swiss* time-trial whiz Fabian Cancellara in yellow, his eighth day as the race leader since winning the prologue at the start of the Tour. But Saturday's course would end in a 5.9 km ascent to the ski resort of La Planche des Belles Filles, the race's first hilltop finish. With the final stretch at a 20 percent grade, there was no way Cancellara would hold onto his jersey against the Tour's real climbers. At the start, Wiggins had trailed Cancellara by seven seconds, and defending champ Cadel Evans was ten seconds behind Wiggins. As the peloton hit the final climb, it caught several riders who'd broken away (in hopes of a stage win) earlier in the race. Soon, Wiggins's Team Sky had set a brutal pace meant to shed the weak, which it did. Big names like Ivan Basso, Christian Vande Velde, and Frank Schleck dropped off the back. Soon the lead group had been whittled down to only five riders: Wiggins, Evans, Wiggins's right-hand man Chris Froome, young Estonian rider Rein Taaramae (doing better than anyone expected), and the one remaining threat to Wiggins's and Evans's yellow-jersey hopes, 27 year-old Italian Vincenzo Nibali, who won the Vuelta d'España two years ago. Evans made a move to gain a few seconds on Wiggins, only to get swallowed up and watch Froome grab the stage win and Wiggins grab the yellow, with Evans still ten seconds behind.
Stage Eight was another day of medium mountains heading into Switzerland and Stage Nine's crucial individual time trial, but the long downhill and flat that finished the stage wasn't ripe for a GC rider to try to gain time. Any move would be anticipated immediately and shut down. Halfway through the stage, Spain's Samuel Sanchez (the defending Olympic Champion) fell and appeared to fracture his collarbone and hand, which would have dashed his chances of defending his Olympic title in London. Luckily, it was just the hand, so he may still be able to defend. But Stage Eight was also notable because of brave and exciting French rider Thibaut Pinot, who attacked 10 kilometers from the top of the final climb — the Category One (very hard) Col de la Croix. He's the youngest rider in the Tour at age 22 (this is his first Tour), and part of a very young French team, FDJ-BigMat, that may be the future of French cycling. It was awesome to watch his manager Marc Madiot practically falling out of the team car window shouting encouragement to him and, as Phil Liggett might say, reach deep into his suitcase of courage.
Because all the big GC riders stayed together in Stage Eight, despite some valiant attacks by Evans, the GC standings were static going into today's 41.5-km individual time trial, along a curvy, rolling course. But today, Wiggins extended his lead over Evans from a few seconds to 1:53. This is huge, and means Evans will have to make up a lot of ground in mountains and time trials to come. But it is not insurmountable.
Wiggins had the advantage of starting last, as the overall leader, and thus knew what the other riders had already done. That said, his strategy was to basically just go balls to the wall, not only stretching out his overall lead, but coming away with the stage win, the first of his career. (He told VeloNews that he just kept thinking about how he'd missed his kids' birthdays to be at training camps and used that as his motivation.) Evans, meanwhile, just never looked comfortable, but he still came in sixth and managed to hold onto his second place in the overall standings. Encouraging for Wiggins is that his teammate, Chris Froome, who'd won Stage Seven, came in second on the day, 35 seconds behind Wiggins, and grabbed third place in the GC. That Froome is in such great shape should prove a valuable asset to Wiggins when he needs help in the mountains. Plus Froome should be extra-motivated by his own chances to get on the podium in Paris.
Also interesting was Vincenzo Nibali, whom Wiggins had identified as the third man besides himself and Evans in the hunt for the win, losing 2:07, along with the also very strong Denis Menchov, who lost 2:08. (That puts them in fourth and fifth place, respectively.) One to watch is American Tejay Van Garderen of BMC Racing. He's on Evans's team — Van Garderen is to Evans as Froom is Wiggins — and finished the time trial in a surprising fourth place, just 1:06 off Wiggins's time. He's probably not going to place in Paris, but he's the best American we've got in this race, so he's worth keeping an eye on. After tomorrow's rest day, Wednesday's Stage Ten brings the first of three brutal days in the Alps. It ends in a long descent, so there's a good chance the GC will stay relatively the same, but get ready for attacks, especially in Thursday's Stage Eleven, because Evans is not giving up this race without a fight.
* This post has been corrected. Fabian Cancellara is Swiss, not Italian.