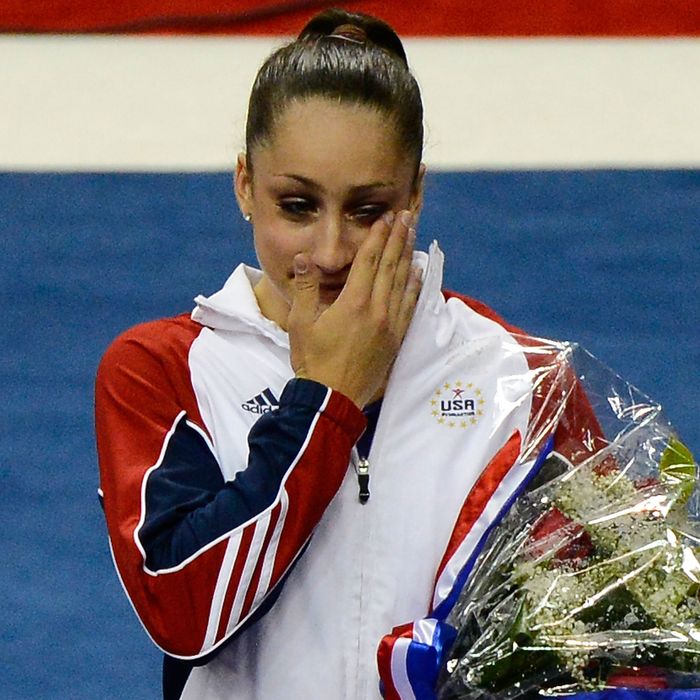 There is DEFINITELY crying in gymnastics.
So … things didn't quite go according to plan this weekend. Starting with massive, shocking turns of misfortune from both the men's and women's current world champions and rounding out with history-making finishes for both United States teams, the Olympic qualifications this weekend turned the gymnastics world on its head.
First off, the women. The most prominent story was 17-year-old world all-around champion (and current national champion) Jordyn Wieber missing the all-around final. Wieber became a victim of team USA's depth. She didn't make a major error; she was simply bested by her teammates. By the end, all Wieber could do was watch as Aly Raisman and Gabby Douglas snagged the two allotted spots per country for the individual all-around final. Wieber cried tears of disappointment as Raisman cried for the exact opposite reason. It was brutal.
But not as brutal as this: Wieber's all-around score was the fourth best in the entire field, but because of the controversial two-qualifiers-per-country rule, she was left on the outside looking in. Wieber will move on only to the individual floor final.
The situation could potentially fracture the unity of the United States women. (The coverage isn't helping by ignoring Raisman's stunning accomplishment to focus on Wieber's loss  — this recap included, of course.) Wieber will be desperately needed to be in top form for the U.S to advance in the team final, but it's up for debate how well she'll be able to adjust to the disappointment. The U.S. cruised to the top qualifying spot, but to win gold, they will need to become a united team again … in less than 24 hours.
And then, the men. Gymnastics fans are used to seeing Japan and China battling it out atop the standings. This year was no different … except nearly at the other end of the standings.
China faltered badly after having to fly in, at the last minute, an alternate to replace 2008 Olympic champ Teng Haibin. Three-time world champion Kohei "Superman" Uchimura, considered one of the best men's gymnasts of all time, showed his first-ever signs of mortality, doing the unthinkable: Falling. Twice. Uchimura was supposed to dominate, but instead he'll only compete in a single event final (floor exercise) after an unthinkable ninth-place qualification into the all-around. Japan finished fifth overall, with China sixth, though both teams made the cut for today's final. The good news for Kohei and Teams Japan and China: All scores from day one are erased and everyone starts over today.
And about that Team USA history: We had high hopes for the men's team coming in, and they more than lived up to them, finishing first in qualifying. The women, less surprisingly, did as well, marking the first time in a non-boycotted Olympics that the U.S. men's and women's teams both earned the top spot — not even the Magnificent 7 in 1996 accomplished that feat.
Other Notables:
• Oh, hi, Russia, nice to see you again. Russia has struggled painfully since the dissolution of the USSR, but both the men's and women's team qualified strongly in second place behind the Americans, setting up a good old-fashioned USA–Russia Cold War nostalgia battle.
• Jordan Jovtchev of Bulgaria made the still rings final in his sixth Olympic games at 39 years old. He has a full head of gray hair and four Olympic medals.
• Great Britain favorite Beth Tweddle, 27, leads the uneven bar field over 2008 Olympic Champ He Kexin of China.
• The gutsiest performance award goes to Philipp Boy. One of the favorites in all-around, he hurt his ankle badly on vault and fell from the high bar. His chances at an all-around medal gone, he gritted through floor exercise and turned in a solid performance for Team Germany.
Lindsey Green is writing about Olympic gymnastics for The Sports Section. You can e-mail her at Lindsey@ti14th.com.