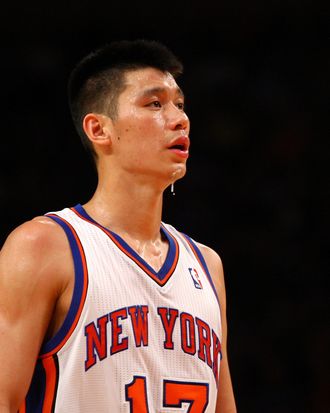 He probably can't believe it either.
"The decision was ultimately financial, not emotional, according to people briefed on the deliberations."
"[T]he decision was not final and would ultimately be made by one person: James L. Dolan, the Madison Square Garden chairman."
Those are the key lines of Howard Beck's Times story, which landed a couple of hours ago and essentially sealed the fate of Jeremy Lin and the Knicks: They're over. Those lines tell you everything and nothing.
There's a fundamental mystery behind all this: What happened? What changed between the time of Linsanity, when the Knicks were the center of the sports universe, and now, when they're letting him go for nothing? (For nothing!) What changed after those Sports Illustrated covers and front-page Beijing Times stories? What changed between last week, when the Knicks said they would match Lin "up to a billion dollars," when coach Mike Woodson openly discussed Lin as his starting point guard? Why is this happening?
Let it be known, without question: This is a mistake. It is a mistake in a financial sense – let us not forget how much MSG's market cap went up during Linsanity, and, for that matter, went down yesterday when this word leaked – and it is a mistake in a basketball sense. Remember, the real reason it is so expensive to bring back Lin next year is not that he went out to get more money from the Rockets, or that Houston pushed so hard to get him. It's because the Knicks are paying a huge salary to Amar'e Stoudemire (and Carmelo Anthony and Tyson Chandler). The Knicks are spinning it like Lin got too expensive, like he got too big for the Knicks. Think about that. The Knicks – the Knicks! – are trying to claim that they can't overpay for their most popular player, someone who wants to come back, someone whose fans are begging to cheer for again. It is a mistake. And the Knicks have to know it is a mistake.
Or at least we have to try to believe they do. Because otherwise, as Posting and Toasting explained: this is about something worse. This is about the Knicks – as JR Smith implied in an interview Sunday – not wanting Jeremy Lin. Not not wanting to pay Jeremy Lin, not thinking Jeremy Lin isn't a good player. It's about not wanting him. It's about being bewildered by the phenomenon, overtaken by its organic blossoming, intimidated by its inability to be controlled. It's about people thinking he hadn't "earned" it, that he was a fad, that the whole thing was just silly piffle. That's to say: It's about one of the very same things that made the Lin phenomenon so great — all the people who took him lightly, all the people who said he couldn't do it. It was a transcendent story that fell into the Knicks' lap. And barring a last-second reprieve from the governor – seriously, can Governor Cuomo do something about this? – it's a story that's over. It's a story that the Knicks – that Jim Dolan – did not want. It is a story that could not be controlled.
Jeremy Lin is about to leave the Knicks. It sucks, Knicks fans: It's truly shocking and surreal. But now one thing is clear: They, and their owner, never deserved him in the first place.