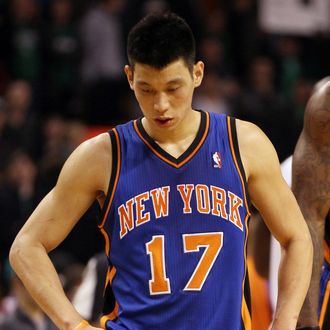 So, in a perfect world, the Knicks will just win a championship this year, beating Jeremy Lin's Houston Rockets in the Finals, and everyone will go home happy. If that happens — and hey! ya never know! — then our coverage this week will look silly. Our pleas to the Knicks, our petitions, our attempts to understand the salary cap, our Carmelo conspiracy theories, our angry rants, our sad laments, our fan polls … we'll have to delete it all. Pretend it never happened. Until then, though: The whole thing just still seems like the dumbest thing in the world. Not a good week for the Jim Dolan fan-popularity index, down from 2 percent approval to 1 percent. (We still let MSG employees vote in that thing.)
What else? Well, there was a lot of Tour de Francin'. (We love Jada's recaps.)
We got to know a lot of Olympians. Including Lia Neal, official Olympic Athlete of the Sports Section.
We remembered that A-Rod is going to be here a long, long time. And we learned that Mariano might even return this year.
Oh, we went out and bought some commemorative merchandise.
Honestly, though: It was the week the Knicks let Jeremy Lin leave for nothing, and we're still pretty sore about it, and are looking forward to a weekend away from sports so we don't have to think about it anymore. So have a nice weekend. We will try.