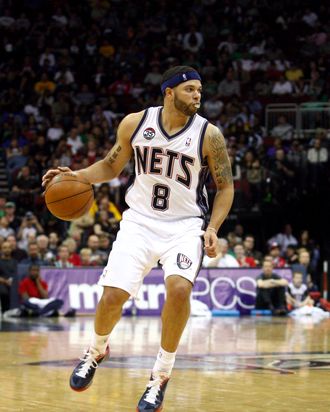 Free agent contracts can't actually be signed until next week, but here's what's gone down since Sunday: Deron Williams is still a Net, and thanks to a trade with Atlanta, he'll be joined by Joe Johnson. Jason Kidd, meanwhile, will be a Knick, and Jeremy Lin will likely be back, too, once the Knicks match Houston's offer sheet. Steve Nash won't be a Knick, though, and thanks to Toronto's offer sheet, Landry Fields might not be one next season either. But what happened this week that didn't involve waiting to see what's going to happen with Dwight Howard?
R.A. Dickey was among the six combined Mets and Yankees named All-Stars.
The Mets won two out of three against the Phillies, including a dramatic walk-off win last night.
The Yankees won on Old-Timers' Day, then dropped two of three at Tropicana Field.
The Rangers addressed their enforcer situation, but lost Ruslan Fedotenko to the Flyers.
We looked at what's going on with the Rick Nash Derby, and also at why NHL offer sheets are so rare.
We looked at how Roger Federer got his mojo back.
And we checked in with the Tour de France as it heads into the mountains.
That's it for us. Have a great weekend.