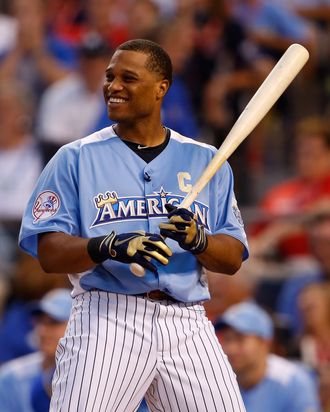 We suppose the All-Star Game "counts" now, but otherwise, it's been five days since we've seen a meaningful baseball game. There have been a few baseball-ish things to keep us occupied in the meantime — the Home Run Derby, the booing at the Home Run Derby, late-night talk-show appearances — but thanks to the new day off on Thursday of All-Star week, there hadn't been a regular-season game since Sunday. But what happened this week that didn't involve waiting for the second half to begin?
We waited and waited for some Dwight Howard news, then finally learned that he won't be traded to the Nets (at least not now). The Nets, meanwhile, now get to move on with their lives.
We learned that Steve Novak, Marcus Camby, and J.R. Smith will be Knicks next year. (They ranked eighth, seventh, and fifth, respectively, in our special off-season Knicks Power Rankings.)
We looked at which of the city's two NBA teams will be better next year.
The Freeh Report came out, and it was ugly.
Roger Federer beat Andy Murray in a dazzling Wimbledon final.
We checked in with the Tour de France, where cycling's next generation is announcing itself.
The Yankees asked Reggie Jackson to stay away from the team, at least for a little while.
And Jeremy Lin signed the Rockets' offer sheet, meaning the Knicks can now officially match it.
That's it for us. Have a great weekend.