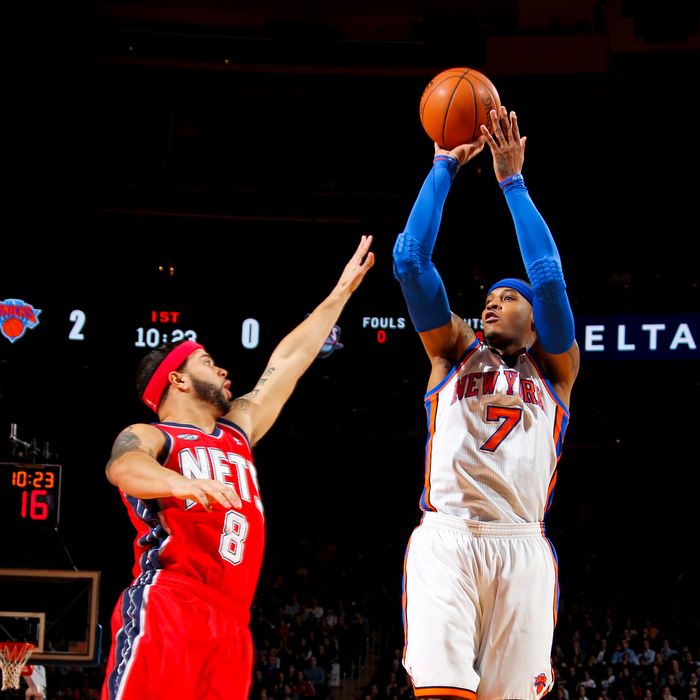 You'll be seeing a lot of this.
One thing everyone involved with the New York Knicks and the Brooklyn Nets can agree on is that when the two teams play each other, it's going to be an extremely cool thing for the city. The Nets, being more aspirational than institutional at this point, are more emphatic about it, but it's a fundamental fact: We're going to have regular NBA Subway Series, with the added bonus of the two teams being in the same division and competing for playoff positions. (A much more efficient Subway Series, we might add. It's 50 minutes from Yankee Stadium to Citi Field; it's only 30 minutes from the Garden to the Barclays Center.) Which begs the question: Now that the major roster moves for each team are set — there will be tweaks at the margins, but on the whole, we know these teams now — which team is better?
It's not necessarily an academic point: Both these teams plan on competing immediately, and even though the Nets haven't been to the playoffs in five years, anything less than that this year would be a colossal disappointment. (SI's Zach Lowe thinks they might be the No. 2 seed in the Eastern Conference.) Meanwhile, the Knicks at least think they have a championship contender. So how do they match up? Let's take a gander.
POINT GUARD

Nets: Deron Williams
Knicks: Jeremy Lin, Jason Kidd
We will never stop loving Linsanity, and we think it's legitimately possible that he grows into an All-Star-caliber player over the next three seasons. And Jason Kidd is pretty much the platonic ideal of a backup and a mentor. But an engaged Deron Williams, surrounded by talent, finally, might be one of the ten best players in the NBA. And, as we witnessed in February, he has a bit of an axe to grind about Linsanity. He may explode this season. Advantage: Nets
SHOOTING GUARD
Nets: Joe Johnson
Knicks: J.R. Smith, Iman Shumpert (eventually)

J.R. Smith might drive the Knicks insane, but he's a terrific bargain at $2.8 million a year. It's also possible that the Knicks bring back Landry Fields by matching his offer from Toronto, which would be crazy, but hey, it's Jim Dolan's money. (Okay, fine: It's your money, that you gave to Jim Dolan.) But Johnson, while certainly overpaid himself, is a second-tier superstar who was lost in Atlanta last year but seems like the ideal running mate to Williams. Without Dwight Howard, the Nets are going to be an offense-oriented team, and we can see Johnson being a fantasy basketball monster this year. The Nets will still probably end up regretting trading for that salary — the Hawks are doing backflips to be out from under it — but this is probably the easiest call on the board. Advantage: Nets
SMALL FORWARD
Nets: Gerald Wallace
Knicks: Carmelo Anthony
Wallace is an ideal third wheel, an aging, declining, but still awfully handy player, particularly this year. (He's the sort of player who will fall off the cliff quickly, though.) Anthony, quite simply, needs to have the best year of his career to avoid being branded something ugly and derisive the rest of his career. This is the season during which Carmelo needs to become the all-around superstar — not just the laid-back scoring machine, but the all-encompassing burst of hypercompetitive destruction — that everyone has always believed he could be, but might be losing faith in. Carmelo needs to destroy this year, because if it's not happening now, it's not happening ever. Advantage: Knicks
POWER FORWARD
Nets: Mirza Teletovic, maybe Kris Humphries
Knicks: Amar'e Stoudemire
We have never seen Teletovic play and we have no idea if he's any good or not. He looks sort of fun in highlights. Kris Humphries is better than you think and better than you want him to be, but he's still Kris Humphries. Stoudemire, more than anything, needs to figure out a way to play with Carmelo on the floor. It is worth noting that Second Superstar Stoudemire probably would work better off the bench these days. He needs a healthy, terrific year to make people forget that fire-extinguisher business. Advantage: Knicks
CENTER
Nets: Brook Lopez
Knicks: Tyson Chandler
Lopez is a much better player than people remember; it's been two years since he's been at peak capacity, but he can score as well as any big man in the game. (Defense? Well, not so much.) Chandler, of course, is the Defensive Player of the Year and the one Knick that everybody likes. Plus, the addition of Marcus Camby should give him some much-needed minutes off. Advantage: Knicks
BENCH
Nets: MarShon Brooks, Kris Humphries (maybe), Reggie Evans, Jerry Stackhouse, Johan Petro
Knicks: Jason Kidd, Marcus Camby, Steve Novak, Jared Jeffries (maybe), James White, J.R. Smith (eventually)
The Nets kept a lot of their depth by not trading for Howard — and Evans is the sort of nasty guy the Knicks would love — but this is still a relatively thin team. The Nets are still adding, of course, with Antawn Jamison and Kenyon Martin potentially on the horizon. The Knicks have an impressively stacked bench, all told, though they're dangerously empty in the backcourt. But in a potential long series between these two teams, if everyone's healthy, the Knicks would absolutely wear the Nets out. Advantage: Knicks
Obviously, this is just a rough sketch, and there's still plenty of roster moves to make. And the Nets have constructed something truly impressive in a short period of time. But as of this point in time, we're still pretty sure the Knicks are better. The great thing is that we're gonna have a full season, a season with regular games between the Knicks and a team in Brooklyn, to find out for sure.