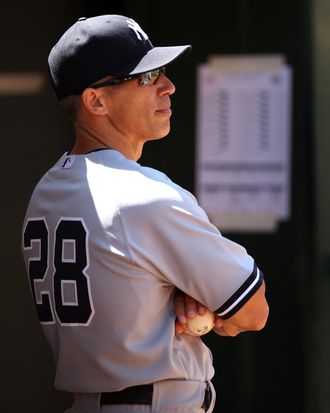 It wasn't all that long ago that the Yankees were distancing themselves from the A.L. East pack and looking like they might just run away with the division. And while your friendly Sports Section editors were well aware that it's only July and there are many, many baseball games left to be played, they'd been cruising for so long — and the rest of the division had been staying so close to the .500 mark — that it was hard not to get excited. This weekend tempered that excitement a bit.
The Yankees suffered a four-game sweep to the red-hot A's in Oakland, losing each game by one run (and losing two of them, including yesterday's series finale, on walk-off hits). It's the sort of thing that happens to every team over the course of the season: The Yankees had been the only team in the league that hadn't lost four straight games this season. And if any team was going to end the Yankees' long stretch of scoring at least three runs in a game, it would be these A's, who boast the best team ERA in the American League (though they're also last in runs scored).
Meanwhile, as the Yankees were getting swept in Oakland, the Orioles — the team with the fourth-worst run differential in the American League — swept Cleveland after taking the final two games of the series last week with the Twins. In doing so, the O's improved to 51-44 and cut the Yankees' lead to six games in the East. That's still the biggest lead of any first-place team, and the Yankees still have the best record in baseball, but perhaps we'll take a break from checking in on their Baseball Prospectus playoff odds for the time being. At least until, like, August.