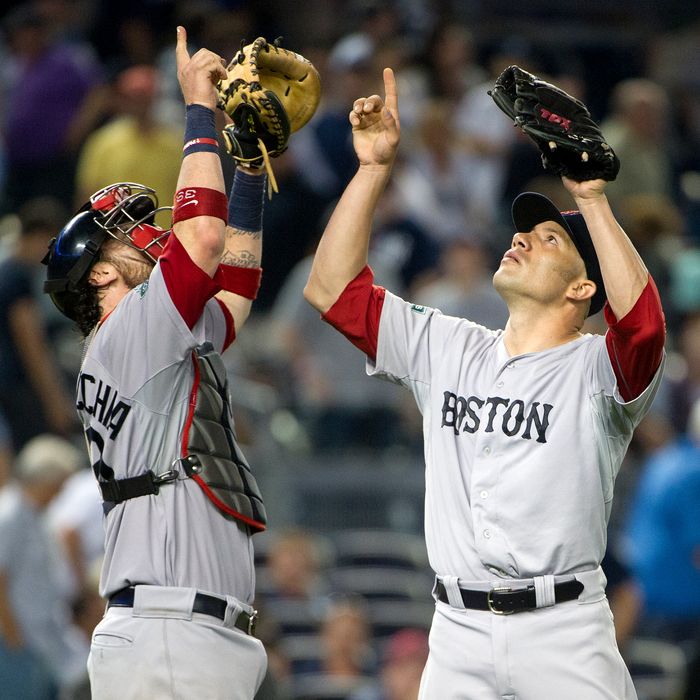 Boston is still looking up at the Yankees in the standings.
If the final weeks of the 2011 season taught us anything, it's that leads in the standings aren't safe and that it's dangerous to proclaim a team dead in early September, let alone late July. But after winning the series opener against the Red Sox on Friday night, Yankees fans may have smelled blood: Boston was in last place and 11.5 games out of first, and with the team two games under .500 through 100 games, Dustin Pedroia was pretty down. Losses in the final two of the series would have dropped the Sox to 13.5 games out of first. The Yankees came close to winning both of those games. They ended up winning neither.
On Saturday, the Yankees rallied back from a 6-1 deficit, then tied the game in the eighth on a Mark Teixeira home run off Vicente Padilla that will help set the stage for the inevitable bench-clearing brawl that those two will start. But the Yanks would lose in the ninth after a Curtis Granderson miscue in center led to a Pedro Ciriaco triple. Then last night, the Yankees came back from a 2-0 deficit, again tying the game in the eighth. But Ciriaco's tenth-inning RBI single off David Robertson gave the Sox a 3-2 lead, and Boston's win gave them a series victory. Obviously, Terry Francona's visit to the Boston clubhouse on Saturday has turned the team's fortune around.
This weekend's series may have felt like it lacked some of the hype that usually surrounds games between these teams, but one can be sure that the Red Sox understood how much the series meant, rivalry or no rivalry. They were a last-place team that couldn't afford to get swept by a first-place team, and even if the division is out of reach (they're 9.5 out), the Wild Card standings are so crowded that they have to at least try to keep pace with the teams around them. (As it stands, they're four games out of a Wild Card spot, but they're seventh in those Wild Card standings.)
These teams next play August 17 in the Bronx. And seriously, considering the history between the two of them and considering that the Yankees' first-baseman is still two steps out of the batter's box, admiring the home run he hit Saturday, that Padilla–Teixeira brawl is happening before this season is over. They might as well just get it over with next month.