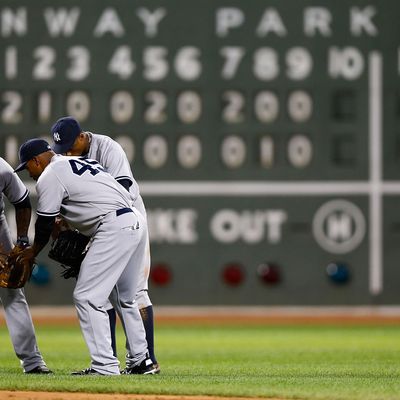 The Yankees celebrate their win at Fenway last night.
We've reached the Major League Baseball All-Star break, so this is as good a time as any to take a moment and look at where teams stand with roughly half a season in the books. In this week's magazine, Will took a look at the surprising Mets, and make no mistake, Terry Collins' club is a great story, especially considering what was expected of it this year. But the Yankees, at the All-Star break, have the best record in baseball.
The thinking going into this season was that the Yankees were just one of the teams in the American League East that would compete for a play-off spot. But at the All-Star break, their 52–33 record is the best in baseball, and they're one of just two teams with a winning percentage over .600. We're tempted to call this a pleasant surprise, but we're not sure a perennial contender with a payroll over $200 million can really be considered surprising. So let's just call the Yankees' first half mostly pleasant, and leave it at that.
In an American League East that's plenty competitive — no team is below .500, two teams are currently in the play-off picture, and another is just a half a game out — the Yankees are also enjoying the biggest lead of any first-place team. (They're up by seven games; the next biggest leads belong to Texas and Washington, who are both four games in first.)
They closed out the first half this weekend with three wins in four games at Fenway, improving their record to 5–1 against the Red Sox this season. (All six of those games were in Boston, by the way. These teams don't meet for the first time in the Bronx until July 27.) We'll go out on a limb and say the happiest Yankee today is Mark Teixeira, thanks to all the Vincente Padilla business this weekend.
The Yankees have had to deal with a bunch of injuries so far this season (Mariano Rivera, Brett Gardner, and so on), and certain individual players are having disappointing seasons. (Russell Martin's numbers will make you very sad.) But that's mostly balanced out by the team's strengths: a ton of power, a rotation that's settled into a groove, and a bull pen that's withstood the loss of the greatest closer ever. (It also helps that their lineup includes one of the best hitters in the American League — and that he's on pace to have perhaps his best season.) The Yankees are nineteen games over .500 at the All-Star break. They have some flaws, but as far as first-half results go, one couldn't have expected much better.