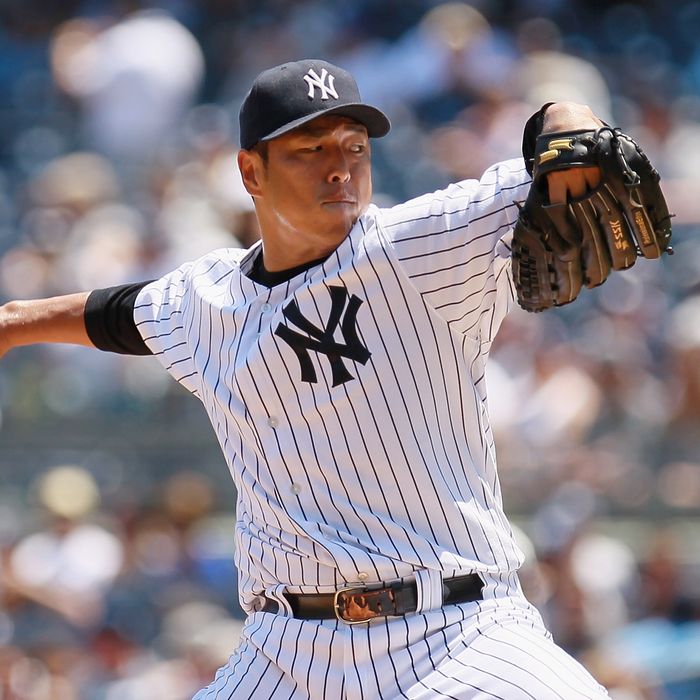 Hiroki Kuroda is scheduled to pitch against the Red Sox tonight.
It's been kind of a while since the Yankees and Red Sox crossed paths. Recall that their last meeting was in late April, when a delightfully sinister combination of Yankee homers and rain ruined the weekend of Boston's centennial celebration and dropped Boston to 4-10. Six weeks later, the Yanks are back at Fenway for another four games, including a Saturday doubleheader to redo the rained-out final game of that previous series.
Last time, the Yankees caught Boston in a mid-April slide, as they didn't heat up until New York dealt them their fifth straight loss, prompting Bobby Valentine to proclaim that the Sox had "hit bottom." This time, Boston's back above .500 but in the middle of a similarly bleak stretch. Despite pretty consistently solid pitching, the Sox just got swept by the Athletics thanks to impotent bats that managed just five runs the entire series. It's a bit of an epidemic, and it's not helped by the fact that Dustin Pedroia is on his way to the DL.
The pitching that betrayed Boston in the last series has been fine of late, though, and they're due to pick things up once those bats awaken. Josh Beckett — who's returned from injury nicely, albeit with very little support — takes the mound against the very hot Hiroki Kuroda tonight. Speaking of Kuroda, this is a pretty fascinating piece on Kuroda's upbringing as a young ballplayer in Japan if you're looking for a bit of pregame reading.
Game one of four starts tonight at 7:10.