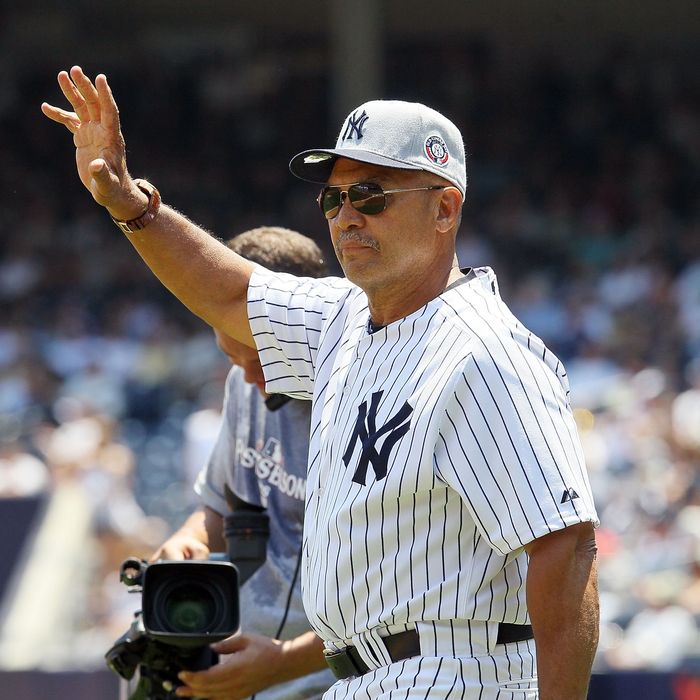 Reggie Jackson, at Old-Timers' Day earlier this month.
There was a piece on Reggie Jackson in last week's Sports Illustrated, and as Deadspin has already pointed out, features like these are often reduced to one or two juicy quotes. And so, in this case, two of Jackson's lines made the rounds last week: one in which he said that there are "real questions" about Alex Rodriguez's numbers because of his admitted use of performance-enhancing drugs, and one in which he said that he believes the baseball writers' standards for the Hall of Fame are too low. (Kirby Puckett and Gary Carter are among those he says he "didn't see" as Hall of Famers.)
Jackson apologized to A-Rod, whom he calls a "very good friend" in the piece, though we're not sure we'd classify his A-Rod comments as "inflammatory," as others have. He's hardly the first person to suggest that there are questions about the numbers compiled by admitted users of performance-enhancing drugs. (Heck, some writers question the numbers of guys they merely suspect might have used PEDs.) Honestly, the only reason we gave the A-Rod quote in the original story any thought at all was because Jackson and Rodriguez are friends: The comments are reasonable enough, but we can see why it's noteworthy that he says that "no Hall of Famer would attend" the induction ceremony of a PED-linked player (though he suggests he might make an exception if Andy Pettitte gets in).
It would seem, though, that the Yankees were more bothered by Jackson's comments than we were. Jackson, as you may know, serves as special adviser to the Yankees, and via Buster Olney's sources, he's been told to stay away from team events indefinitely. An Olney source calls it "a cooling-off period, but not a death penalty," adding that he's expected to return to the fold at some point. It's worth noting, though, that Olney also tweeted that there's as much anger in the Yankees organization about his comments regarding Carter and Puckett as there is about his comments regarding A-Rod. (Leitch's theory, by the way, is that the suggestion that Carter — the beloved former Met who passed away earlier this year — isn't a Hall of Famer is what really bothered the Yankees. That is, after all, a pretty unpopular opinion 'round these parts.)
One Yankees beat writer suggested that the "bigger issue seems to be the distraction Jackson has caused," noting that "Rodriguez had to answer questions about the comments this weekend, and it was noticed by just about everyone that Jackson was missing from such a high profile series." We don't buy that, though. A-Rod's a big boy; he can handle answering questions about Jackson, especially since it won't be the last time his past PED use is brought up in connection to his Hall of Fame chances. And anyway, if the Yankees wanted the "distraction" to go away, telling Jackson to stay away only keeps all this in the news.