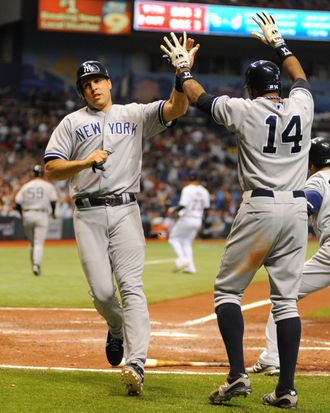 Mark Teixeira and Curtis Granderson.
The Yankees have a five-game lead in the American League East, and only Texas has as big a lead in its division. But the Yankees haven't necessarily built that lead because of a superior record in divisional play. Going into yesterday's games, they were just 11-12 against American League East teams, and they'd especially had trouble winning at Tropicana Field of late: They'd dropped their first four games in St. Pete this season and had lost nine straight games there dating back to last season. (Three of those 2011 losses, of course, helped the Rays beat out Boston for the Wild Card. We only mention this because it's been a while since we've brought up Boston's September collapse from last season.) Anyway, that losing streak is over now: The Yankees rallied back from a 3-1 deficit yesterday to beat the Rays and avoid another Tropicana Field sweep, allowing them to maintain their five-game lead in the standings.
We're not going to pick on Kyle Farnsworth, but we'll simply say walking the bases loaded in front of Robinson Cano, especially considering how hot Cano is these days, is ill-advised. And indeed, once Farnsworth left the game after walking the bases loaded in the eighth yesterday, Cano made the Rays pay with a two-run single that gave the Yankees a 4-3 lead.
Meanwhile, David Phelps pitched pretty well in his audition to remain in the rotation once CC Sabathia returns, as he could do shortly after the All-Star break. With a pitch count of 85, Phelps lasted just four and a third innings, but he struck out eight batters, allowing two hits, three walks, and a run. But is that enough to keep him in the rotation over Freddy Garcia, who had an encouraging start of his own this week? Probably not: Marc Carig reports that the Yankees are likely going to demote him to the minors before tomorrow's game against the Red Sox to make room for Darnell McDonald, who, in case you missed it, the Yankees claimed off waivers yesterday.