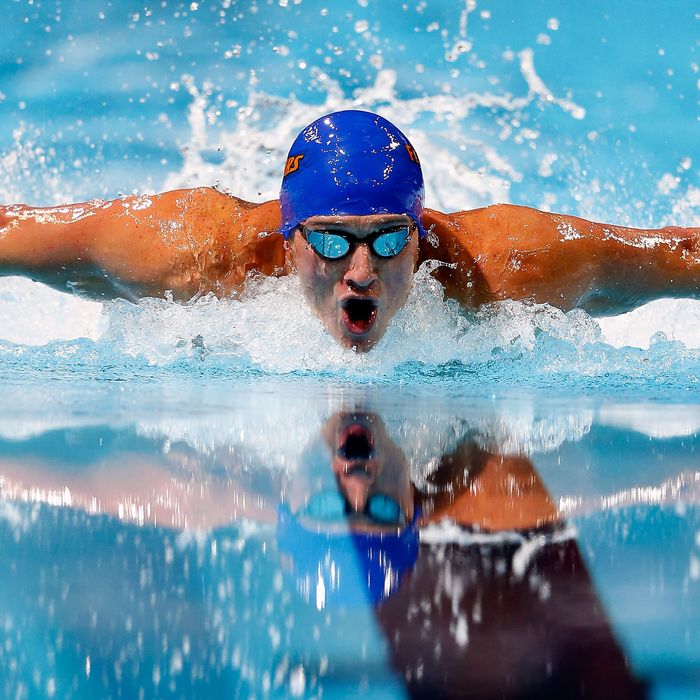 The guy who ISN'T Michael Phelps.
You guys, the Olympics start tonight. We'll be recapping the three most popular Olympic sports: basketball, swimming and gymnastics, and today, we'll preview all their Olympic tournament business. Our swimming writer is Mary Jane Weedman. Take it away, Mary Jane.
When you're an athlete like a swimmer or a gymnast, the joke is that people only care about your sport every four years―and then everyone seems to really, really care about it. In 1999, to some of us, Michael Phelps was just the jackass kid swimming in the lane next to us in the warm-down pool; by 2004, he was a celebrity. By the Beijing Olympics, he was hosting Saturday Night Live. But in the interim years, you probably didn't hear much about him.
We swimmers may be a little bitter about the co-opting of our sport every Games years by NBC and a group of people who don't know the pain of the back-half of a 200 fly. But don't worry, we're not really too upset; we're actually pretty excited. And if you aren't among the throngs of Olympic swimming fans, you should be. Here's why.
Michael Phelps is boring. But Ryan Lochte isn't.
Okay, maybe he's not boring, per se: Phelps has more than good chances at becoming the most decorated athlete in Olympic history. But surely you're tired of hearing his name repeated over and over. Enter Ryan Lochte, a swimmer who's more than able to keep up with Phelps (something casual viewers often forget: Phelps may dominate meets, but he's often winning by only a few hundredths of a second) and who — more important for the casual viewer — is always fun to watch. The guy is a badass and gives off a "who cares?" vibe; he always looks relatively relaxed and like he's having a good time, kind of like Aaron Peirsol and Gary Hall used to act before they retired. It's easy to see who's having fun on the pool deck and who's not, who loves the sport and who's grown to hate it. And it's pretty obvious that, while he probably doesn't hate swimming, Phelps, who's had the spotlight on him, his massive arms, and his seemingly inexhaustible butterfly power stroke for four Games now, plans to retire after London and is pretty obviously excited to hang up his swimsuit.
The new name you'll hear a lot is Missy Franklin.
In younger swimmers, it's not at all uncommon for nerves to take over during interviews. There's a lot of stammering, a lot of "ums," and sometimes those nerves translate into anxiety-ridden performances. The pressure is too much. But it doesn't seem that way with 17-year-old Missy Franklin: She's charming, apparently never stops smiling, is particularly well-spoken, and an excellent and aggressive swimmer who's entered in six events at the Olympics.
There are several black athletes swimming in this Games — including both male representative in the 50 free, Cullen Jones and comeback swimmer Anthony Ervin.
It's a sad reality that our sport is pretty homogenous; to have three African-American members of the U.S. swimming delegation is a first. Optimists will hope it's a mark of the success of such initiatives as USA Swimming's Make a Splash program (which helps to stress the importance of learning to swim to minority children). Pessimists might call it a mere fluke. Either way, it's interesting to watch.
New York City has a representative.
Lia Neal is one of the three African-American swimmers on the team; she's also notable because she's from New York City. Our city doesn't lend itself well to training for competitive swimming — indeed, Neal trains at Asphalt Green, the only long-course, Olympic-size pool in Manhattan — and it's relatively rare for a New Yorker to qualify for the Olympic team. Add in that she's just finished her junior year of high school, and she's perhaps the most exciting part about Olympic swimming for New Yorkers.
Jessica Hardy's back, but as the team's lead sprint freestyler.
As a rule, swimming is a clean sport — it's rare to hear stories about doping — so it was particularly surprising in 2008 when Jessica Hardy tested positive for a low level of a banned substance. She says the positive test was a result of tainted nutritional supplements (an explanation that the swimming world widely accepted) but was still banned from international competition for a year. At the trials, she placed third in her the event in which she was once a powerhouse, the 100 breast, and the U.S. will instead send Rebecca Soni (who's from Plainsboro) and relative newcomer Breeja Larson to swim the event.
Young athletes dominate the women's team.
It seems there's always a 16-year-old prodigy swimming for the U.S., but this year on the women's team, there are no fewer than ten girls younger than 21 competing (at 29 and 26, respectively, Natalie Coughlin and Amanda Weir are the team's oldest vets). Many of these women will be around for several more games to come, so pay attention. (In contrast, every athlete on the men's team is over 21.)
Because of the FINA super-suit ban, world records might not fall at these Games.
How much difference can a suit make? In 2008, competing without Speedo's LZR, a specially designed swimsuit that promotes intense buoyancy and repels water, was extremely rare; nearly all the swimmers who stood on the medal podium sported some form of the LZR. The suits are difficult to put on (when my team first got Fastskins, LZR's predecessor, we all spent 30 minutes together in the locker room trying to zip them up) and incredibly expensive (upwards of $300, and they generally don't last longer than a few races) — but they make you feel exceptionally fast and incredibly buoyant in the water. As swimsuit technology got better and better, world records dropped lower and lower, until in 2010, FINA (the swimming world's regulating body) banned use of the suits.
Imagine being given the world's fastest sports car — and then told to try to drive just as fast in a Prius. Sure, it's just a swimsuit, and of course, the swimmer wearing it does most of the work — but then, you know, it's not just a suit: Nine world records were set at the trials alone in 2008, all by swimmers in LZRs; just two have been set anywhere since the ban (Sun Yang in the 1500-meter free, and last year, Lochte broke a record in the 200 IM) Missy Franklin could come close in the 200 back, if her full taper pays off in London — at trials, she was almost a second and a half behind Kirsty Coventry's WR, but last year, she posted a time just three-tenths behind the WR; in Omaha, Dana Vollmer was .46 off the WR in the 100 fly; and Phelps and Lochte could propel each other to break records in both of the events they'll compete in together (the 200 and 400 IM).
The swimming events begin tomorrow and will conclude August 4 (with the exception of the marathon events, held August 9 and 10). Here's hoping you love it enough to stick with it after this year's games.
Mary Jane Weedman is writing about Olympic swimming for The Sports Section. E-mail her at MaryJane.Weedman@nymag.com.