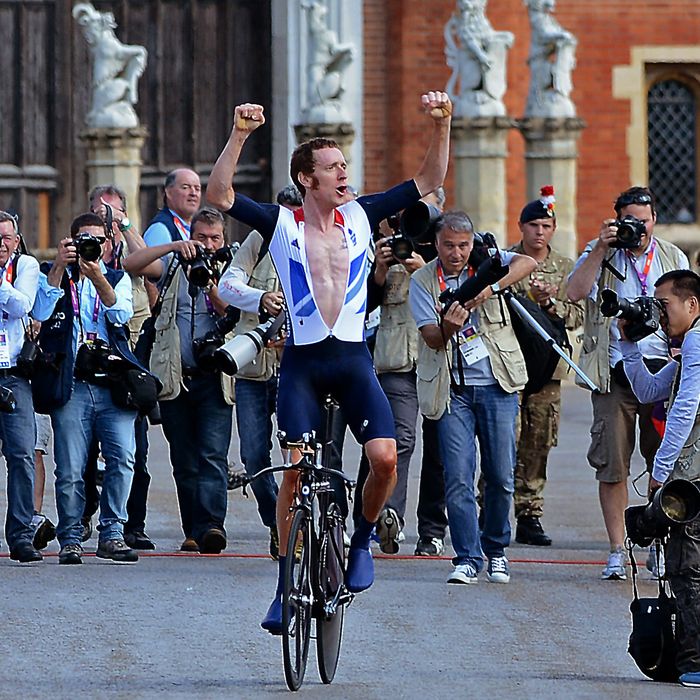 Bradley Wiggins celebrates after winning gold.
This was how it was supposed to be: Bradley Wiggins, the first-ever British Tour de France winner, also bringing home gold for Great Britain at the London Olympic Games. (He just missed being Britain's first gold medalist of these Games by a few hours: Women's rowing pair Helen Glover and Heather Stanning won Britain's first-ever female rowing gold this morning before a crowd that included royals William and Harry and Kate.)
Anyone who watched the 32-year-old Wiggins dominate the Tour de France that ended just more than a week ago had to know that this was his year. He may have faltered a little in the mountains during the TdF, but he absolutely crushed his competition in the two individual time trials. In the Stage 19 ITT that sealed his victory, he gained a minute and sixteen seconds (that's huge!) over the second-place finisher, his 27-year-old fellow Brit Christopher Froome. And in the Olympics, there are no mountain climbs, and the time trial is its own event. Seemed like a no-brainer.
Still, as competition day approached, intrigue grew. Had Wiggins left too much on the road in France? Would he have enough in the tank to win this time trial too? He'd struggled mightily in the men's road race on Saturday to try to help his friend and countryman Mark Cavendish reel in a breakaway so Cavendish could sprint for gold. They never caught the breakaway and our favorite plucky 39-year-old from Kazakhstan, Alexander Vinokourov, won. Had Wiggins exhausted himself on that?
Then we had the wild card time trial specialists to contend with. There was Germany's Tony Martin, 27, reigning World Time Trial Champion, and the Swiss Fabian Cancellara, reigning Olympic time trial champ. Before the race, Martin declared Wiggins the man to beat, saying that the surface of the 44-kilometer Olympic course was very bad and might be too rough on his wrist. He'd injured it in a crash in the first stage of the TdF, but stayed for nine more stages before pulling out to heal. Still, as Cancellara — who is usually dominant in time trials — founds out today, it's not much fun when you have to lean on your arms over your handlebars for 50 minutes straight. Cancellara, who this year won the prologue time trial of the Tour for the fifth time and held onto the yellow jersey for six days, crashed late in the road race this weekend and injured his right arm and shoulder so badly he wasn't sure he could race. He finished seventh today and immediately collapsed against some barricades, clearly in a ton of pain, and had to have his jersey cut off of him as medics tended to his wounds.
Wiggins, meanwhile, finished the course in 50 minutes and 39 seconds. That was 42 seconds better than Martin and 68 seconds better than Froome. The win is his seventh Olympic medal and fourth gold, making him the most decorated Olympian in British history. He won all his other medals in track cycling, in the individual and team pursuit events that aren't being offered this year. We'd probably see more gold around Wiggins's neck in a few days if they were. Next up: knighthood, surely.
As for other cycling news, American sprinting up-and-comer, 22-year-old Taylor Phinney, finished fourth in both the road race and the time trial. Disappointing for him, but very promising for the future of the U.S. program. If he can improve his mountain climbing and 23-year-old Tejay van Garderen (who won the best young rider competition in the Tour de France) can improve his time trialing, we may have two riders capable of contending for the Tour de France.
And when you read headlines like "Armstrong Repeats Olympic Time Trial Gold," don't freak out that Lance Armstrong has vanquished his doping accusers and unretired to race in the Olympics again. They're actually referring to American Kristin Armstrong, who won the women's time trial gold for the second time. She's 38, and two years ago, she basically retired from the sport after having a baby. She finished a solid 15.47 seconds ahead of Judith Arndt of Germany and 22.53 seconds ahead of Olga Zabelinskaya of Russia, then declared she was definitely retiring for good. As she told VeloNews, she came back to the sport because she kept thinking about the feeling she got being on the top of the podium in Beijing and how exponentially more incredible it would be to be up there in London holding her son, Lucas, in her arms.