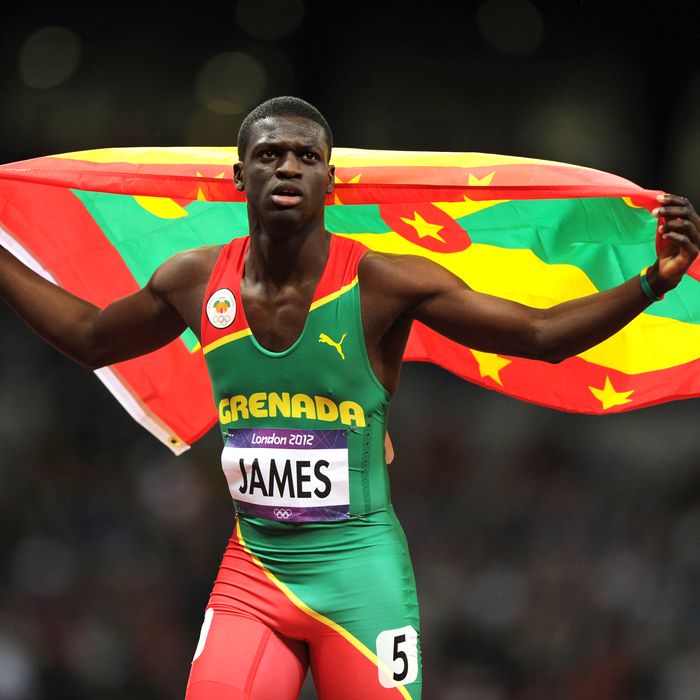 The most indelible image of many, many indelible images last night wasn't even on the track. NBC did right setting up cameras in a small, packed room somewhere in London where a group from Grenada had come to watch one of their own, 19-year-old Kirani James, win their country's first Olympic medal. It wasn't just any medal. It was gold in the 400-meter dash, and he won in in 43.94 seconds, making him the only non-American to run that distance in under 44 seconds. From the reaction in that room — the screaming, the crying, the hugging, the practically knocking the camera to the ground from all the jumping up and down — you knew that, if this was what things were like in London, it was going to be nuts in that little Caribbean island, population 110,000. Indeed, the government declared today a Grenadian holiday. Spicy! (Grenada is known as the Spice Island for exporting nutmeg.)
It's moments like that, not to mention getting to see James wrapped in the beautiful yellow, green, and red of Grenada's flag in the roar of that stadium and hugging the ecstatic band of family and friends decked out in his colors by the sidelines, that make this portion of the Olympics so emotionally touching. Running is the cheapest sport to participate in and, in many ways, the most diverse and universal. The dominant athletes always seem to come from smaller countries than in other sports, and they always seem to be able to bring a way bigger band of supporters with them. (James gets extra points for being awesome because he was the guy Sunday night who exchanged name tags, out of respect, with South Africa's double-amputee runner Oscar Pistorius, who'd made it into the semifinals beyond anyone's expectations.)
Athletes from the Caribbean were the ones to follow last night, and for the first time this Olympics, NBC seemed to have its priorities straight. Over on the 400-meter hurdles, Felix Sanchez, who turns 35 this month and was raised in San Diego but races for his native Dominican Republic, became the oldest man to win a gold in that race, with a time of 47.63 seconds, which is the same exact time he ran when he won gold in Athens in 2004. The Athens medal was the DR's first Olympic medal; this was its second. And later, Luguelín Santos, racing against Kirani James in the 400-meter dash, would win its third, this one silver. Upon winning, Sanchez pulled a photograph out of his jersey, laid it on the track, dropped to his knees, and kissed it, crying uncontrollably. The picture was his grandmother, who'd died the morning of his preliminary race in Beijing; Sanchez* had been so upset he finished 22nd out of 25 runners. He'd raced with her over his heart. Cheesy, but so, so touching, and it was absolutely right for NBC to close out the night's broadcast with the camera trained on Sanchez's sobbing face during the medal ceremony. A member of the U.S. team, Michael Tinsley from Little Rock, was a foot away on the podium in silver, and to their credit, the network didn't feature him. Yes, Sanchez is an American, too, but that moment wasn't for us. It was for him and his abuela and the Dominicans.
Another island nation, Jamaica, got its moment, too, when training partners Usain Bolt and Yohan Blake were given their gold and silver medals from Sunday's 100-meter dash on the 50th anniversary of their nation's independence from Britain. All of the Caribbean must be having a party right now.
Americans had their moment when pole vaulter Jenn Suhr took gold in what were apparently terrible conditions for pole vaulting, with the wind blowing in their faces and the temperature around 62 degrees. Suhr's from upstate New York, so she knows how to handle her cold, even if she did it while wrapped in, like, five jackets and a plastic poncho, sometimes lying on the track with yet another layer of clothing over her face. Yarisley Silva of Cuba earned silver, while two-time gold medalist Elena Isinbaeva (the subject of those Visa ads voiced by Morgan Freeman about how she'd wanted to be a gymnast but got too tall) took bronze.
Meanwhile, our men's beach volleyball team got "SERVED by Latvia! dayuuum!" as our favorite celebrity Olympics enthusiast/commentator Samuel L. Jackson tweeted. And the U.S. women's soccer team had just squeezed out a berth to the gold-medal game with a goal 30 seconds from the end of a match with Canada, which NBC didn't highlight much.
So, mostly, American coverage was relegated to watching our two male springboard divers qualify for the finals and watching the entire women's track contingent compete one-by-one in preliminary heats for the 200-meter dash and semifinals for the 400-meter hurdles, which is A-okay, because it seems to be a requirement that in order to be an Olympic runner you either have to be breathtakingly beautiful or have the cutest family on earth. (Cutest family, by the way, goes to Lashinda Demus, who gained 50 pounds with twin boys in 2007 and performed poorly in Beijing the next year; her boys and cute husband were there to cheer her on to a win in the semifinals.) In the 200-meter dash, the favorite, Allyson Felix won her heat so easily she didn't even seem to be out of breath. Sunday's 400-meter champion, Sonya Richards-Ross, had to try a little harder to qualify, but not by much. Carmelita Jeter won her heat despite setting up her starting blocks in the wrong lane and making the bold choice of not racing in a bikini. You couldn't even see her stomach! Now that's some crazy talk. And it was kind of hysterical seeing 100-meter dash champ, Jamaican Shelly-Ann Fraser-Pryce, run, because apparently she HATES the 200-meter dash and she's never run it in the Olympics. But she just happens to be the third-best in the world. Watching her cross the finish line way ahead of the field, you couldn't help but hear her petulant-teen inner monologue: "Ugh! I hate this race. It sucks that I'm so good at this. Sigh. I guess I might as well win."
In the gymnastics arena, our hero, Gabby Douglas, faltered on uneven bars. That prize went to Aliya Mustafina of Russia, who also gets prizes for the best eye makeup, most excellent use of glittery hair product, and a cold hard stare that you know means she can cut. You. Down. Remember when she messed up in the team finals and her coach tried to comfort her and she pushed him away and sulked in a corner? All the mark of a champ. Oh, and the arena went crazy for Great Britain's Beth Tweddle, who won bronze. It's the first medal in women's gymnastics ever for the Brits, who also won gold in equestrian team jumping and in men's sprint at the cycling track, where they've been absolutely dominant, winning five golds in seven events.
You know who Samuel L. Jackson doesn't love? Gymnastics commentator Tim Daggett, who does seem prone to saying the dumbest things right before these athletes do their trickiest tricks. (Sample Sam Jackson tweet, after Gabby Douglas didn't place: "I hope Tim's HAPPY!!! He's the Largest DEDUCTION in my Joy! HEMORRHOID!") In many ways, I agree with Jackson. Daggett's comment that it was an "interesting choice" for Douglas to wear silver … not cool.
Elsewhere, we learned about the origin of longitude and the Greenwich mean time from intrepid reporter Mary Carillo, who seems like a fun lady in general, but my god, who is approving these story ideas? Who sat in a conference room and said, "You know what I think viewers would like to watch more than, you know, sports or inspirational tales about people doing, you know, sports? Reports on Buckingham Palace! And James Bond! And LONGITUDE!"? The clip of Carillo playing Go Fish, Bond-style, in a casino is something that cannot be unseen. And then there's the always-terrible banter between her and 60-going-on-30 Bob Costas. Carillo: "I'm so impressed with longitude. I've been in this broadcast center two weeks and I still can't find the commissary!" If you want to report on something British, how about their cycling program? I hear they're doing pretty well.
At least we got to close the night out on a high note, first with still rings. Oh, the rings. Jesus, those arms. That rampant testosterone. I'm partial to 39-year-old silver fox Jordan Jovtchev of Bulgaria, but all the men last night kind of rocked it in the sportsmanship area. China's incredibly affable Chen Yibing graciously congratulated Arthur Nabarrete Zanetti, who beat him by one-tenth of a point even though he took a step on the landing, giving Brazil its first medal of the games and first gymnastics medal ever (great lead-up to Rio in four years). And over on the vault, American Steve Mikulak won some hearts despite finishing fifth. He was so excited about his own second vault, he kissed the apparatus. And when it came time for South Korea's Yang Hak Seon to vault, Mikulak clapped his hands with glee: "I want to see this guy!" As soon as Seon finished his second, gold-medal-winning vault, Mikulak was there with open arms, telling him, "Give me a hug!" Not sure if Seon understood the words, but the sentiment is clear. And NBC did right to highlight it, because that right there is what the Olympics are about: not about proving national supremacy but about celebrating greatness from all over the globe.
* This post has been corrected. An earlier version said that James, and not Sanchez, had finished 22nd out of 25 runners in Beijing.