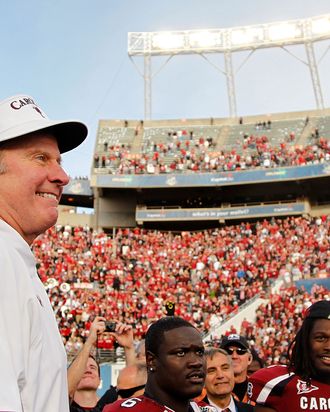 So yesterday, we firmly established that finding quality college football in this area is a bit of a challenge. Fortunately, in spite of your dogged persistence in believing the opposite, there is in fact a whole other country out there. And television is firmly capable of beaming images from there to your humble abode. It's like you're really there!
Yep, college football kicks off tonight, with the highlight game in the SEC (of course), featuring Steve Spurrier's South Carolina Gamecocks visiting the Vanderbilt Commodores. It's a 7 p.m. kickoff on ESPN, and it's one of fifteen games tonight. There are five more games tomorrow before the main course on Saturday.
In NYC, college football is a sport you must follow from afar, and fortunately, it's a sport that features some of the absolute best sportswriting around. (Its writing is vastly superior to college basketball, a sport that we'll confess to quietly preferring.) So to make sure you are appropriately prepared for the new season and are adequately kept abreast throughout, we thought we'd just list all the college football writers you need to start reading/following right now. They'll do all the work for you.
So here goes: 
Holly Anderson
Chris Brown
Brian Cook
Bruce Feldman
Pat Forde
Spencer Hall
Stewart Mandel
Ivan Maisel
Dan Rubenstein
George Schroeder
Andy Staples
Pete Thamel
Tommy Tomlinson
Michael Weinreb
We're sure we missed some, but those are the ones we immediately go to. (Save for the Illini football writers we read religiously, but we'll save you those.) Let us know your favorites … and hey, football tonight!