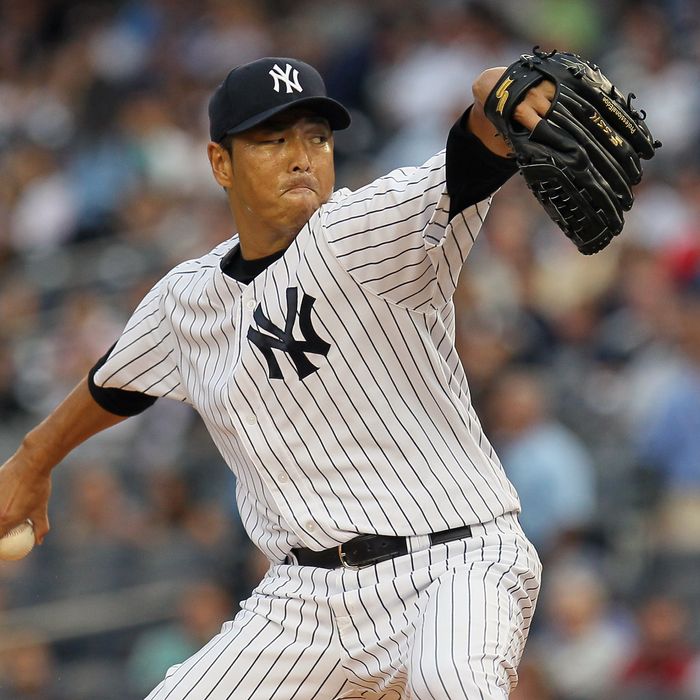 So here's where the Yankees stand as of this afternoon: They have 32 games remaining, and in the American League East standings, lead the Orioles by three games and the Rays by 4.5 games. (The Orioles currently would be one of the two Wild Card winners, along with Oakland; the Rays are a game and a half behind both of them.) Tonight begins a critical stretch: The Yanks will play three games against those Orioles, then three against Tampa Bay, then four more in Baltimore next weekend after that. That's ten games in ten days, at the end of which they could have strengthened their grip on first place, lost it completely — or, you know, find themselves more or less where they are right now.
First up is Baltimore, and they've proven to be a tricky team to figure out. On the season, they've allowed more runs than they've scored — their -41 run differential is fourth worst in the American League — and their historically good performance in one-run games seems almost impossible to keep up. (Via Tom Verducci today, the O's are 24-6 in one-run games, giving them an .800 winning percentage. The current record in such games in a single season, .733, was set 104 years ago by the 1908 Pirates.) Such a record isn't just luck though: Baltimore has a strong bullpen, which goes a long way when a game is close late.
But keep in mind a couple of things about Baltimore. First of all, if they've managed to make it to the end of August in a playoff spot, it's time to accept that they can make it to beginning of October in one. No less than Cal Ripken Jr. thought they'd be improved this year, but not by this much. Yet, here we are.
And, of course, in recent weeks, they've looked a lot more like a traditional contender: To update some numbers given by ESPN's David Schoenfield earlier this week, the O's are 20-9 over their past 29 games, and have outscored opponents by nineteen runs over that period. (Schoenfield also points to the emergency of starting pitcher Chris Tillman, whom the Yankees will see twice over the next week.) We'll admit we didn't think that Baltimore was for real as recently as last week, but to paraphrase Joe Sheehan in his newsletter earlier this week, it doesn't much matter if we think they're for real at this point.
The Rays, who'd been red-hot for much of August, have cooled off. (They've lost five of six.) The Yankees, meanwhile, have been somewhere between mediocre and blah in recent weeks. (They're 15-12 so far in August, after going 13-13 in July. They've been alternating losses and wins since last Wednesday.) But despite Tampa's now-finished hot streak and Baltimore's current one, they Yankees still do sit atop the standings, meaning this is still their race to lose. They'll hopefully getting healthier as September goes on, but right now, they're just trying to survive. They control their fate still, but realistically, they could use some help from the other teams in the race, and over the next ten games, they won't have to do quite as much scoreboard watching. Hiroki Kuroda gets the ball tonight, against Baltimore's Miguel Gonzalez.