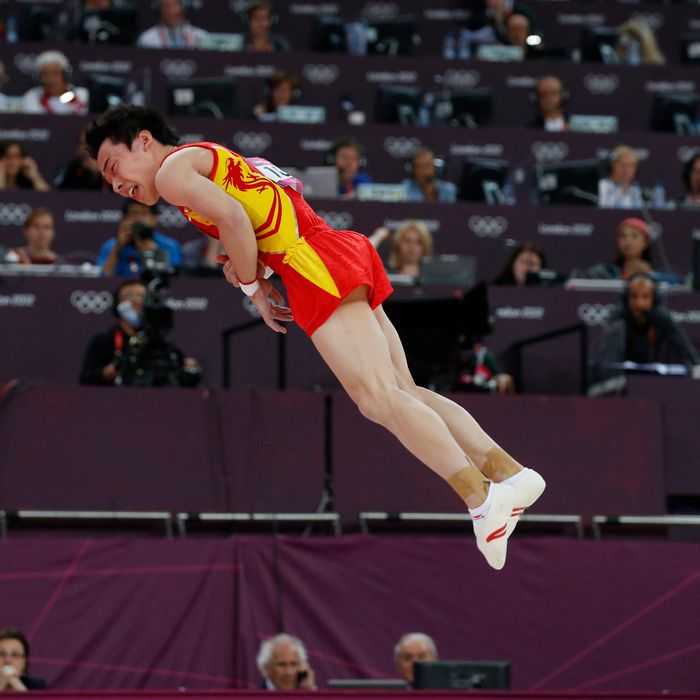 China's Zou Kai, during the men's floor exercise final.
If NBC needs proof that we, the viewing audience, want coverage of countries other than America, they should have sent execs to Brooklyn last night. Taking refuge from a sudden downpour at a sports bar, I found a couple of middle-aged guys of the born-in–Park Slope–and-dying-here-too variety trying to explain women's three-meter springboard diving to one another. "Look, she jumped up and did some spins, but sometimes they put twists in there. Maybe this one's a little easier than what the other ones did," said one guy, not knowing what he was talking about, watching China's Wu Minxia's final, gold-medal-winning dive. Then a second later: "What?! Someone gave her a ten! She nailed it! She nailed it!"
Point is, those guys were just excited to be seeing Sport played out on the highest international level. They didn't care that not a single American was in contention. But NBC only aired diving in the 7 to 8 p.m., not-ready-for-prime-time slot. Had my friends at the bar shown up just in time for the main broadcast, they would have missed China's 1–2 finish and Wu Minxia breaking into tears after securing her sixth career gold and second gold of this games. And they would have been BUMMED.
Being interested in other countries would have proven pretty useful yesterday, when Americans won only two gold medals out of the 23 handed out on the day. They went to Serena and Venus Williams in women's tennis doubles, and Sanya Richards-Ross in the women's 400 meters, who'd been the favorite in Beijing but finished with bronze; her parents screamed "finally!" and cried a lot in the stands. But other than that, it was a day for others to shine. Alas, we already know what to expect from NBC on that front, so instead of watching feats of greatness from non-Americans, we got a bunch of Americans running preliminary heats in track or winning yet another round of volleyball.
I feel like I should be less critical of a Sunday broadcast, since even working stiffs could have spent their morning watching Andy Murray's trouncing of Roger Federer at Wimbeldon's Centre Court courts. Still, fans inside the stadium were ecstatic at seeing their homeboy win, and it would have been nice to see a snippet more of that in prime time. After a bit of a drought, the Brits are having an exceptional run, particularly after winning six golds — including three in track and field —  on Saturday. (Those golds? Women's rowing lightweight double skulls, rowing men's four, women's track cycling team pursuit, men's long jump, women's heptathlon, and men's 10,000 meters). Murray was benefiting from the energy of a country so energized with nationalistic pride that the BBC commentators went into an apoplectic fit seeing Somali-born Brit Mo Farah win the men's 10,000 meters.
But instead, we switched straight to watching heats in women's 400 meter hurdles, where whoever didn't fall down made it to the next round. We also watched the semis for the men's 1,500 meters, which were won, by a lot, by Algerian Makloufi Taofik, even though the announcer kept reminding us that the "real story" was American Leo Manzano qualifying in fourth place. I get the wisdom of showing track and field heats, because seeing beautiful people run really fast is endlessly exciting, but maybe a little more time spent on events where people were actually winning medals might have been more satisfying than watching some Americans master the great feat of moving on (or not) to the semifinal rounds. Golds went to Ethiopia for women's marathon, Kenya for men's steeplechase, and Hungary for men's hammer throw (giant men twirling around and grunting and throwing things, what's not to love?). Just saying it would have been nice to see that.
We did, however, get to watch practically two whole quarterfinal sets of American beach volleyball defending gold medalists Misty May-Treanor and Kerri Walsh against some Italians. They'll move on to playing the extraordinarily tall set of Chinese women who beat Austria earlier in the day. You'd think that if NBC thought we loved beach volleyball enough to watch 30 minutes of it, we might want to see a glimpse of the Americans' upcoming opponents. Guess not. Also, can anyone explain to me why beach volleyball commentators refer to the players (at least Misty and Kerri) by their first names and casually mention their heights, weights, and how much prize money they make in a year? Also, if there's one advantage to a tape delay, it's making sure your star athletes don't seem crazy. So, what was up with letting Misty May-Treanor go on that on-camera rant talking to random folks back home and saying "Go Dodgers," interspersed with close-up footage of the Italian players in tears, their dreams and four years of training crushed? Not classy.
The human interest stories mostly failed, particularly an extended look at James Bond and Ian Fleming's London that took away time from seeing, I don't know, all the other sports that I just mentioned. As entertaining as it was to watch Mary Carillo get G-forced in an Aston Martin, I hope I wasn't alone in wondering why in the world we were watching that. Then two seconds later, they aired a commercial for the new James Bond movie. Really guys? At least try to have some semblance of wanting to report actual news.
Better was the feature on Usain Bolt and Yohan Blake, who are training partners in Jamaica and went 1–2 in the men's 100 meters. There was a lot of sweet stuff about them pushing each other to be better, and Blake cutting down Bolt's ego by reminding him he's not always the fastest man in the world (Blake beat Bolt handily in the Jamaican Olympic trials). But it would have been nice to see a feature explaining the Jamaican running program and how it's managed to produce pretty much all of the fastest men and women on the planet. (Jamaican Shelly-Ann Fraser-Pryce defended her Beijing gold medal in the women's 100 meters the night before.) What I want to see tonight is footage from the streets of Jamaica, which celebrates its 50th anniversary of independence today. That's got to be some party. Barring that, can we get someone to do creative interpretations of Usain Bolt's weird cocky hand gestures he makes before he runs?
Track and field over, we headed to the gymnastics events final, where poor 16-year-old McKayla Maroney fell under the weight of ridiculous expectations. First, there were features using Maroney's own words about how she'd lived her whole life for this and wanted to leave London with no regrets. Oh, the foreboding begins. Next was the very cool graphic overlay of her doing the same Amanar vault as men's all-around champ Kohei Uchimura, only Maroney's was two-and-a-half-feet higher in the air, off a vault that's lower to the ground. Then came the hyperbole-laden commentary: "If you take the absolute worst results I've seen McKayla Maroney do in the last two years, she wins easily. She is far superior," and, "I don't know if there's any other athlete at the Olympics who is that much better than everybody else," and, "I wonder what the presence of McKayla Maroney is doing to the rest of the field," and, "Honestly, they know she's going to win."
Cut to Maroney repeating her Amanar for the first vault, but stepping into the red part of the mat, and then, horrifyingly, falling onto her butt while landing her second vault. Apparently, she's so good in the air that even falling on her butt made her better than pretty much every other vaulter who competed. Not to mention, everyone was falling or taking giant steps on the landings, most notably poor Canadian Elizabeth Black, who fell flat on her face on her first vault and tried to do her second fault, but pulled up short after running on an ankle that was clearly painfully damaged. The gold ended up going to the one gymnast who managed to stay upright, Sandra Izbasa of Romania. But kudos to Maroney for not crying on cue when the cameras shoved into her face like vultures trying to catch another Jordyn Wieber moment. "I really didn't deserve to win a gold medal if I fall on my butt," she said, very maturely, later to reporters. "I was still happy with a silver, but it's still just sad."
At least we had men's gymnastics to lift us up, and in this case, NBC did it right, save for that horrifying moment in between the floor and pommel horse event finals when Bob Costas and Ryan Seacrest talked social media. How is it that the words "And now over to Ryan Seacrest" can cause such fear in the hearts of men? Do we really need a regular segment called "Social Download" about athletes' Facebook pages and Twitter mentions … instead of, you know, just watching their actual athletic achievements?
Anyway, the night ended wonderfully, with China's sweet, deserving Zou Kai winning floor over Uchimura. The Japanese champion is amazing, and it's a travesty that he did so poorly in the qualifying rounds that floor was his only event final, but Kai auctioned off his Beijing gold medal to raise funds for earthquake victims in the Sichuan province, where he's from, and he cried. It was hard not to be happy for his win. Pommel horse, too, was a nail-biter filled with brilliantly executed routines — such a difference from the last-woman-who-actually-landed-on-her-feet nature of the women's vault finals. The hope was for Great Britain's Louis Smith and his fifties hairdo to win a gold to go with the bronze he'd won in Beijing, becoming the first Briton in a century to win an individual gymnastics medal. He did his routine exceptionally well, but only tied with Krisztián Berki of Hungary, who won the tiebreaker by pulling off a routine that, even to these inexpert eyes, was astoundingly good. Another Briton Max Whitlock took bronze, making it the first time two Brits have won individual gymnastics medals in the same event. But in any case we know the real winner was their teammate Kristian Thomas. He got to sit next to Kate Middleton the whole match. No word yet on whether he broke a sweat.
At least by the end of the night, Bob Costas had at least one piece of news to report, post-Seacrest "Social Download," that had him enthused. A drunken spectator had thrown a bottle onto the track just before the start of the men's 100 meter final, and that poor drunk had the misfortune of standing next to the Dutch judo champ who'd won bronze in the women's 70 kg category this games. She'd already identified the nefarious bottle thrower as "a peculiar bloke," so when he threw the bottle, she said, "In my emotion, I hit him on the back with the flat of my hand," allowing for police apprehension. If that doesn't merit an upgrade to gold, we don't know what does.