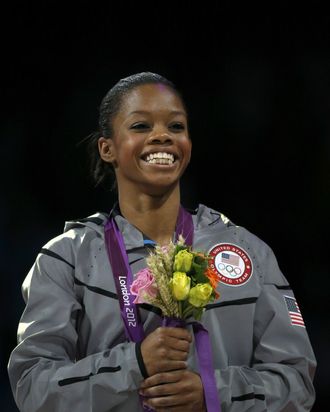 Gabby Douglas, after winning gold in the individual all-around.
Gymnastics fans were promised an exciting fight for the all-around gold — and they got it. In what was one of the closest, most hard fought Olympic all-around battles we've seen in decades, Gabby Douglas of the United States earned her golden moment with a massive 62.232 score, the highest we've seen in the entire Olympic games for the women. In doing so, she becomes the third straight American to win Olympic gold in the all-around, after Nastia Liukin (2008) and Carly Patterson (2004).
The all-around was expected to come down to Russian and American gymnasts, and that's exactly how it turned out: Russia and the U.S. occupied the top four spots for nearly the entire competition. Aly Raisman and Douglas came out strong on vault finishing 1-2 after the first rotation.
Over on uneven bars, it was time for Russians Aliya Mustafina and Viktoria Komova to make their moves, and neither disappointed. Mustafina hit a massive set with the highest difficulty to receive the only score above 16 for the day. Raisman made massive mistakes on the uneven bars at both of her world championship appearances. Today, though, she appeared to labor but went through clearly, and let out a sigh of relief. Douglas flew higher than any one else and kept herself at the top of the standings, but Viktoria Komova showed why she's a challenger for the Olympic title on this apparatus, hitting solidly to keep the American leader on her toes.
In the third rotation, the competition took a turn, not just for the leaders on beam but for nearly everyone on the floor. Hannah Whelan — one of Great Britain's best — was able to do her difficult double twisting Yurchenko vault for the team in their final, but could not do so for herself today. She fell before her feet even hit the mat, resulting in a devastating score of zero and a guaranteed last place finish. Mustafina, the 2010 world champion, came to grief on her most difficult element in the routine as she came off the balance beam, opening the door for Raisman. Komova was clean but not perfect, and Douglas one-upped her once again, hitting the most solid beam routine of her short senior career. But Raisman's opportunity from Mustafina would prove to be a wasted one: The American suffered her first-ever balance beam mistake in a major international competition, putting her hands down on the beam, and in doing so, putting her medal hopes in jeopardy.
It would all come down to floor. Musty (as gymnastics fans adoringly call Mustafina) roared back, refusing to be done in by her mistake on beam. She showed off the classical Russian elegance that has defined so many of their nation's great champions. It was then time for Douglas, and the spunky 16-year-old performed as if she didn't have a single care in the world, landing decisively and dancing better than she has in any of the past competitions. It appeared as if Douglas had all but sewn up gold.
Raisman, meanwhile, would take to her final and best event to try and salvage a medal. Despite removing a bit of difficulty on her first tumbling pass, Aly nailed the routine. When her score came up, she had tied Mustafina for second, but the tie break procedure has already been calculated and Raisman would sit in third with Viktoria Komova still to perform, undoubtedly thinking about each and every tenth lost that could have been saved.
With Douglas posting a total score of over 62, a gold medal appeared nearly certain. Komova would need a score of just over 15.3 to take gold away from the American. (Komova's qualifying score didn't even break 14.0.) What could have easily turned into a defeated performance settling for silver turned into one of the most incredible fights for a gold medal the sport has ever seen. Komova did everything she could, sticking every single landing, performing every element perfectly. It was the routine of her life — but it would fall just short, and as the score of 15.1 came up on the scoreboard, the current world all-around silver medalist knew she would take silver again, and she could not hold back the tears. Mustafina took the tie-break over Raisman for bronze, meaning Raisman had finished fourth, just as she had in the all around in the 2011 world championships.
As for Douglas, just two days ago she stood with her United States team as Olympic champions. Now, she stands alone as the individual all-around champ as well.
Lindsey Green is writing about Olympic gymnastics for The Sports Section. You can e-mail her at Lindsey@ti14th.com.