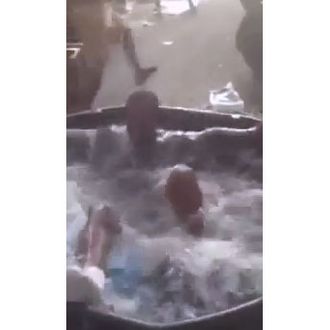 Prince Amukamara, after being tossed in a tub of ice water by Jason Pierre-Paul.
And let's be clear here: For an NFL team at this point in the season, boring is good. We like boring. We want boring. Competitions for key positions can be interesting (particularly when they involve The Sports Section's Official Favorite Athlete), but the types of things that get headlines during the NFL preseason are generally not very desirable: Injuries to important players, for instance, or the fear that both of your high-profile quarterbacks are actually just sort of mediocre. We'll take an uneventful summer over those things any day. But now the Giants, who've sort of just been going about their business this summer, have made some headlines for something other than football.
Video of Jason Pierre-Paul tossing of Prince Amukamara into a tub of ice water has been making the rounds ever since Steve Weatherford posted it to the Web, and it's created something of a controversy. Or perhaps it's more accurate to say it's created a number of different controversies, depending on who's commenting: Is the incident, as some have argued, mean-spirited hazing? (Amukamara is no longer a rookie, though judging by this Star-Ledger article, it sounds like until he has a few more games under his belt, his teammates will still consider him one as far these things are concerned.) Or was it was a reckless act that could have resulted in an injury, as USA Today's Kevin Manahan suggested over the weekend? Does the strong language used in the video make it even worse?
Or maybe the problem isn't the act itself, but the what it means for team chemistry. So maybe the issue is that it didn't remain in the locker room? (Said Tom Coughlin, on the fact that Weatherford posted the video for the world to see: "In no way is anything that occurs within this family or within our group should that be a part of any social media aspect." Or maybe the real concern (as argued by Manahan today) is that this sort of thing can "drive a wedge into a locker room"?
This is hardly the first time a young NFL player has been hazed in some way. (In that same Star-Ledger article, Amukamura estimates that he was personally thrown into a cold tub eight times last year.) Actually, qualms with this video seem to fall into two categories: Issues with incident itself, and what it means, if anything, in the team's locker room. The first of those is part of a debate that's larger than football; the latter isn't.
In the interest of providing a bit of context, the Giants have been trying to get Amukamura to develop more of an edge. (One player in the video can be heard saying "Stand up for yourself!") But Amukamura says he no longer fights back when this sort of thing happens. From Mike Garafolo's Star-Ledger report:
"Um, I just don't think that's the right way to go," Amukamara said. "Now, if it's on the field and something like that happens, someone does a cheap play, for sure I'm going to protect myself. But if it's out here (in the locker room) and it's just for fun, then no."
Here's the video, by the way, in case you haven't seen it yet: