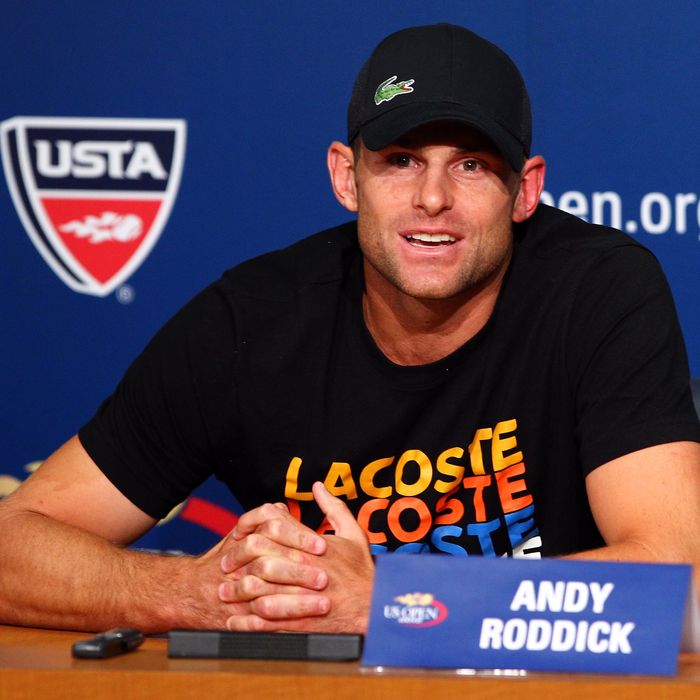 Hey, and he dressed up, too.
A little bit before 6 p.m. yesterday, the USTA announced that Andy Roddick would hold a press conference on the hour, despite the fact that he hadn't played since Tuesday and wasn't scheduled on court again until Friday evening. The rumblings started. "It's his 30th birthday today, maybe they're just giving him a birthday cake!" [Nervous laughter.] But a few minutes after six, Roddick sat down and cut right to the chase, like he always has: "I'll make this short and sweet. I've decided that this is going to be my last tournament."
Roddick is still alive in the draw, set to play Bernard Tomic in the first night match tonight, but if and when he meets his end, it will be his final professional tennis match. When asked about how those close to him were taking the news, Roddick said that it stunned them, but it didn't particularly surprise them — and he might as well have been talking about our reaction to the announcement as well.
In the grand scheme of his career, Roddick's injury-laden 2012 season has been pretty dismal, aside from two respectable titles in Eastbourne and Atlanta. But those tournaments are 250-level events; at the Slams, he has yet to make it past the third round. These sorts of results, combined with constant injury, and a sense that the competition has far surpassed his physical ability, all meant that it was time for him to call it quits. "I don't know that I've ever been someone who's interested in existing on tour. I've always, for whatever my faults have been, felt like I've never done anything halfway."
Again, stunning, but not surprising. In fact, there was a moment when we probably all knew this was coming, despite his (and our) denial at the time. At Wimbledon this year, he lost in the third round to David Ferrer. The opponent was worthy, but the depth in the tournament was not, especially when you consider how significant Wimbledon has been to his career. As he walked off the court and neared the exit, he slowed down, turned, and waved to the crowd, then blew a kiss. It felt almost certainly like a good-bye. In his press conference yesterday, Roddick admitted that this was when he felt like he knew.
But still, stunning. Kim Clijsters, who played her last professional singles match this week, eased us into her decision to retire, giving us fair warning months ago. Roddick went ahead and pulled the rug right out from under the sport. Some people, players, and outlets clearly knew in advance though; Sports Illustrated, for example, had a story in the can that was posted at exactly 6:03 pm. Certain members of the ESPN crew, on the other hand, looked like they'd been slapped with a bag of bricks (or a 140 mph Roddick serve) immediately following. Poor Mary Jo Fernandez even broke down on camera and declared, "I didn't see it coming this quickly. I'm going to miss him."
It's hard to imagine because the fact is, Roddick has always been there. He ended the year in the top ten for nine consecutive years, and he currently holds 610 lifetime match wins, the second highest number of any active player. The most unfortunate aspect of his retirement may be that his career will probably be underrated by many, since he never won another Slam after claiming the U.S. Open title in 2003. But Roddick is no one-Slam wonder like Carlos Moya or Juan Carlos Ferrero, players who won and then comparatively faded away. Roddick kept grinding away, keeping apace of the greatest player of all time, if never actually surpassing him.
You thus cannot discuss Roddick's career without making reference to Roger Federer, with whom he has a very telling win-loss record of 3-21. "I didn't want to make it through this press conference without a direct comparison to Roger, so thank you for that," Roddick jokingly said to a reporter who mentioned his foe. But at least in this department, there was some closure this year; Roddick finally triumphed in beating his lifelong rival in Miami this spring, a victory that carried the weight of a final.
After Federer took out Bjorn Phau last night, he was asked on-court about Roddick's upcoming match against the dangerous Australian, Bernard Tomic. "Oh man, hopefully you guys are going to make it tough for Tomic," Federer demanded. "It would be great to see Andy stay around for a bit longer." Flushing, you have your orders.