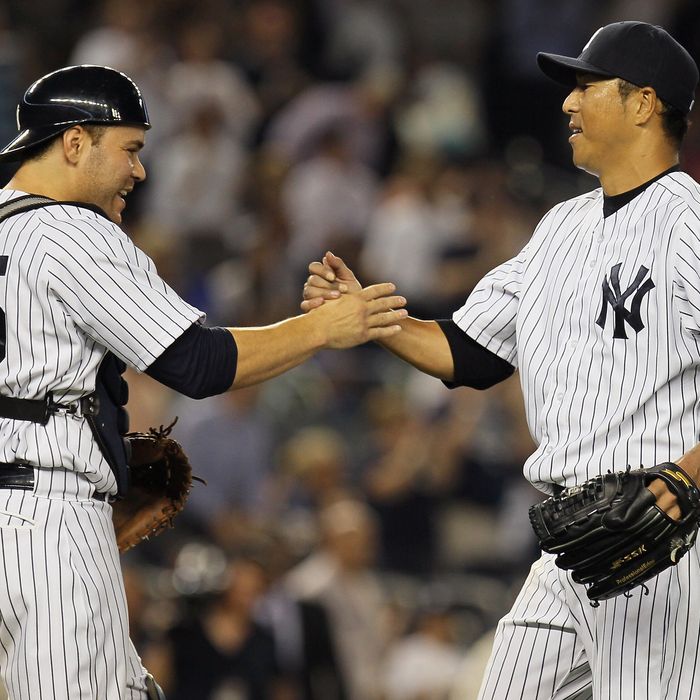 Russell Martin and Hiroki Kuroda.
Count us among those who were a little skeptical of Hiroki Kuroda entering this season. It's not that he hadn't put up some solid numbers in four years with Los Angeles — his ERAs ranged from 3.07 to 3.76 — but he was 37 on opening day and not only moving from the National League to the American League, but to the usually tough A.L. East. He'd put up some of the best numbers of his MLB career last season at 36 (he posted his career-low ERA and career-high strikeout totals), but we wondered if he'd be able to do it this year, in this league. Turns out he could.
Kuroda was outstanding against Texas last night, taking a no-hitter into the seventh and finishing with a two-hit complete-game shutout. Kuroda's pitched some terrific games this season — he allowed just one hit in seven innings against the Mets in June, and struck out eleven White Sox without allowing a run over seven innings later that month — but this might have been his best outing yet. (And according to Bill James's game score statistic, it indeed was his best of the year — better than the two starts mentioned above, as well as a couple of outings in which he went eight innings without allowing a run.) Making last night's performance even more impressive is that it came against a very good Texas team that leads the majors in runs scored. (With last night's 3-0 win, the Yankees have now won the first two games of the four-game set, and have a six-game lead over both Tampa Bay and Baltimore in the East. They also now have a 1.5 game lead over Texas for the best record in the American League.)
Kuroda has consistently been the pitcher the Yankees hoped he would be when they signed him, and with more than two-thirds of the season in the books, he's got a better ERA than CC Sabathia, and a better WHIP, too. He's posted the highest WAR (4.7) of any Yankees pitcher, by some margin. (It helps, of course, that he's not only been consistently good but healthy. Both of those things can't be said for any other starter in the team's rotation.) Brian Cashman's history with starting pitchers may be spotty, but to repeat something we wrote earlier this season, he's done a good job in recent years identifying older pitchers to bring in on short contracts. With $10 million contract for this season, Kuroda isn't quite in the same category of super-low-risk guys like Bartolo Colon, but Kuroda proved once again last night that it was worth convincing ownership to increase the 2012 payroll to bring him on board.