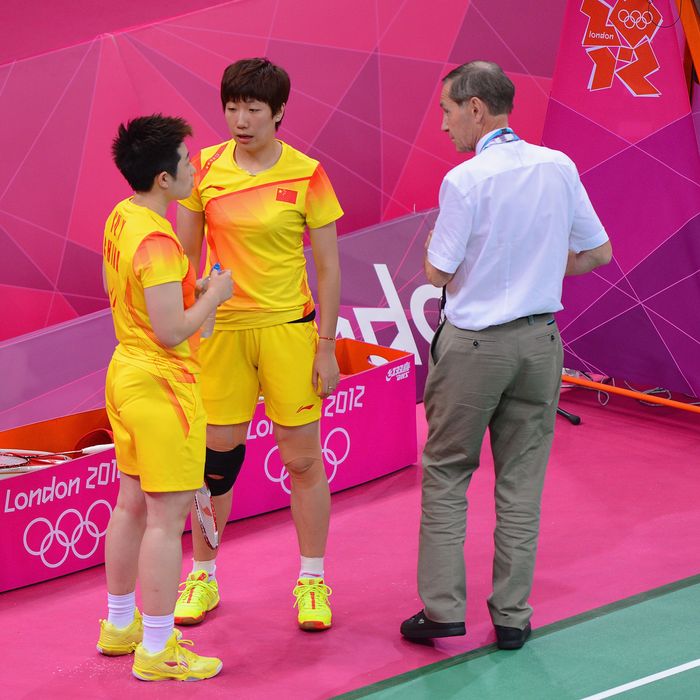 Wang Xiaoli and Yu Yang of China speak to an official during their match against Jung Kyung-eun and Kim Ha-na.
So far in these Olympics, we've had outcry over the two-per-country rule that kept USA's Jordyn Wieber out of the gymnastics all-around final, and whispers that 16-year-old Chinese female swimming sensation Ye Shiwen must be doping to get across a pool that fast. But by far the biggest, most disastrous controversy in London has to be in women's badminton. Yes, women's badminton.
Today, eight players on four women's badminton doubles teams were expelled from the Games for "match fixing." Basically, badminton players suffer from the same extensive depth of field that spelled doom for Jordyn Wieber: The best teams generally come from Central and Southeast Asia, so their biggest competition is usually their fellow countrymen. In the tournament's round-robin knockout format, teams from China, South Korea, and Indonesia were facing the distinct possibility of having to go up against, and knock out, teams from their own countries before the finals. They obviously didn't want this to happen.

The first round of group play was non-elimination, just to determine the draw for the knockout quarterfinals. So in last night's final Round of sixteen matches, Chinese World Champions Wang Xiaoli and Yu Yang deliberately started hitting shots wide or serving into the net against South Koreans Jung Kyung-eun and Kim Ha-na. Both pairs had already qualified to move on to the next round; the throwing of the game seemed to be in order to ensure China's No. 1 team wouldn't meet China's No. 2 team of Tian Qing and Zhao Yunlei until the gold medal round. The South Koreans said they only started throwing the game because the Chinese started it. The Chinese said they'd just been trying to conserve their energy since they'd already qualified. The Korean team won handily, even though the longest rally was a laughable four strokes. Among the best players in the world. (Apparently the Chinese are the best at throwing matches, too.) The referee came down at some point to admonish them for not trying hard enough. The crowd booed them off the court.

Then, moments after tournament organizers formed a review panel to look into the match, the same scenario played out in ANOTHER match with South Korea's Ha-Jung-eun and Kim Min-jing and Indonesia's Greysia Polii and Meiliana Jauhari. The referee came down and disqualified both teams before reinstating them after their coaches begged. Afterward, the South Korean coach admitted that his players in the second match had emulated the Chinese tactic of trying to lose so they, too, wouldn't have to face their countrymen until the medal rounds. That tactic backfired because the South Koreans won that second match anyway, meaning the teams were probably sure to face off earlier than they'd wanted.

Well, actually, it really backfired because now South Korea doesn't have a single team in the tournament and China's number one team is out as well. (So are those poor Indonesians, who probably weren't going to win anyway. They're trying to appeal, and maybe have grounds to get reinstated.) London 2012 Chairman Lord Coe called the situation "depressing." Commentators and badminton vets have called it a "farce." And no one knows what the match-ups will be for Wednesday's quarterfinals since it's pretty unprecedented to have half the field get kicked out of any tournament, badminton or otherwise.

Apparently, this sort of bird shit happens all the time on the badminton circuit. The Chinese are so dominant in the sport that they're often going up against their compatriots in major matches. In 99 all-Chinese matches last year, 20 were forfeited, with eleven of those being walkovers, meaning one team just didn't show up. When the Chinese have played foreign teams, that rate dropped to 0.21 percent. In the Olympics, only two teams from each country are allowed into the tournament, so walkovers aren't an option, though self-sacrifice at the cost of embarrassing your country and your sport apparently is.