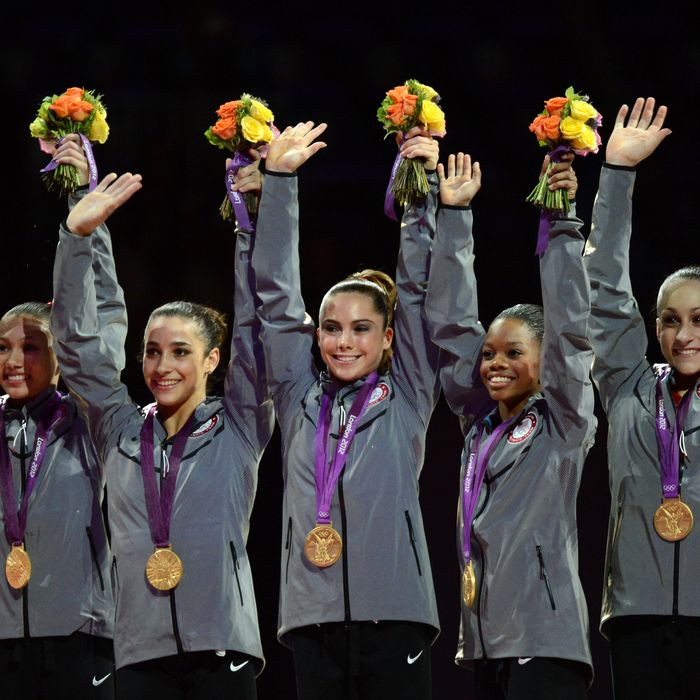 The U.S. women's gymnastics team after receiving their gold medals.
The American women's gymnastic team excels not only at tumbling and vaulting, but also at being teenage girls. They squeal at every teammate's success. They rub backs and throw comforting arms around a girl who flubbed a landing. They could be at a slumber party. So if you want to be an Olympic gymnast, practice hugging. Work on saying the word "Awesome!" with enthusiasm but no irony. Cheer for your teammates. Clap.
And learn the words to Phillip Phillips's Mumford & Sons knockoff, "Home." No one else at these games gets a theme song, but NBC wants ratings, not parity.
NBC also wants a narrative, but producers found only a dull and narrow one: Jordyn Wieber cried! Again and again, we see her tears. Tears that, considering the magnitude of her disappointment, were minimal. But even the most discreet weeping looks torrential in HD slow-motion.
And when the sodden intro package cut to Jordyn Wieber in the gymnastics center, Al Trautwig intoned, "As if it were written, Jordyn Wieber will be first … " Interesting phrasing. He didn't say "scripted," which suggests a true story turned Hollywood heartwarmer. He said "written." As in, "It is written." As in, fated. Biblical. Later in the broadcast, NBC aired a short feature on Wieber's entire, gymnastics-focused life leading up to Olympic gold. "Her soul is richer than most," said the narrator. After Wieber's stellar tumbling routine, Trautwig again invoked religious imagery: "She may be going from the abyss to the mountaintop."
Enough, NBC. Enough!
There are other young women whose performances propelled Team USA to gold. Gabby Douglas was the only member of the team to compete in all four rotations. She scored above 15 in every one and got a 15.966 in the vault. McKayla Maroney helped her team with a stellar 16.233 on the vault. Kyla Ross, singled out by the judges for not crying, came through on the uneven bars and the beam. Aly Raisman tumbled through a nearly flawless routine. But we hear only about these women in relation to Wieber; they are there only to restore Wieber to her gold-medal-plated throne.
Weiber's been a gymnast long enough to know the truth, as are her teammates. This is a shared honor, made possible by shared performances. That's the story NBC should tell. To the team's credit, that's the story they themselves told to Bob Costas. They may be teenagers, but they know how to take back the narrative. (Nice media training, U.S. Gymnastics.)
The men's 4x200 freestyle relay team got a little individual attention, but their win was merely incidental to Phelps's greater glory, his nineteenth Olympic medal. Phelps is an amazing swimmer, no doubt. But his winning feels so inevitable, and so dull, because that's what Michael Phelps does. He swims fast in a straight line, lap after lap after lap. Swimming demands the discipline required to endure tedium. That's why NBC portrays Ryan Lochte as a hilarious, super-fun prankster. He's a bro, just like Phelps. But since they're both dudes, they have to be rivals instead of friends. Instead, Phelps befriended Allison Schmitt, who taught him to smile while he showed her how to be serious and competitive. NBC's feature package was a little patronizing of Schmitt, but she's got a better title than the girl next door: Olympic gold medalist.
Last night's best moment: "When I was 8, my mom found a VCR of the 1996 Olympics."
Aileen Gallagher, a longtime Olympics enthusiast, teaches journalism at Syracuse University.