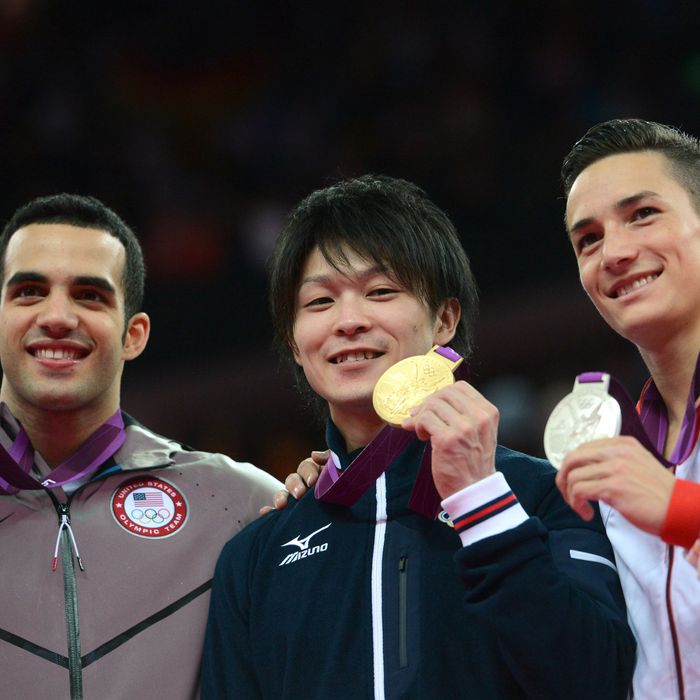 The medalists in the men's gymnastics all-around competition: Danell Leyva of the United States (bronze), Kohei Uchimura of Japan (gold), and Marcel Nguyen of Germany (silver).
NBC got blasted Tuesday for Wieber Fever and responded last night by not speaking the gymnast's name at all. Even during Bob Costas's brief recap of the U.S. Women's Gymnastics team gold medal, he omitted Jordyn Wieber, instead calling out McKayla Maroney's vault and Aly Raisman's floor routines. (We still love you, Gabby and Kyla!) And while gymnastics producers were chastened, they maintained a detrimental singular focus during the men's individual all-around competition.
We are watching these Games from couches across the United States of America, and NBC knows its audience well enough to focus on domestic athletes. But the Games are a global event, and the perfect chance to share stories about other people and other places. Instead, we get U.S.A.! U.S.A.! to the exclusion of everything else.
The men's individual gymnastics competition featured two American athletes, poor John Orozco and bronze-medal winner Danell Leyva. After Orozco's dismal pommel horse routine, NBC turned its attention to Leyva. We learned all about his special towel, heard his family story, and even got to watch him eat lunch with Ryan Seacrest! That's what we saw instead of, you know, gymnastics. Twenty-four gymnasts competed in the event. Two of them were American and 22 were … some other dudes. After Orozco's pommel horse mishaps, we saw a few more of Leyva's routines, along with a couple from gold-medal winner Kohei Uchimura of Japan and Germany's Marcel Nguyen, who took the silver. We learned little about Uchimura and Nguyen, let alone any other gymnast. We barely even saw any other gymnast. They may well have been in another venue. (More rings, please!)
Instead of men's gymnastics, we saw … more synchronized diving. It's breathtaking, sure. But one a hour a night, every night, of synchronized diving? NBC likely aired the three-meter springboard event because the U.S. pair of Troy Dumais and Kristian Ipsen won bronze. We also saw a qualifying round of beach volleyball, where the Austrian Schwaiger sisters beat Misty May-Treanor and Kerri Walsh Jennings in a single set, ending their Olympic winning streak. But that's okay, because "the Golden Girls" (ugh) went on to win the match, like they always do. Fast forward to the finals, please.
What could we be watching? How about the synchronized elegance of women's quad sculls? The U.S. won a bronze, so it's not like the event was not American enough for prime time. It's quite mesmerizing, actually. Or what about cycling? Bradley Wiggins is British, but he won the gold in the men's time trial. He also recently won a little race called the Tour de France, so it's not like he got lucky. (Confidential to Bob Costas: You called Wiggins a "bloke" last night. Don't drop the lingo. It makes you look like an embarrassing dad.) Maybe just a few minutes of 39-year-old cyclist Kristin Armstrong's amazing time trial victory? (She's one of us, too.) Armstrong won the event in 2008 and she just broke her collarbone a few weeks ago.
Any one of these contests would be more exciting to watch than Danell Leyva eating lunch.
The Great Recession notwithstanding, most of America goes to work every day. Few of us have the kind of jobs that allow for daytime television viewing or livestreaming from our desk. The excitement of the Olympic Games is variety. It's two weeks of scandalous badminton, questionable judo officiating, and Ann Romney–owned horses. It would be nice if NBC showed America some of that.
Last night's best moment: Nathan Adrien winning the men's 100-meter freestyle by a breathtaking one one-hundredth of a second.
Aileen Gallagher, a longtime Olympics enthusiast, teaches journalism at Syracuse University.